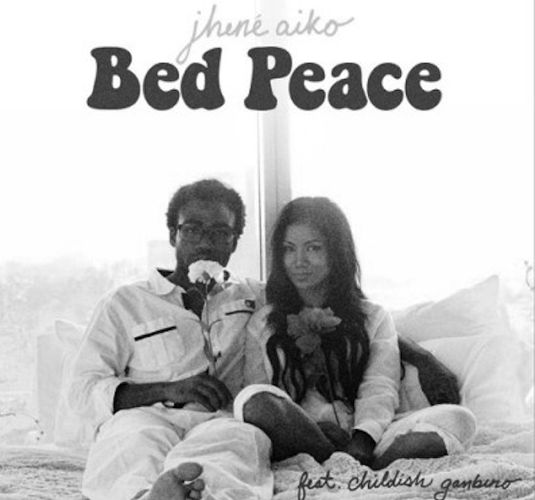 Official "Bed Peace" Single Cover
Another Los Angeles born and bred artist, Jhené Aiko recently rose to prominence – though she's been on the music scene for some time now. The R&B singer first provided vocals to labelmates B2K (remember "Bump, Bump, Bump"?!) as a tween, but turned down the opportunity to become another cookie-cutter teenage pop star. Instead, the "From Time" singer chose to write her own songs and pursue a musical career that she'd be proud of as an artist.
It's a good thing Aiko stayed true to herself, because now the 26-year-old is seeing all her hard work and patience pay off! She's worked with heavy-hitters like Kanye West, J. Cole, P. Diddy, Kendrick Lamar and most importantly, Drake (who she considers her "musical soulmate"). Aiko has a new album in the works, a hit song, "The Worst," on the radio, and an enlarged fanbase following her gig on Drake's 2013 tour.
While she frequently sings about heartbreak, Aiko's single "Bed Peace" from her latest EP Sail Out (featuring Childish Gambino), is a noticeably brighter and happier tune. Check out the video below, which was inspired by the "Bed-Ins for Peace" John Lennon and Yoko Ono held in protest of the Vietnam War.
If the song "Bed Peace" were an outfit, it would manifest itself in one of Aiko's typical ensembles. The artist blends boho-chic with hip-hop finesse for an all-over uncontrived and breezy look. If you haven't yet, give Jhené Aiko a listen. Trust me, you'll like her music faster than you can figure out how to pronounce her name. (Say it with me: Juh-nay Ah-ee-koh).
Everything Else Can Wait
"Bed Peace" will fill your day with optimism and sunshine – and, hoping the weather follows suit, so will this outfit! Channel Jhené's low-key modern hip-hop vibes with a Hawaiian print jersey top, crisp white jeans, and unique cut-out sneakers. Blast Sail Out with an adorable iPhone stand, kick your feet up now that it's spring break, and let go of the drama!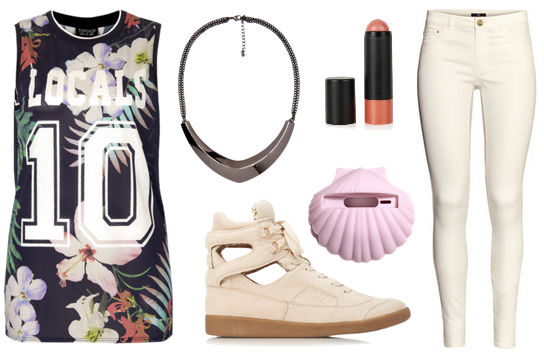 Product Information: Top- TopShop, Sneakers- Forever 21, Phone Accessory- H&M, Glow Stick- TopShop, Pants- H&M, Necklace- Forever 21
Ease Your Mind
In "Bed Peace" Jhené wishes she didn't have to waste time with "fake stuff," like hair and make-up products. For us who are a tad less fortunate, sometimes "roll[ing] out of bed about 2:30 mid-day" isn't a viable option. Luckily, this outfit effortlessly creates that au naturale look! "Wake up, wake up" and keep it real with lip-balm, a laid-back maxi skirt and crop top combo, and pull it all together with a floppy fedora.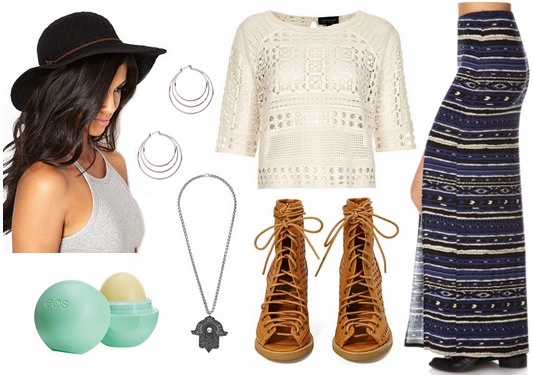 Product Information: Lip Balm- EOS, Sandals- NastyGal, Maxi- Forever 21, Necklace- TopShop, Top- TopShop, Earrings- Forever 21, Hat- Forever 21
The Time is Ours
Jhené preaches about taking time and kicking back in "Bed Peace". Heed some of her advice and throw on cozy joggers, a '90s-inspired halter top, and comfy sandals. This outfit is perfect for walking to class, through the mall, or on a brunch date. Jazz things up with a set of rings, neutral nail polish and a casual clutch to perfectly emulate a boho beauty with an urban-chic attitude!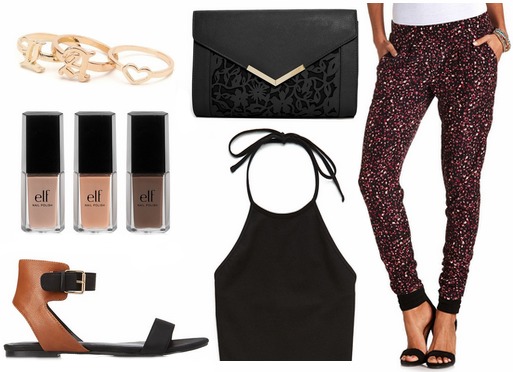 Product Information: Sandals- Forever 21, Nails- elf, Top- Forever 21, Pants- Charlotte Russe, Rings- PacSun, Clutch- ASOS
What Do You Think?
Are you a fan of Jhené Aiko and her music? What do you think of her style? How did you take her homage to John Lennon and Yoko Ono? Tell is your thoughts by leaving a comment below.