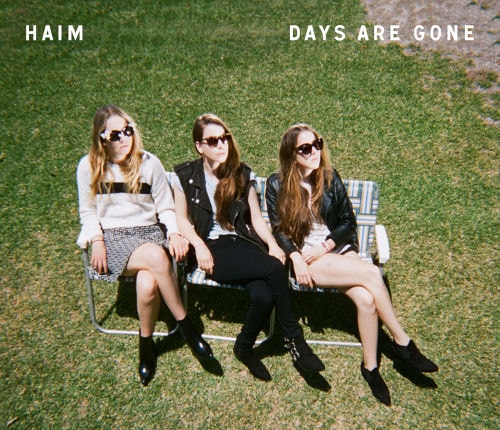 Official Album Cover
Haim, an all-female music group out of Los Angeles, is comprised of three young sisters who make tunes that are as effortlessly cool as their '90s-inspired style. Between Este, Danielle, and Alana, the sisters have worked with Florence and the Machine, Ke$ha, Mumford & Sons, Vampire Weekend, and more.
With their original music style (that blends hip-hop, synth-pop and '70s rock together), Haim has lit up the present music scene by channeling inspiration from the past, and the same can be said about their casual-chic, festival-style ensembles.
Haim's dance jams are rife with mellow-yellow ambiance, which makes their songs the perfect choice to wind down to after class. The latest single off of their debut album Days Are Gone, "If I Could Change Your Mind," is one such track. This video came out just a few weeks ago, and it's both charming and mesmerizing. Check it out below:
When it comes to personal style, middle sister and lead vocalist/guitarist, Danielle, is often rocking a leather jacket, pointy boots and jeans; eldest sister and harmonist/bassist, Este, is the girliest of the bunch, wears skater skirts and floral patterns; while youngest sister and keyboardist/harmonist, Alana, often pairs hot pants with a varsity letterman.
Though they all have distinct style tendencies, one aspect is consistent; their mile-long wavy tresses are as free-flowing as their beats. Clearly, I could go on and on about these girls, but let's get on with the outfits. Here are three looks inspired by Haim and their track "If I Could Change Your Mind:"
Visions of Our Love
The song "If I Could Change Your Mind", evident by its title, is full of reminiscent lyrics and musings on what-ifs or what might've been if things went differently in a past relationship. Here's a dreamy outfit that channels this idea of romance: a maroon babydoll dress, a dusty rose-colored chambray shirt, comfy socks, and cool ivory booties. Jazz it up with a hat and face shimmer to complete the look.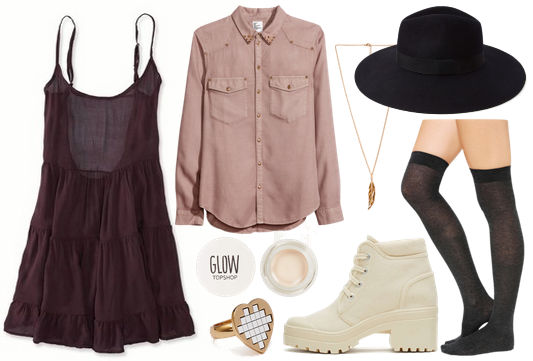 Product Information: Top- H&M, Dress- American Eagle, Hat- Forever 21, Socks- Urban Outfitters, Ring- Forever 21, Makeup- TopShop, Necklace- Forever 21, Shoes- NastyGal
All of Our Wildest Times
In the video, the sisters sway to the music with synchronized dance moves they probably made up years ago as kids. This look brings together all the girls' styles in one outfit: a leather circle skirt and fluffy sweater (Este), a turtleneck crop top and retro shades (Alana), and rocking boots with stackable rings and a leather satchel (Danielle). Get to groovin' like Haim with this get-up!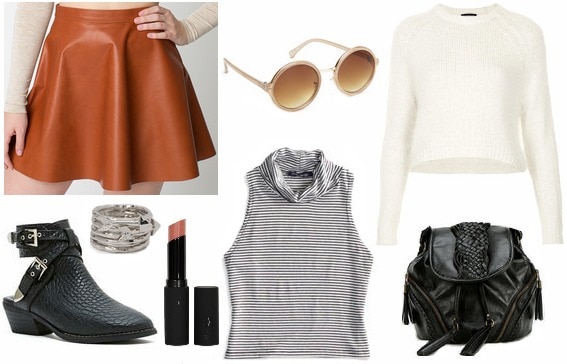 Product Information: Boots- Steve Madden, Top- American Eagle, Sweater- TopShop , Bag- Urban Outfitters, Lips- TopShop, Rings- Forever 21, Glasses- Forever 21, Skirt- American Apparel
I Drove A Million Miles
Whether it's to see your long-distance significant other or an amazing music festival, keep it cozy and cute with clothes you could easily wear on a roadtrip. The girls of Haim get inspiration from a myriad of artists (everyone from Fleetwood Mac to TLC), and nothing quite says "throwback" like a scrunchie, fanny pack, jumper, and freestyle Reeboks. Have fun and "hit the ground running"!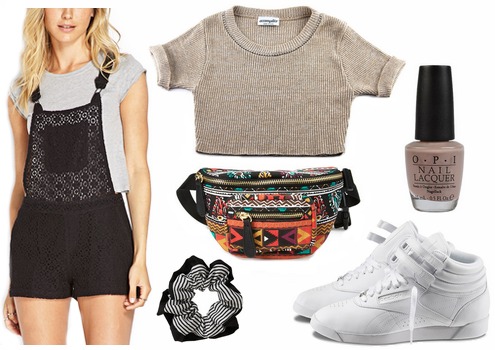 Product Information: Top- Etsy, Shoes- Reebok, Scrunchie- TopShop, Fanny Pack- Forever 21, Nails- OPI, Jumper- Forever 21
What Do You Think?
Do you like Haim? Would you wear these outfits? What are some of your favorite songs? Let me know in the comments!