Photo via Essie
I love seeing all the wintery, holiday-themed nail polish collections – they make great gifts for a friend (or yourself!). Essie's Winter 2014 collection is a pleasant surprise with a mix of both classic holiday colors, like a shimmery gold, rich red, and creamy white, plus several pretty, unexpected shades of pink that will last you through Valentine's Day.
Read on to see the three looks that these fun, bold polishes inspired me to put together:
"Jiggle Hi, Jiggle Low"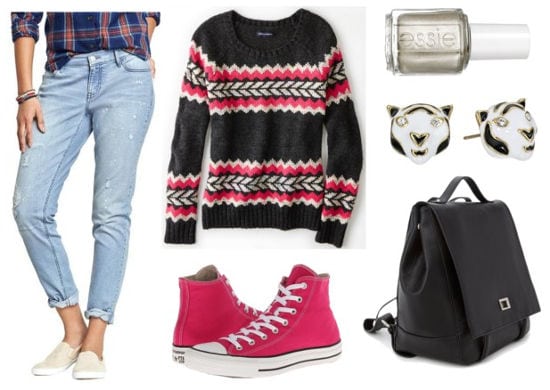 Products: Jeans, Sweater, Sneakers, Backpack, Earrings, Nail Polish
This comfy, wintery ensemble would be perfect for finals week. Just slip on a pair of loose boyfriend jeans, a bright striped sweater, and sneakers. I chose pieces with pops of hot pink, since Essie's collection features the same color. To keep the outfit modern and trendy, carry a sleek black backpack. For a final touch of sparkle, try a funky pair of earrings and "Jiggle Hi, Jiggle Low," Essie's festive, shimmery gold polish.
"Jump in My Jumpsuit"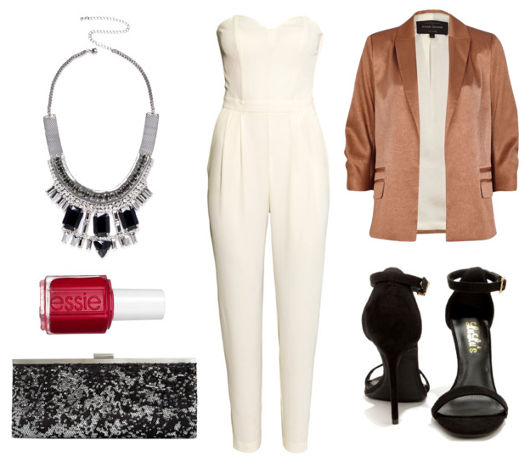 Products: Jumpsuit, Blazer, Heels, Necklace, Clutch, Nail Polish
Want a trendy and unique look for the holiday party scene? Try a jumpsuit! This one makes a bold statement in a clean, wintery white, and looks super-polished with a copper-colored blazer and ankle strap heels. Choose coordinating accessories, like a black-and-silver necklace and black sequin clutch. Don't forget a pop of red with Essie's "Jump in My Jumpsuit."
"Double-Breasted Jacket"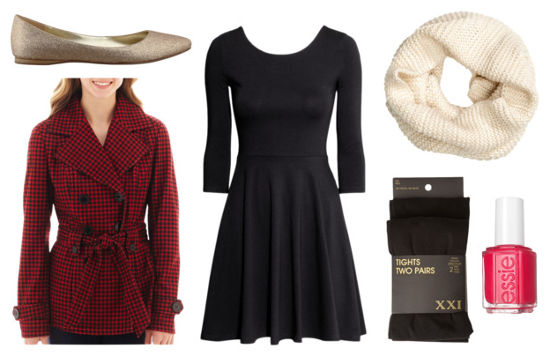 Products: Dress, Coat, Scarf, Tights, Flats, Nail Polish
I love a good double-breasted jacket, and this red-and-black version would work equally well for class, running errands, or date night. Wear it over a simple LBD with sheer black tights. Try a pair of sparkly gold flats for a holiday feel, then add a white scarf for warmth. Finish the look with Essie's fun and eye-catching "Double-Breasted Jacket."
Share your thoughts!
What do you think of Essie's collection? Which shade is your favorite? Which look would you wear it with? Let us know in the comments!