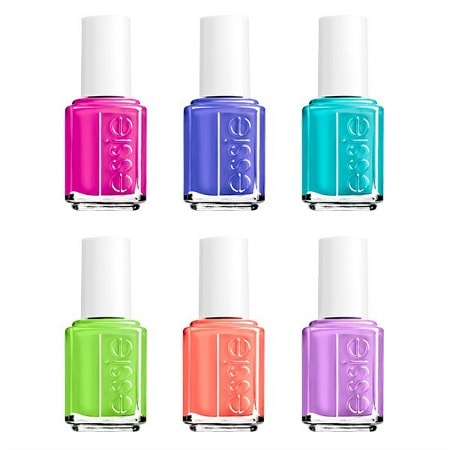 Image Courtesy of Essie
If you haven't noticed by now, I'm pretty into Essie nail polish (for evidence, see my previous posts on Essie's Resort and Spring 2014 collections). I love their rich, vibrant colors – they always get me inspired for the season.
Though I often shy away from really bold, eye-catching colors, I've recently discovered that I love bright, nearly-neon nail polishes. So, of course I was thrilled when I saw Essie's new Neons collection! From lime green to hot coral, this line is full of beautiful summery hues. These polishes are perfect for the adventurous, risk-taking fashionista (and those of us who need a little push out of our comfort zone).
Here are three bold looks inspired by Essie's 2014 Neons collection. These outfits are guaranteed to bring some color into your wardrobe!
Outfit #1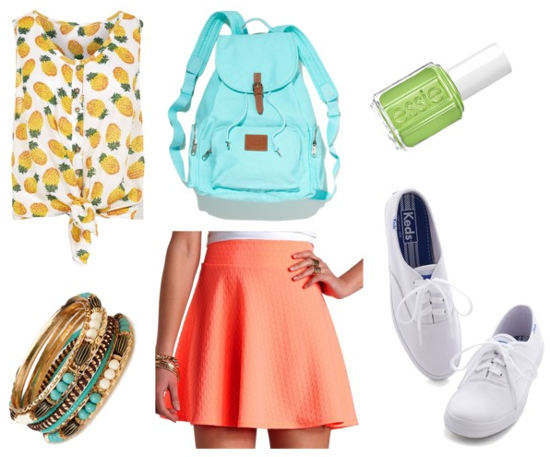 Product Info: Top, Skirt, Backpack, Sneakers, Bracelets, Nail Polish
For a colorful, summery, and class-appropriate getup, pair a neon coral skirt with a printed tie-front top. A pair of classic white sneakers won't compete with the rest of the look, so don't be afraid to throw in a bright pop of neon with your backpack. Accessorize with some casual bangles and Essie's "Vices Versa."
Outfit #2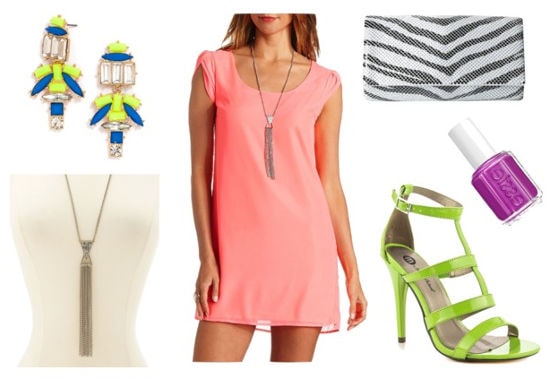 Product Info: Dress, Heels, Clutch, Necklace, Earrings, Nail Polish
This confident night-out look is not for the faint of heart, but if you love color, don't be afraid to rock it! Start with a bright pink dress, neon lime heels, and a printed clutch. Go glam with a long fringe necklace, then add a little more neon with these jeweled earrings. Lastly, add few coats of Essie's "Too Taboo" to highlight your nails.
Outfit #3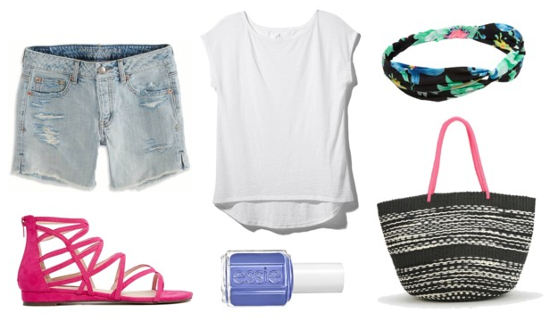 Product Info: Tee, Shorts, Headwrap, Sandals, Tote, Nail Polish
If (like me) you tend to be a little afraid of bright colors, try incorporating little pops of neon into a more basic look. Start with a blank palette of a white tee and denim shorts, then add a fun pair of neon pink sandals. Grab a casual tote with another pop of color. Finish off the ensemble with a cute and trendy printed headwrap and Essie's "Chills & Thrills."
Thoughts?
Are you a fan of neon nail polish, or neon colors in general? What do you think of Essie's new collection? Which outfit is your favorite? Let us know in the comments!