Summer means bright, sunny, and refreshing colors, and Essie has the perfect set in their new Summer 2015 collection. With beachy blues, flowery pinks, and pale pastels, the set has the ideal balance of subtle and bold.
Want to incorporate these colors into your warm-weather look? Try one of the outfits below:
"Sunset Sneaks"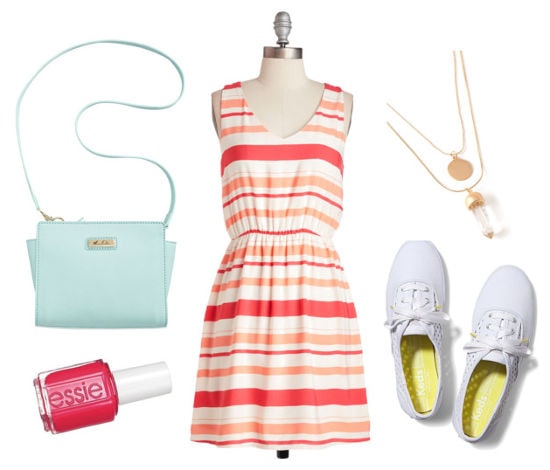 Products: Dress, Shoes, Necklace, Bag, Nail Polish
This cute look would be appropriate for anything from a lunch date to classes to vacation sightseeing. It starts with a peach-colored striped dress and comfy white sneakers. Add in a light blue crossbody bag and pendant necklaces for polish, then finish the ensemble with Essie's "Sunset Sneaks."
"Private Weekend"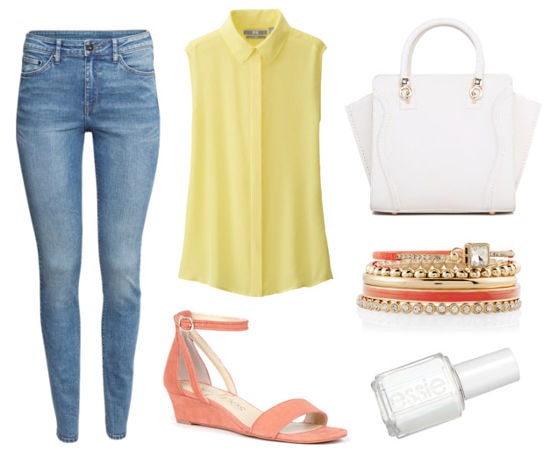 Products: Blouse, Jeans, Shoes, Bag, Bangles, Nail Polish
This polished, sophisticated look would be ideal for a casual date or weekend shopping. Pair a sleeveless yellow blouse with high-waisted jeans and low wedge sandals. Add in a structured white bag and rhinestone bangles for a dressy feel, and for the final touch, try a few coats of Essie's "Private Weekend."
"Saltwater Happy"
Products: Tee, Shorts, Backpack, Shoes, Hat, Sunglasses, Nail Polish
Is your summer all about bumming it on the beach? Then try this casual, comfy look. Instead of your usual denim cut-offs, try these peach shorts paired with a graphic tee. Add a fun backpack and leather sandals, and don't forget sun protection with sunglasses and a floppy hat. Lastly, paint your nails with Essie's "Saltwater Happy."
Thoughts?
What do you think of Essie's new nail polish collection? Which look would you wear? What other fashion inspiration posts would you like to see? Let us know in the comments!