I was flipping through a magazine the other day when an advertisement for Essie's latest nail polish collection caught my eye. The colors were fun, vibrant, and perfect for spring, and I immediately wanted to add a new polish (or two… or three…) to my collection.
Essie even released a cute little video featuring all six nail polishes. Check it out below:
When I found out the collection was inspired by my home state, Florida, I knew I had to create a few outfits that captured its retro-glam resort vibe.
Here are three looks inspired by Essie's Spring 2016 collection. These springtime ensembles are fashion-forward with a quirky, vintage touch — just like the nail polishes.
Look #1: "Sunshine State of Mind"
Product Info: Dress- Shoptiques, Bag- Target, Printed Bangle- Lilly Pulitzer, Gold Bracelet- Bling Jewelry, Shoes- Forever 21, Nail Polish- Essie
The centerpiece of this flirty nighttime outfit is a sunny yellow halter-neck dress. Though the frock is bold on its own, try pairing it with Essie's tangelo-hued "Sunshine State of Mind" nail polish and coral sandals. The resulting look is fun and colorful, without looking over-the-top.
Carry all of your essentials in a sand-colored crossbody bag, then add on a few pieces of jewelry. The tropical print bangle and shell-adorned bracelet really capture that Florida vibe.
Look #2: "Shades On"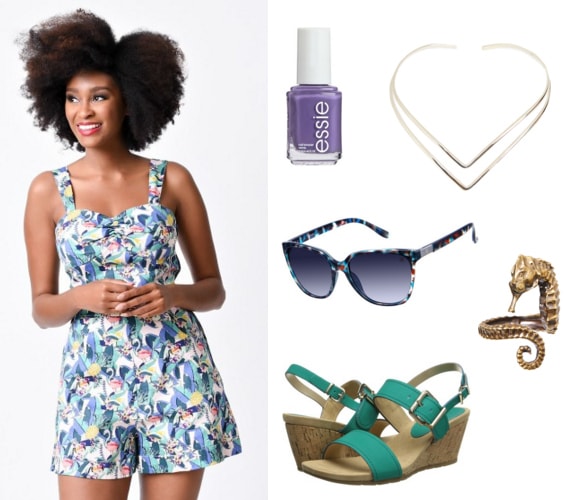 Product Info: Romper- Unique Vintage, Necklace- Daily Look, Sunglasses- JCPenney, Shoes- 6pm.com, Ring- Zulily, Nail Polish- Essie
This playful springtime look, based on Essie's "Shades On", is all about the retro-inspired romper. This fun little print features flamingos, foliage, and pineapples, and is sure to turn heads.
Grab teal wedges for a contrasting pop of color, then slip on a pair of cat-eye sunglasses. This tiered choker necklace lends a modern touch, while the seahorse ring is both adorable and unique. Paint on a few coats of Essie's violet-hued nail polish to complete the ensemble.
Look #3: "Pool Side Service"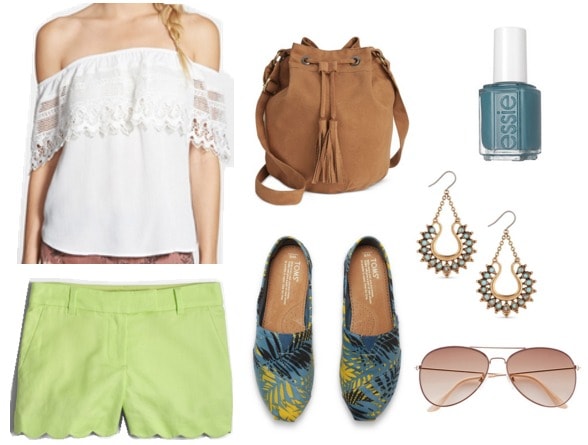 Product Info: Top- Nordstrom, Shorts- J. Crew Factory, Bag- Macy's, Shoes- TOMS, Earrings- Lucky Brand, Sunglasses- H&M, Nail Polish- Essie
Capture that vacay-ready vibe in this laid-back getup, inspired by Essie's "Pool Side Service". Pair an on-trend off-the-shoulder blouse with citrus-hued scalloped shorts. Palm tree print TOMS are a comfy-cute choice, whether you're on spring break or just running some errands on the weekend.
Stash your must-haves in a roomy bucket bag, slip on a pair of classic aviators, and accessorize with gold-and-turquoise earrings. Be sure to sport Essie's cerulean blue polish on your digits, and you'll be good to go.
Your thoughts?
What do you think of Essie's latest collection? Would you wear any of these outfits? Which one is your favorite? Would you like to see more posts like this? Leave a comment below and tell us your thoughts.