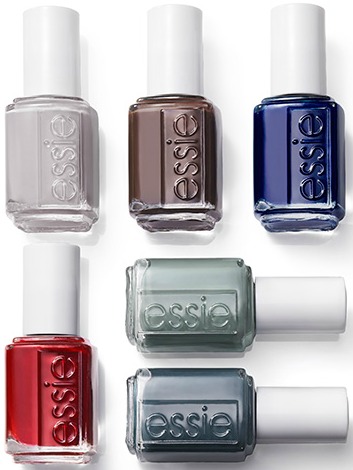 Photo Courtesy of Essie
What's one cheap and easy way to change up your look for fall? With nail polish, of course! Right now, I'm loving Essie's new Fall 2014 collection, which includes six polishes that I think are the epitome of autumn.
The colors range from burgundy red to deep forest green to chocolate brown – all rich, luxurious, and muted tones. They're a welcome change from bright, summery neons, and they're totally getting me in the back-to-school mood. Need a little more inspiration? Check out these three looks based on colors from the collection:
"Style Cartel"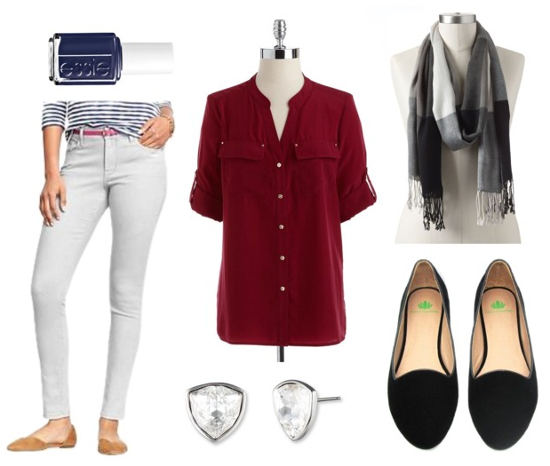 Product Info: Blouse – Lord & Taylor, Jeans – Old Navy, Flats – Bluefly, Scarf – Kohl's, Earrings – Lord & Taylor, Nail Polish – Essie in "Style Cartel"
This outfit is totally foolproof, but looks very clean and polished. Gray jeans in all shades are on-trend this fall, so style a light-washed pair with a rich, contrasting burgundy blouse. Black loafers dress things up a touch while still staying comfy for class, while a gray plaid scarf adds warmth and texture. Complete the look with simple studs and a swipe of Essie's standout navy shade, "Style Cartel."
"Dress to Kilt"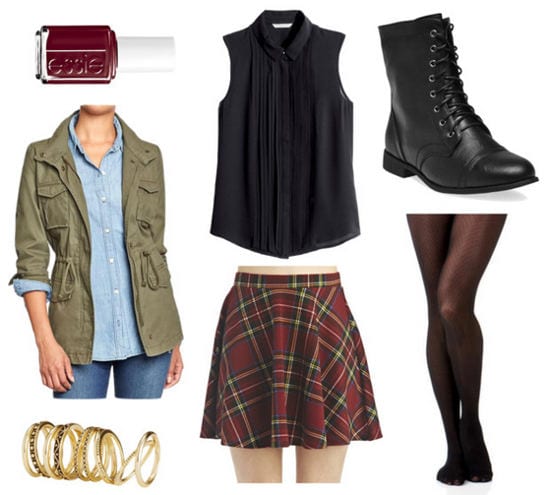 Product Info: Blouse – H&M, Skirt – Wet Seal, Jacket – Old Navy, Tights – Francesca's, Boots – Wet Seal, Rings – H&M, Nail Polish – Essie in "Dress to Kilt"
Sure, you may not own a real kilt, but you can get the next best thing: a plaid skirt. Pair it with sleek black tights and a pintucked black blouse, then layer on a green utility jacket to keep out the chill. Black combat boots help toughen up the outfit and keep it from looking too much like a school uniform. Lastly, decorate those digits with a set of gold rings and Essie's rich burgundy polish.
"Take It Outside"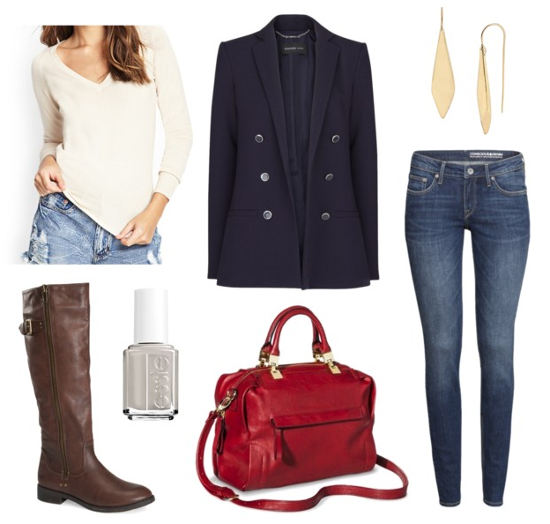 Product Info: Sweater – Forever 21, Blazer – Mango, Jeans – H&M, Boots – Aeropostale, Bag – Target, Earrings – Lord & Taylor, Nail Polish – Essie in "Take it Outside"
This look has a classic, sophisticated, and collegiate feel. It pairs comfy basics – blue jeans, a cream sweater, and riding boots – with a stylish double-breasted navy blazer and an eye-catching bright red handbag. The final touches are subtle gold drop earrings and pale taupe nails, which add sparkle and glossiness to the ensemble.
Thoughts?
What do you think of Essie's new polishes? Which color is your favorite? Which look would you wear? Let us know in the comments!