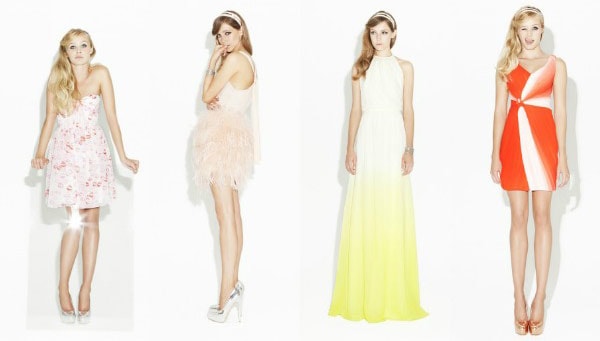 Photos: Erin Fetherston Spring/Summer 2013
It's the most wonderful time of year for fashionistas – New York Fashion Week is here! I've been going crazy trying to keep up with all the runway shows. So far, Erin Fetherston's Spring / Summer 2013 line has been among my favorites. Pretty and feminine, this collection features soft, neutral tones, rich textures, and interesting details, like feathers and fun conversational prints. Light, airy minidresses mix with bold ombre colors to create a trendy but sophisticated elegance.
Catch a glimpse of a backstage look from Erin Fetherston's SS13 show in the video below!
https://www.youtube.com/watch?v=vIofSqWXdlI
While fall may be venturing closer, there's no reason you can't take inspiration from these looks right now! Below, I've created a series of outfits inspired by a few looks from Erin Fetherston's SS13 show! Scroll down to view them all.
Understated Elegance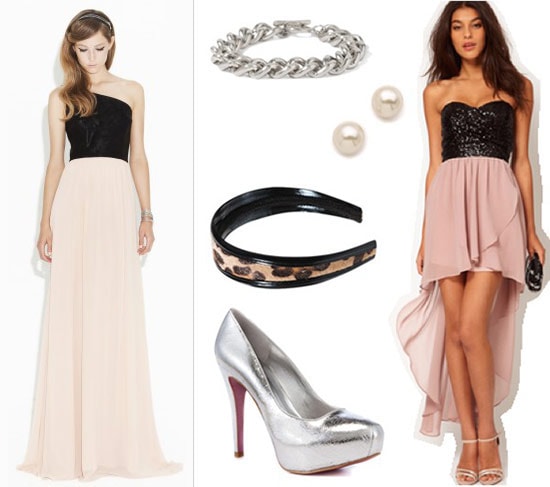 Dress, Shoes, Headband, Bracelet, Earrings
For a subtly elegant look, wear a black and blush colored hi-lo dress with a pair of silver metallic pumps. A silver chain bracelet and pearl earrings keep things simple, while a leopard print headband adds a bit of an edge to complete the look.
Lovely in Limeade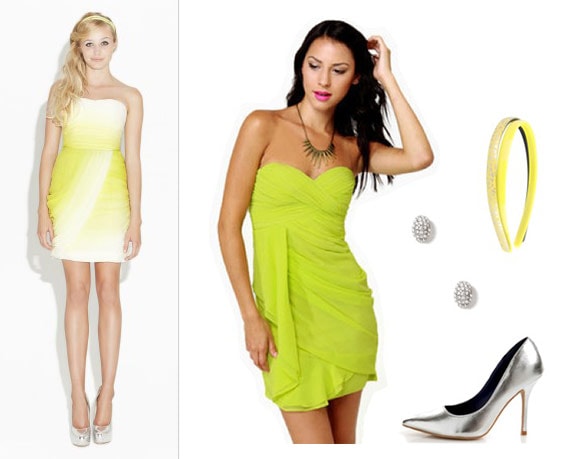 Dress, Shoes, Headband, Earrings
Make a statement in a bold lime-colored dress inspired by Erin Fetherston's ombre frock (at left). Slip on a pair of metallic pumps and put in sparkly earrings for a trendy contrast. Wear a yellow headband with silver accents to finish off the edgy-girly look!
Oh-So Orange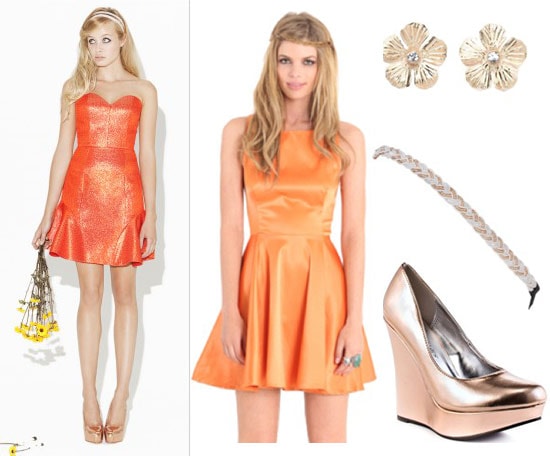 Dress, Shoes, Headband, Earrings
Bright and cheery, this outfit will be sure to put you in a good mood! Wear a bright orange dress with a pair of rose gold metallic pumps. A braided headband and floral stud earrings add the perfect accents to complete the cute ensemble.
What do you think?
What trend are you looking forward to wearing for SS13? Are you a fan of Erin Fetherston's collection for next season? Would you wear any of the looks above? Which one is your favorite? Would you like to see more posts like this one in the future? Let me know in the comments!