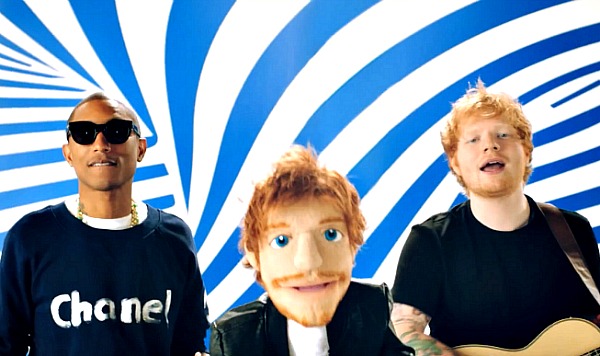 Video Screenshot
Despite Ed Sheeran's undeniable popularity and string of hits, the singer has never had a chart-topping UK single. This is likely to change with the release of his funkiest and pop-iest song yet, off of forthcoming sophomore album, x (pronounced "multiply" FYI). Sheeran taps into his best Justin Timberlake falsetto and inner jive with the Pharrell Williams-produced track "SING."
We all love Ed Sheeran's vulnerable folk-inclined hits, but who knew the Brit could reel us in just as well with a pop-heavy track? Loyal Sheerios may be thrown off by the new sound, but anyone familiar with the talented singer-songwriter's music knows his talent spans all genres and stereotypes.
Enjoy the video for "SING" below, featuring Muppet Ed and Pharrell mucking about!
While most Ed Sheeran songs call for cozying up with a cup of tea and blanket before you dive into the hottest John Green novel, "SING" is ideal for dancing in your dorm after your finalfinal, before you and your friends say bye for the summer.
Whether for the road trip home or a warm night out on the town, here are three outfits inspired by Ed Sheeran's jam-tastic track. Keep scrolling to check them out!
Set the Tone
Sheeran's music, and his latest single, reveal an uncanny ability to fuse R&B with acoustic-pop – add his signature rapping ability, and you've got the next potential Song of Summer. Similarly, feel free to blend your styles this season.
Want to mix paintbrush florals with beachy crochet? Do it! Wear a vibrant midkini, and use it like a bralette to layer underneath a pretty sheer top. Mix things up with quirky sunglasses and bright red Chucks (à la the singer's flaming ginger hair) to express your unique style.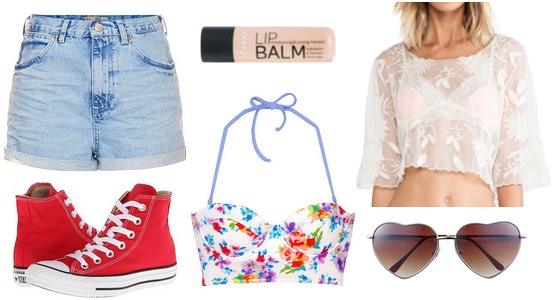 Product Information: Lip Balm, Bathing Suit, Glasses, Shoes, Top, Shorts
She's a Keeper
Whether it's a post-graduation feast or catching up with friends from home that you haven't seen all year, get "louder!" with this confident look. Jazz up a black maxi with a lush shirt to ring in the impending summer, then pair your heeled sandals with a big boho bag. Don't be afraid to make a statement with bright accents, like carroty lipstick or vivid green nail polish.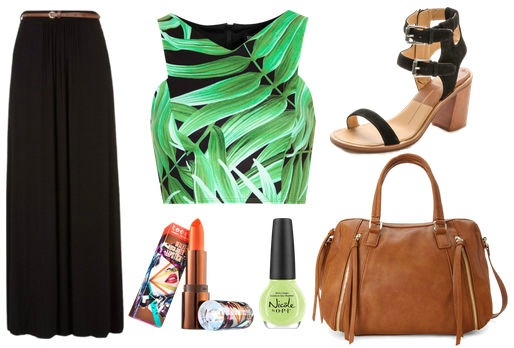 Product Information: Lipstick, Nail Polish, Sandals, Top, Maxi Skirt, Bag
This Love is a Blaze
Sheeran's lyrics for "SING" are evidently about a night out in Vegas, Miami or somewhere in semesteritis-land, so why not head out on the town with your girlfriends for that much needed post-finals release?
Wear an outfit as standout as his single. Start with a bold striped and tropical print skirt. Get fierce with a glossy white top and fabulous black stilettos. Step it up with bright orange (feelin' the Ed-head references yet?) polish and store your goodies in a neon laser-cut bag. Ed Sheeran may not be able to set the dance floor ablaze like JT or Pharrell, but you can let loose in this get-up!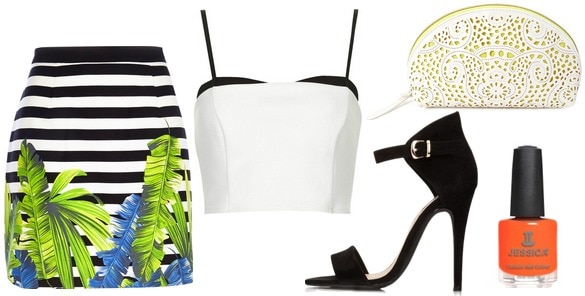 Product Information: Nail Polish, Skirt, Top, Bag, Heels
Bonus!
In lieu of those awesome Beats by Dr. Dre clips, we get another glimpse into Sheeran's new music, with a commercial featuring his unapologetic song, "Don't." Watch the ad below:
https://www.youtube.com/watch?v=mzIe_d4YsPk
What Do You Think?
Are you a fan of Ed Sheeran's new sound? Do you think he should stick to acoustic tunes? Which outfit do you like best? Let me know by leaving a comment!