This post may contain affiliate links, which means we may receive a commission if you purchase through our links. Please
read our full disclosure here
.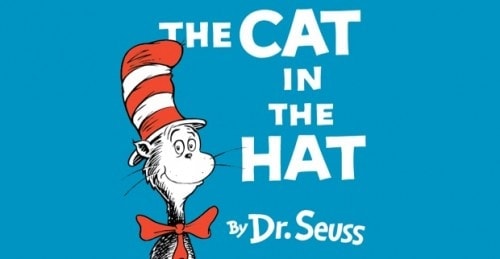 Image via AMC
Incredibly influential and widely read, Dr. Seuss is among the most beloved children's book authors of all time. I know he's one of my personal favorites – as a kid, I read his books so often that I had most of them memorized by the age of four. And of all the amazing Seuss books, perhaps none is more famous than The Cat in the Hat. Whether you read the book, watched the movies, or both, you most likely know – and love – this classic tale.
While Dr. Seuss books may not be on your textbook list this semester, you can use these fun children's tales to inspire your everyday wear! Below, I've created a few looks inspired by The Cat in the Hat. Scroll down to view them all.
Rainy Day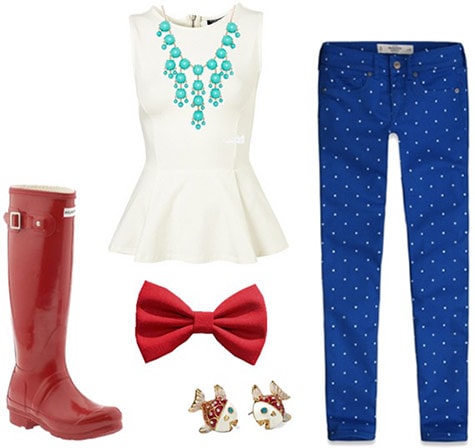 Top, Jeans, Boots, Necklace, Earrings, Bow
It may be too wet to play outside, but you'll have lots of fun in this super cute and colorful look! Wear a peplum top with a fun pair of polka dot skinny jeans. If it's raining (or, if you're daring, even if it's not), slip on bold red rain boots that will totally make a splash! Sweet accessories like a trendy bubble necklace and a cute bow will add the perfect Seuss-ical accents to the look. To finish it off, wear fish stud earrings as a tribute to everyone's favorite talking fish (even if he is a bit of a downer).
The Cat in the Hat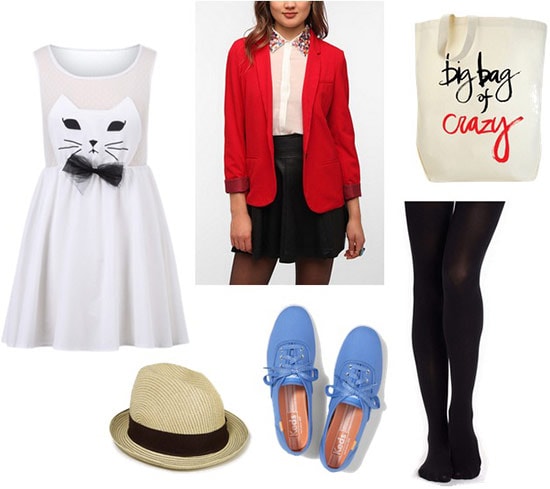 Dress, Blazer, Shoes, Tights, Hat, Bag
The Cat in the Hat knows where it's at! Steal his style with a trendy cat dress, tights, and a red blazer. Cute sneakers add a casual vibe, and of course, the outfit wouldn't be complete without a hat to match. Try a trendy fedora for a subtle take on the cat's striped one. And, finally, while your hat may not be full of surprises, you can finish the outfit with a printed tote that winks at the Cat's crazy tricks.
Thing 1 and Thing 2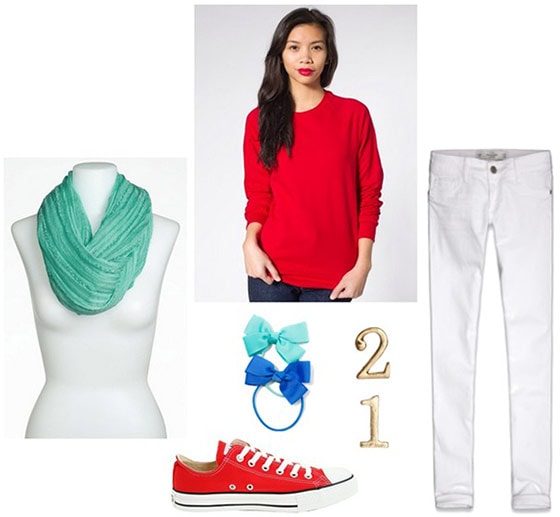 Top, Jeans, Shoes, Scarf, Earrings, Bows
Although no one really knows what Thing 1 and Thing 2 were, you can be certain that this casual look is perfect for class! Wear a red pullover with white jeggings and Converse. For a colorful twist, add an aqua scarf and matching hair bow. To complete the ensemble, accessorize with number earrings – they add the perfect finishing touch to the Things-inspired look.
That Was That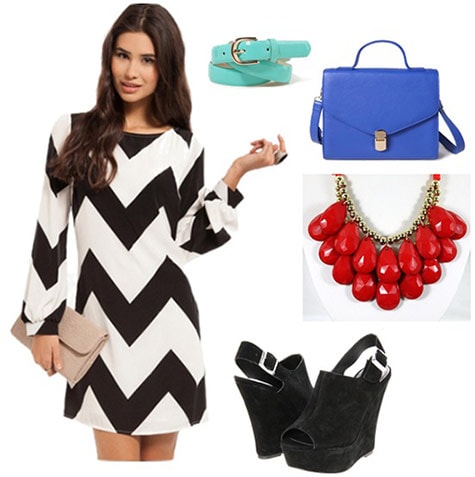 Dress, Shoes, Belt, Bag, Necklace
This is definitely not Mother's dress! Wear a cute chevron printed shift dress and accent it with a cute patent waist belt for a fun flair. Suede platform wedges add a modern aesthetic, while a statement bib necklace adds a trendy touch! Grab a structured cobalt bag to complete the look and give the outfit a classic feel.
What do you think?
Did you read Dr. Seuss books when you were a kid? Which book was your favorite? Would you wear any of the looks above? Would you like to see more posts like this one in the future? Let me know in the comments!