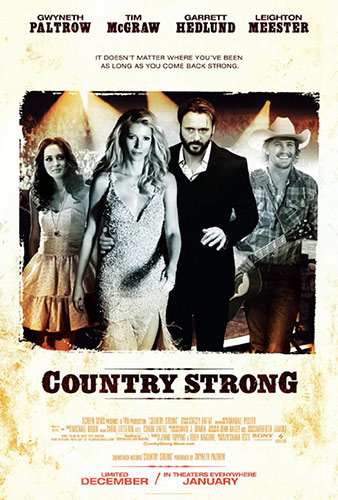 The 2010 film Country Strong(now rerunning on HBO and the like), follows the story of country music superstar Kelly Canter (Gwyneth Paltrow) as she tries to restart her career after undergoing treatment in a rehab facility. Fans of Gossip Girl's Leighton Meester will appreciate her familiar face as Chiles Stanton, an up-and-coming country pop artist. Whether you're a country music fan or not, this drama is perfect for a girl's night in!
https://www.youtube.com/watch?v=GOLzfxrgvKM
While I won't give away any spoilers, I will say that as one of my favorite recent movies, Country Strong is a great source of fashion inspiration! Both Kelly Canter and Chiles Stanton have classic country styles with their own twist. Below, I've created two wardrobes inspired by Kelly and Chiles from the movie. Scroll down to see them!
Kelly Canter's Wardrobe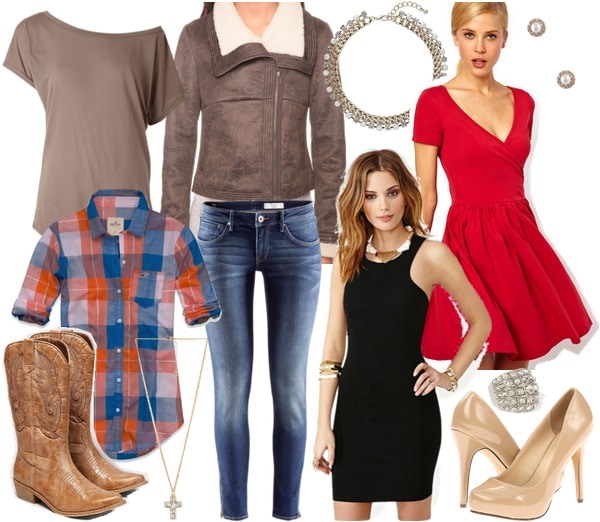 Tan Top, Plaid Shirt, Cowboy Boots, Cross Necklace, Jacket, Jeans, Rhinestone Necklace, Black Dress, Red Dress, Rhinestone Ring, Tan Pumps, Earrings
Kelly Canter was once a superstar in the country music world, and her status is reflected in her outfit choices. Her on-stage looks include bold mini dresses and sparkly gowns, but she also enjoys wearing classic plaid button-up shirts and jeans. Of course, like most country artists, she also has numerous pairs of cowboy boots that she likes to dress up and down.
You can steal Kelly's fierce look with a few key pieces, some of which you probably already own! A classic LBD looks great with a statement necklace and beige patent pumps. Dress up a casual checked shirt with a pair of skinny jeans and some cowboy boots. A bright red dress is the perfect staple to complete Kelly's signature look.
Chiles Stanton's Wardrobe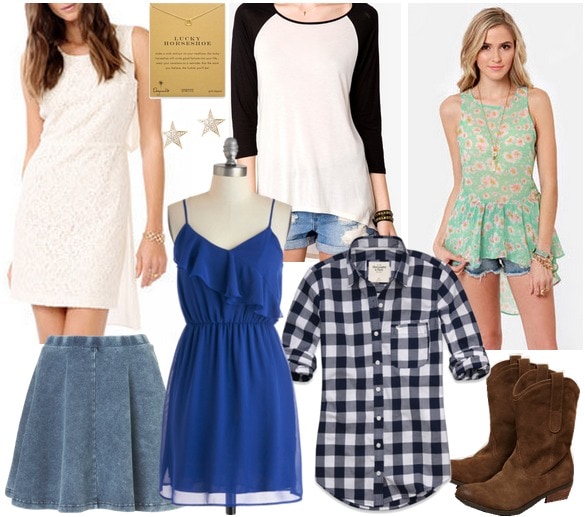 Lace Dress, Denim Skirt, Charm Necklace, Star Earrings, Blue Dress, Baseball Tee, Checked Shirt, Floral Top, Cowboy Boots
Chiles Stanton is the former Miss Dallas and "country Barbie" of the film. She's bubbly, cute, and wants nothing more than to become a country superstar. Her on-stage looks include flirty dresses and boots, but off-stage, she's more keen on sundresses and casual tees paired with skirts.
To steal her girly style, try adding lace and ruffle dresses to your closet. A denim skirt is a great, versatile wardrobe addition as well, and would be perfect for spring. Cowboy boots are a country must, while a cute dainty charm necklace and stud earrings are cute and feminine. Baseball tees and checked shirts are great pieces to dress up or down, and a fun floral top can be a great investment piece for a Chiles-approved look.
What do you think?
Did you see Country Strong? Are you a fan of country music? Would you wear any of the pieces featured above? How would you style them? Would you like to see more posts like these in the future? Let me know in the comments below!