This post may contain affiliate links, which means we may receive a commission if you purchase through our links. Please
read our full disclosure here
.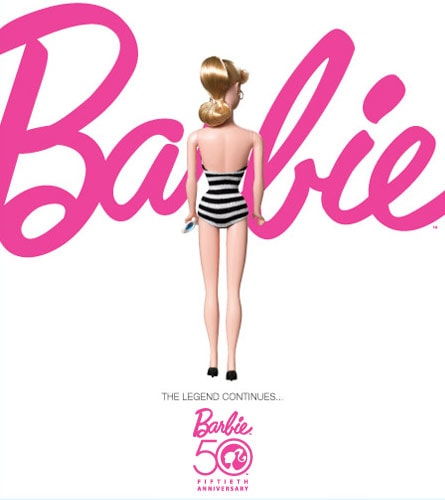 For over fifty years, Barbie has been a favorite doll for girls of all ages.
Not only has Barbie conquered the toy industry, but she has also managed to become a major style icon in the process. Her signature pink girly looks are exceptionally chic. Designers from all over the world have worked with the blonde beauty herself, either by designing dolls or putting her face on their products. More recently, 2009 brought the emergence of Barbie on the runway to celebrate her 50th anniversary.
Because of her fabulous fashion sense, Barbie is a fun source of inspiration for your own wardrobe. Below, I've created several outfits inspired by the doll herself.
Outfit 1
Dress, Cardigan, Shoes, Wallet, Earrings
Capture Barbie's girly appeal in this outfit. Wear a hot pink dress with matching peep-toe pumps with a bow embellishment. Add a black button-up cardigan with white trim to contrast with the pink. For accessories, grab a quilted Barbie clutch wallet and put in a pair of cute pink heart stud earrings.
Outfit 2
Top, Skirt, Shoes, Earrings, Bow
For an alternate look inspired by the doll, wear a pretty ruffle tank in a fuchsia color with a floral print bodycon skirt. Add a pair of pink platform pumps to dress the look up. Put an adorable fuchsia bow clip in your hair and add a pair of black hoop earrings with bow accents to match.
Outfit 3
Dress, Shoes, Belt, Purse, Earrings
This outfit is inspired by the classic Barbie aesthetic from years past. Wear a baby pink polka dot dress with black wedge sandals with a bow accent. For an extra flair, add a black skinny belt to the dress. Put in a pair of heart drop earrings in black and pink and grab a small pink purse to finish off the look!
Outfit 4
To achieve a more relaxed look, wear a long-sleeve graphic tee with bright pink jeans. A pair of bow-accent ankle booties give a Barbie-esque appeal. To complete the ensemble, wear this cute bangle that has actual Barbie shoes inside!
What do you think?
Have you used Barbie as a source of fashion inspiration? Would you wear any of the looks above? Which one is your favorite? Would you like to see more posts like these in the future? Let me know in the comments!