This post may contain affiliate links, which means we may receive a commission if you purchase through our links. Please
read our full disclosure here
.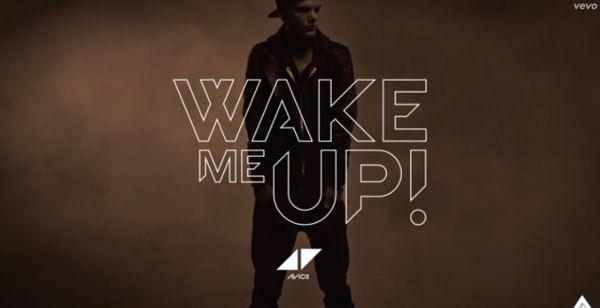 Video Screenshot
Sometimes you just need a song that makes you want to dance, sing, or get your blood pumping. If you (somehow) haven't already heard it, Avicii's "Wake Me Up" is that kind of song. It combines an electronic beat with acoustic guitar and vocals from Aloe Blacc, giving it a kind of country-techno vibe.
I'll admit I don't exactly know what the music video is about, but I do know this: it serves as great fashion inspiration! The video features clothes from the Denim & Supply collection by Ralph Lauren that have a casual yet stylish western feel. So, take a peek, then check out three outfits inspired by "Wake Me Up":
Outfit #1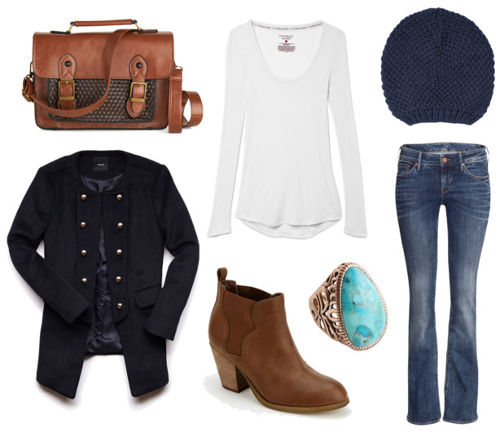 Product Info: Jacket – Forever 21, Tee – Victoria's Secret, Jeans – H&M, Boots – Urban Outfitters, Bag – Modcloth, Ring – Helzberg Diamonds, Hat – Topshop
This outfit is directly inspired by one of the looks in the video. It starts with a navy military-style jacket with a white tee layered underneath, and a pair of distressed bootcut jeans. Brown ankle boots and a leather satchel give it that western feel, while a navy beanie keeps things young and cool. Lastly, accessorize with a turquoise cocktail ring similar to the one in the video.
Outfit #2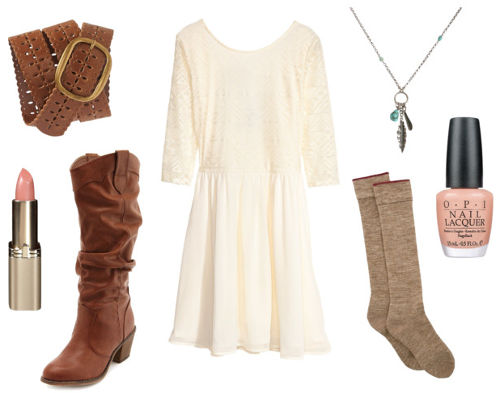 Product Info: Dress – H&M, Boots – Charlotte Russe, Socks – Target, Belt – Aeropostale, Necklace – Lord & Taylor, Nail Polish – OPI in "Dulce de Leche," Lipstick – Target
To mimic the girls' lace nightgowns in the video, try a white lace dress styled with some country flair. Pair it with knee socks and slouched western boots, then add a scalloped brown belt. A charm necklace with a touch of turquoise ties in with the turquoise jewelry in the video. Polish off the look with some pretty pink nails and a natural-looking lipstick.
Outfit #3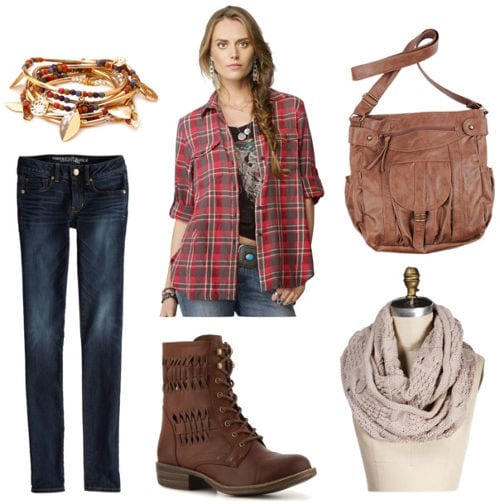 Product Info: Shirt – Macy's, Jeans – American Eagle, Boots – DSW, Bag – Delia's, Scarf – Windsor Store, Bracelets – Forever 21
This last ensemble is inspired by the last outfit in the music video: a classic plaid shirt and a pair of blue jeans. This shirt is actually from the same Ralph Lauren collection that's featured in the video (though any plaid shirt works for this look). Pair it with some worn-in skinny jeans, a pair of cutout lace-up boots, and a slouchy messenger bag. Accessorize with beaded friendship bracelets and a rustic scarf.
Thoughts?
Are you an Avicii fan? Did you like the music video? Which outfit is your favorite? Let us know in the comments!