Halloween is just around the corner, so of course it's time to bust out the spooky jams. Whether you're at a costume party or watching scary flicks at home, there are some staple songs that you just can't seem to escape.
Below, I've put together four outfits inspired by classic Halloween songs and their corresponding music video/movie scene looks. These outfits can easily be worn casually or tweaked and accessorized to wear as an actual costume. Scroll down to see them!
Killer Thriller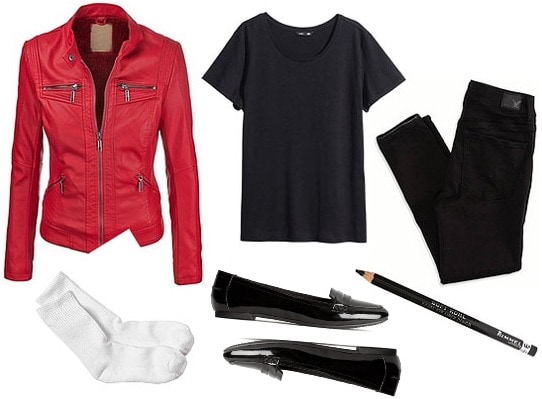 Product Information: Jacket, Shirt, Pants, Shoes, Socks, Eyeliner
"Thriller" is arguably one of the top Halloween songs to ever exist. It's a song that pretty much everybody knows, and an essential on any spooky playlist. Michael Jackson's look in the video is also one of his most iconic, making this a perfect candidate for Halloween fashion inspiration.
Of course, a red jacket is the most important part of the outfit, and you can wear a basic black tee underneath. If you aren't comfortable rocking red on red like he does in the video, black pants are a great option. Lastly, a pair of loafers with white socks finish off the ensemble. For an added touch, a little eyeliner will emphasize your eyes like Michael's in the beginning of the video, or, you know, create some sunken in zombie eyes.
Who You Gonna Call?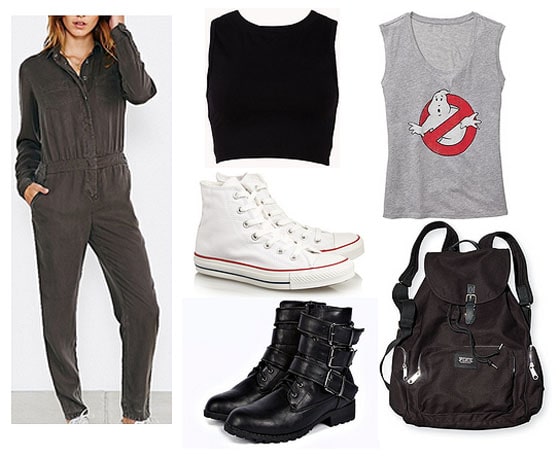 Product Information: Jumpsuit, Black Shirt, Ghostbusters Shirt, Converse, Boots, Backpack
If there's somethin' strange in your neighborhood and you need an outfit you can go ghost-busting in, we've got you covered. A utility-esque jumpsuit is all you really need for the base of this look. And although high-tech ghost catching equipment isn't currently available, strapping on a black backpack offers a pretty similar effect.
To follow the movie more closely, wear a black top underneath the jumpsuit and put on sturdy black boots. For a more cool and casual look, roll up the legs of the jumpsuit and wear some high-top sneakers, as well as a graphic tee that features the Ghostbusters logo.
You're Into the Time Slip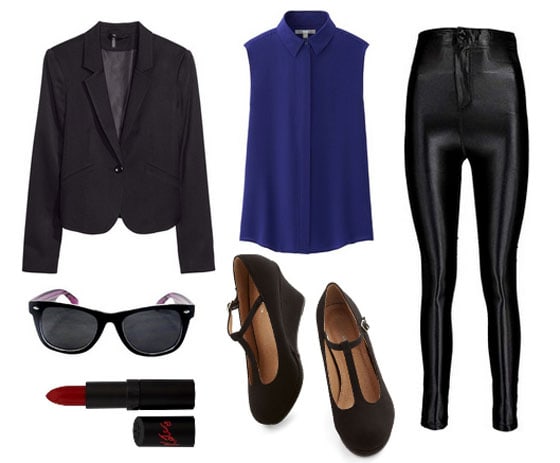 Product Information: Blazer, Top, Pants, Shoes, Sunglasses, Lipstick
The Rocky Horror Picture Show is a cult-classic film and definitely a favorite to watch on Halloween. One of the most popular songs from the musical is "The Time Warp," a fun dance song that gives you instructions on how to dance along.
This outfit is inspired by the party-going group of "Transylvanians" who sing and dance to the chorus. The members of the chorus all don funky takes on tuxedos with colorful shirts and party accessories. For a similar look, start with a simple black blazer and Mary-Jane style shoes. Instead of plain black slacks, I included a pair of shiny disco pants for a more party-like vibe. Wear a shirt in any bright color that you desire, as well as sunglasses and bright lipstick to top off this danceable getup.
And Now You're Mine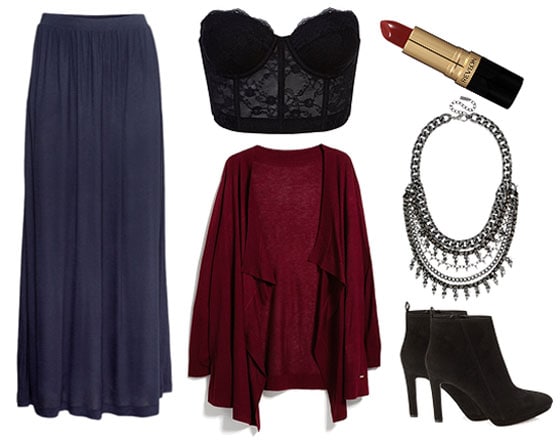 Product Information: Corset, Skirt, Cardigan, Shoes, Necklace, Lipstick
Although this isn't the original version of the song, "I Put A Spell On You" is probably most recognized from Disney's Hocus Pocus. One of my favorite things about the Sanderson sisters is that they aren't witches who just dress in all black. Instead, they wear drapey and colorful dresses with capes and other wacky details.
To achieve a more toned-down version of the sisters' attire, a dark blue maxi skirt and lace corset top paired with a waterfall-style cardigan are perfect for a colorful yet mysterious look. Black ankle booties, a funky statement necklace, and dark lipstick complete this bewitching ensemble.
What do you think?
Are you looking forward to Halloween? Do you have a favorite Halloween song? Would you wear any of these outfits? Would you like to see more posts like this in the future? Let me know in the comments below!