Here at CF, you've learned how to dress like designers, celebrities, and even interns. But what about those behind-the-scenes gears in the machine that is the fashion industry? The editors, photographers, PR managers, buyers, art directors, and the slew of other people that keep this business up and running?
In this new column, we're looking at the styles of those front-row it-girls with jobs that "a million girls would kill for."
Who is Sophia Amoruso?
On Sophia Amoruso's days off from being an inspiration to our lives, she busies herself with being the founder and former CEO of her clothing company, Nasty Gal. Through hard work, dedication, and a love of vintage, Sophia built her eBay store into a multi-million-dollar fashion empire before she turned 30.
In her book, #GIRLBOSS, Sophia takes us from her humble beginnings as a squatter eating food from dumpsters to her spirited rise to CEO of her own fashion empire.
Throughout her career, Sophia has worn many hats, including creative director, buyer, stylist, photographer, and model. Although Sophia stepped down from her CEO position in January, she remains Nasty Gal's Executive Director. Her job includes overseeing the brand's creative and marketing branches.
How to Dress Like Sophia Amoruso
Much like her brand, Sophia's style is all about challenging the fashion industry. It's often edgy and bold, and breaks the typical fashion "rules."
Casual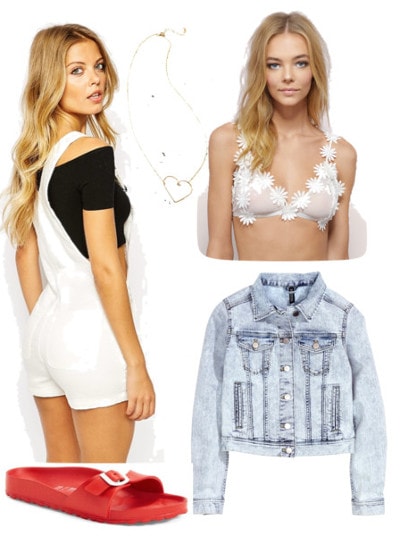 Product Information: Overalls, Bralette, Jacket, Shoes, Necklace
For a casual weekend look, think outside the t-shirt-and-jeans box. Start with a pair of white overalls, layered over a fun white bralette. Add a denim jacket for a grunge-y vibe. Finish off the look with unexpected and on-trend sporty sandals. These are great because they add a pop of color. Finally, a sweet heart necklace balances it all out.
Work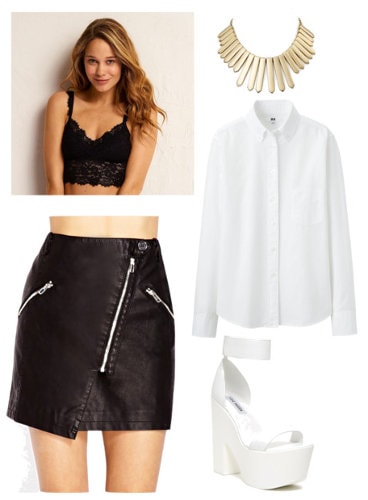 Product Information: Skirt, Shirt, Bralette, Shoes, Necklace
Although Nasty Gal is a company like no other, Sophia's looks are still work-appropriate. After all, to really be a #GIRLBOSS, you have to dress like one.
Start the look off with a rock-and-roll leather skirt with zipper details. Change up a work-ready oxford by layering it over a black bralette. Finish the look off with a statement necklace, and channel Sophia's company Nasty Gal with platform heels.
Going Out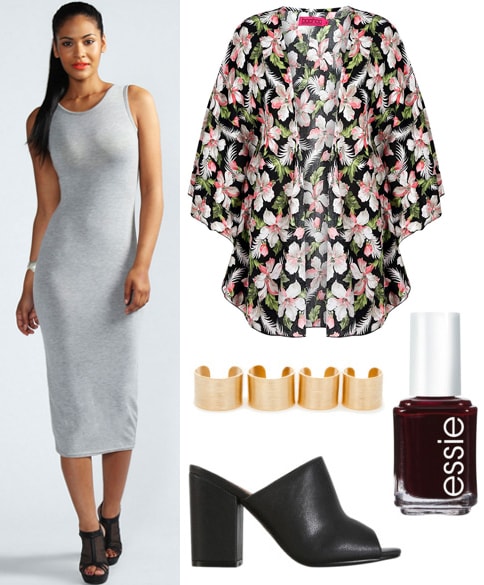 Product Information: Dress, Kimono, Shoes, Rings, Nail Polish
Anyone can wear a little black dress and be ready to go out, but if you want to really make an impact, channel Sophia's "break the rules" vibe. Start the look off with a tight midi dress. Add color with a fun kimono and chose mules over stilettos for an unexpected twist. Finish the outfit with bold cuff rings and a dark red nail polish.
What do You Think?
Do you shop at Nasty Gal? How do you challenge the usual fashion quo. Which of these looks is your favorite? Who would you like to see next? Let us know in the comments!