This post may contain affiliate links, which means we may receive a commission if you purchase through our links. Please
read our full disclosure here
.
Here at CF, you've learned how to dress like designers, celebrities, and even interns. But what about those behind-the-scenes gears in the machine that is the fashion industry? The editors, photographers, PR managers, buyers, art directors, and the slew of other people that keep this business up and running?
In this new column, we're looking at the styles of those front-row it-girls with jobs that "a million girls would kill for." This week, we're covering mega-famous editor Carine Roitfeld.
Who is Carine?
These days, Carine Roitfeld is most famously the editor-in-chief of her own magazine, CR Fashion Book. Carine has a rich background in many areas of the fashion industry, however.
Born in Paris, France, Carine embodies the pinnacle of French elegance. Like many fashion industry influencers, she graduated from Parsons School of Design. Carine went on to be a model, and later worked for French Elle and French Vogue.
Carine eventually became editor-in-chief of Vogue Paris. In 2010, she resigned in order to start her own magazine, CR Fashion Book. Carine remains a huge influence in the fashion industry, continually topping best-dressed lists.
To learn more about Carine's work and influence in the fashion industry, check out Mademoiselle C.
Carine's style is the epitome of French fashion, while being simultaneously her own. Carine plays up her best features. She likes to embrace simple pieces like pencil skirts and black heels, and always follows Coco Chanel's advice to remove one accessory before leaving the house.
Carine says that her favorite color is black, and that she would never wear sneakers. Digging her fashion philosophy? Check out the outfits below to copy Carine's simple, elegant, and timeless looks.
Casual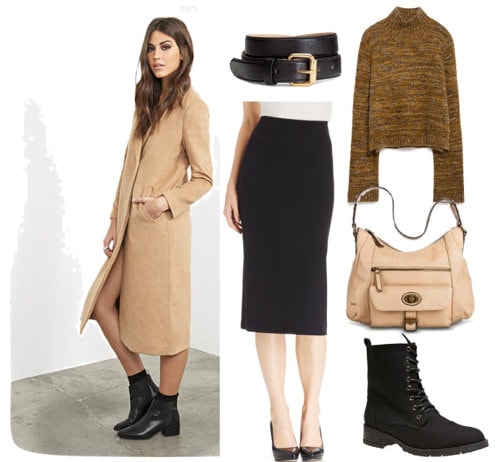 Products: Skirt, Sweater, Coat, Belt, Bag, Shoes
While this outfit may not seem like your idea of casual, we already know that Carine – much like the rest of the French – doesn't really do sneaks and sweatpants (outside of the gym, of course). This look takes Carine's usual outfit formula and changes some elements to make it cozy for the weekend.
Start with an easy black pencil skirt, preferably in a soft fabric. Layer on a cozy cropped sweater, and belt it at the waist. Swap out Carine's usual black heels for a weekend-ready alternative: black lace-up combat boots. Top off the look with a cozy coat and a slouchy bag.
Work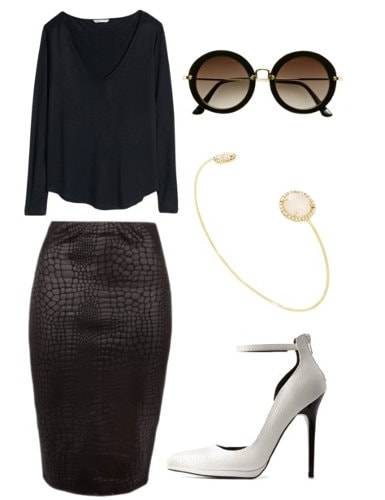 Products: Top, Skirt, Shoes, Bracelet, Sunglasses
For the office, keep your look chic and timeless so everyone can focus on the great job you're doing.
Start with a black pencil skirt in an interesting faux alligator print. Tuck in a simple black V-neck top. Accessorize with pretty ankle strap heels – these white ones contrast with the rest of the outfit – and a simple gold cuff. Finish with a pair of big fashion editor-style sunglasses so everyone knows you mean business.
Going Out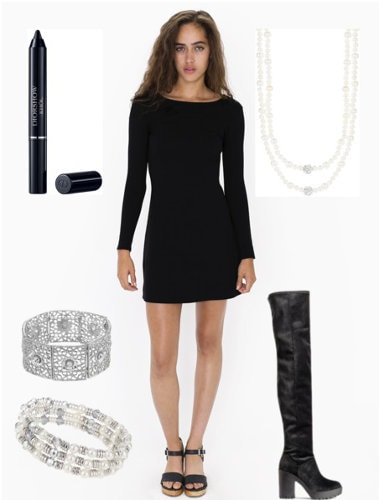 Products: Dress, Boots, Necklace, Top Bracelet, Bottom Bracelet, Eyeliner
Carine says she knows how to play up all her best assets. Take a hint from Carine, and the rest of her French girl friends, and keep your going-out outfit simple.
Start with a flattering LBD – I know you all have one. I like this one because its long sleeves balance out its short hemline. Add on-trend over-the-knee boots to elongate your legs. Top off your look with a long knotted necklace and silver jewelry. Finish with dark kohl eyeliner to make your eyes pop.
What do You Think?
Are any CF readers out there interested in magazine journalism? Which do you prefer, timeless French style or the latest trends? Would you wear these inspired-by-Carine outfits? Who would you like to see next on Fashion Girls 101? Let me know in the comments!