This post may contain affiliate links, which means we may receive a commission if you purchase through our links. Please
read our full disclosure here
.
Photos: Rumi Neely of FashionToast, Anne Hathaway in the Devil Wears Prada, Ashlee Simpson, Kate Beckinsale, Mary Kate Olsen
There are some things in the fashion world that we purchase with the best of intentions, but never get around to wearing. For me, this includes an assortment of pashminas, a plaid button-down dress, wide-leg linen pants, and a whole array of hats!
Why is it that so many of us forget to wear the cute hats we purchase? I wear much more daring items on a regular basis, such as over-the-knee boots and fur vests during the winter, so it's not that I'm fashion-shy. And I'm pretty lazy about washing my hair, so I could certainly use a hat more than I actually do. Anyone else encounter this strange phenomenon?
So this week's Fashion Challenge is to dig through your closet and find that hat you fell in love with at the store, brought home, and promptly forgot about. Styling an outfit around a hat is a lot easier than you think, especially as we progress into the chilly weeks of fall.
Ladies, read on for tips prepare for this week's challenge, then send in your photos to show us how you made it work!
Tips and Tricks for Rocking a Hat
Be bold and go for an androgynous look. Kate Hudson, Rumi Neely, and Hilary Duff have paired fedora hats with blazers, trousers, and suspenders, and they all looked amazing while doing it. A military-style hat would look just as cool.
Contrast and wear something girly. Nicole Richie has been seen wearing a fedora with a long dress for an exquisite bohemian look. For a similar aesthetic, try pairing a beanie, military hat, or newsboy cap with your favorite casual dress, some tights, and a pair of boots if it's cold out!
Look in the men's section. Often, women's hats are more expensive and smaller than hats in the men's section. Try looking there if you're having trouble when shopping.
Revamp an old hat. One of my favorite hats actually came from a boy's closet! He had a knit beanie, the classic type you find at Walmart. I pinned the back to make the cap slouchy, and I wear it on the back of my head like an urban turban now!
Dirty hair? A hat is the perfect way to disguise your just-rolled-out-of-bed look (especially if you're out of dry shampoo). You'll look fashion-forward with minimal effort!
Be fierce. Nothing ruins the look of a hat like nervous posture or a feeling of uncertainty while you're wearing it. People can tell when you're not feeling comfortable in your outfit! So be confident! If you believe you look awesome, others will think so too!
Sample Outfits Featuring Hats
Beanie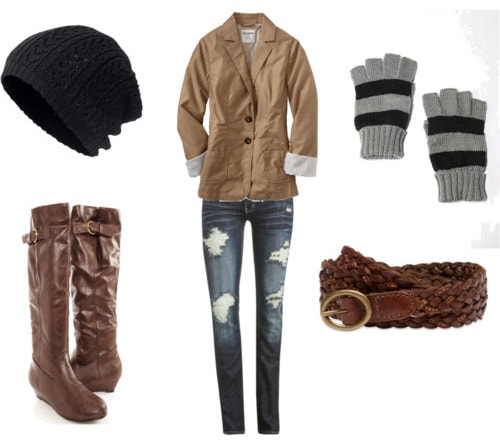 Beanie, Boots, Jeans, Blazer, Gloves, Belt
A beanie is perfect for the days you want to look put together, but have greasy roots and no time to shower.
Wear a slouchy beanie like this (place it an inch or two behind your hairline if you prefer to wear it as an "urban turban"). Pair it with some beat-up jeans and a blazer for a "prep school" inspired look. Continue the theme with a pair of rugby-striped fingerless gloves and your trusty leather belt. Finish with a pair of boots.
Fedora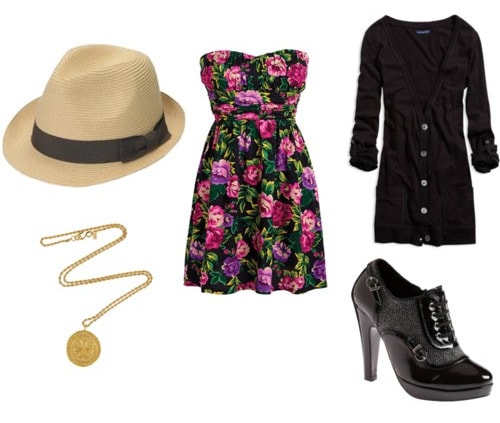 Fedora, Necklace, Dress, Cardigan, Shoes
Fedoras look great with any kind of hair texture, but I absolutely love them on girls with shoulder-length or longer hair.
This outfit is all about contrast! Pair a girly floral dress with a cardigan for nippy weather, and top it off with a long necklace. Complement the androgyny of a fedora with a pair of lace-up oxford heels. This ensemble would be perfect for a night on the town, but to modify it for class, throw on a pair of tights and some boots instead.
Military Cap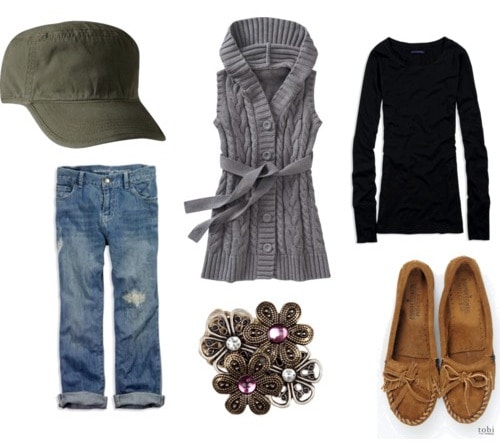 Hat, Jeans, Sweater, Shirt, Ring, Moccasins
Military caps are so versatile– wear them with your hair down, or in a low side ponytail.
An outfit like this would be ideal for class. I started off with an adorable belted sweater – it's super cute and perfect for fall and winter! Wear it over a plain black long sleeved shirt, and pair it with some cute and laid-back boyfriend jeans. Finish with a pair of moccasins and a statement ring.
Rocked the Challenge? Send in your Photos!
Did you wear a stylish hat this week? Send in your photos to fashionchallenge AT collegefashion.net along with your name, school, a description of what you're wearing, and your blog URL if you have one! We'll post your pictures here to inspire other CF readers!
We can make you a celebrity overnight. 🙂
Thoughts?
Do you forget to wear the cute hats you've bought for yourself? What is your favorite type of hat to wear? What future fashion challenges would you like to see? Sound of with a comment!