This post may contain affiliate links, which means we may receive a commission if you purchase through our links. Please
read our full disclosure here
.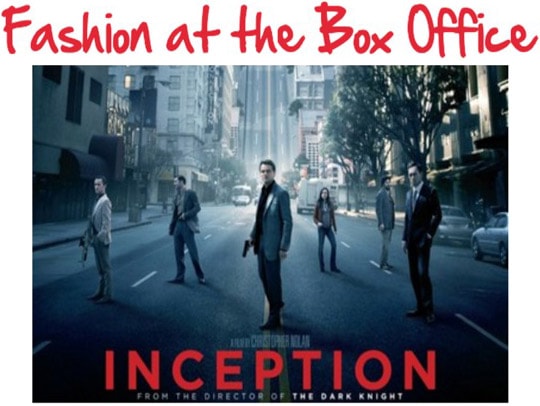 The Golden Globes air January 16th, so in honor of one of film's biggest nights, here is some fashion inspiration from one of the nominees, Inception. A sci-fi epic directed by Christopher Nolan, the movie is nominated for Best Picture (Drama), Best Director, and Best Screenplay. But aside from its critical acclaim, the film is worth watching for the fashion. Jeffrey Kurland, costume designer for the film, had this to say about the role of costuming in the film (via New York Magazine):
"Character development is at the forefront of costume design. The characters move the story along and with the director and the actor the costume designer helps to set the film's emotional tone in a visual way."
Inception combines fashion influences from all over the world to make its characters seem mysterious and intriguing, much like the dream worlds they inhabit. Here are four looks inspired by the movie Inception.
Dream Thieves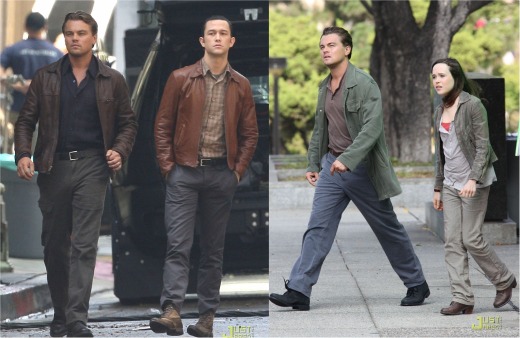 Inception follows the exploits of memory "extractor" Dom Cobb as he attempts to get his life back by performing a dream heist for a Japanese businessman, Saito. He and his partner, Arthur, assemble a team of dream thieves- Eames, an identity forger; Ariadne, an architect; and Yusuf, a chemist who creates a powerful sedative so they can navigate through multiple layers of dreams.
This outfit was inspired by the casual clothes the characters wear while coming up with a plan in Paris. They all wear simple pieces in muted colors, but the combination comes off as effortlessly cool and mysterious. To get this look, try wearing gray jeans with an army jacket and brown boots. A ruffled shirt and triangle scarf, like the ones Ariadne wears, add a dose of Parisian chic, while dreamcatcher earrings allude to dreams.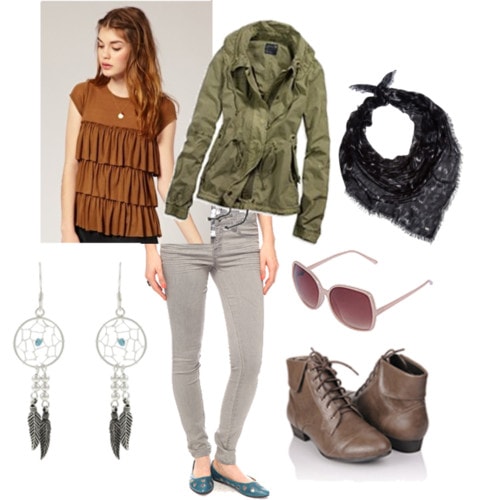 Product Information: Top- Asos, Earrings- Overstock, Jeans- Forever 21, Jacket- American Eagle, Scarf- Armani Exchange, Sunglasses- Forever 21, Boots- Forever 21.
Dream Within A Dream
This next outfit is inspired by the Asian influences in the movie and the classic spy looks the men sport. The black embellished dress evokes the aesthetic of the dress Mal (Cobb's wife) wears. A white silk shrug in the style of a kimono and floral earrings add Asian flair, while a gold clutch and cutout heels are a nod to the retro, Art Deco style of the film.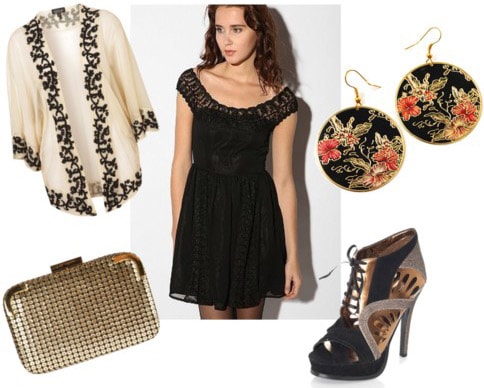 Product Information: Clutch- Armani Exchange, Shrug- Topshop, Dress- Urban Outfitters, Earrings- Avalaya, Heels- Miss Selfridge.
Limbo

The team soon finds out that if anyone dies while in their dream world, they will be stuck in Limbo, the deepest level of the mind's subconscious. Cobb and Mal were once stuck in Limbo, and they built an entire world for themselves.
This look is inspired by Mal's flowy maxi dress and the beach at the edge of Limbo. A long slip and a printed tank (that looks like the crumpling buildings of Limbo) make for a chic beach coverup. A denim jacket is the perfect addition for when it gets chilly.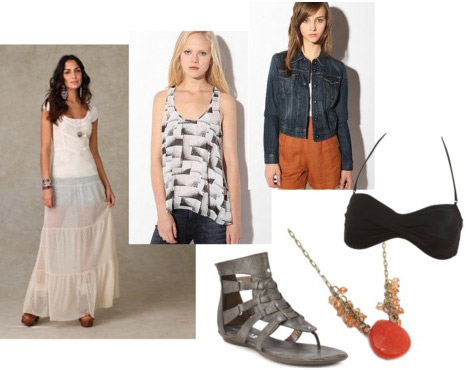 Product Information: Slip- Free People, Tank- Urban Outfitters, Jacket- Urban Outfitters, Bathing Suit- Topshop, Necklace- Fantasy Jewelry Box, Sandals- Heels.com.
A Stylish Premiere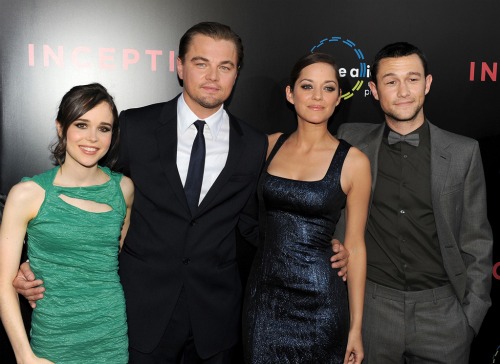 Style inspiration was not limited to the scenes inside Inception; the cast was also impeccably dressed at the film's L.A. premiere. The red dress below has the same cutout effect as Ellen Page's green dress, and a silky beaded jacket ties in the navy from Marion Cotillard's dress. Keep accessories minimal and classic like the two do above, and swipe a little dark eyeliner on for a sultry starlet effect.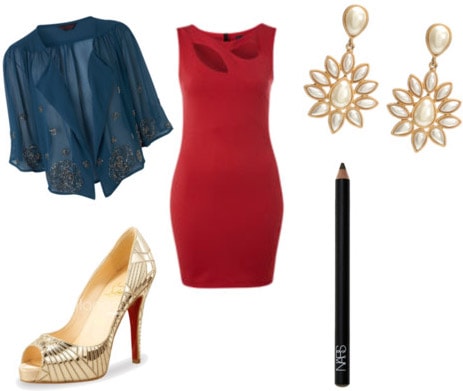 Product Information: Jacket- Miss Selfridge, Heels- Milanoo, Dress- Miss Selfridge, Earrings- Amrita Singh, Eyeliner- Barneys.
What do you think?
How do you draw fashion inspiration from your favorite films? Did you like the wardrobe choices in Inception? What other movies inspire you? Let me know with a comment!