Emporio Armani's Spring 2016 collection features gorgeous feminine looks for the spring season. The collection makes use of blush pinks, metallic grays, and tantalizing tans, to breathtaking effect.
Want to snag a runway-ready look for less? Just scroll down to check out three looks inspired by Emporio Armani's Spring 2016 collection.
1. Golden Glow
This camel hue is crazy versatile – it can easily be matched with almost any color or pattern. A camel dress is a wonderful choice for spring as you can layer it with anything. In this look, a leather jacket and white handbag are the perfect companions.
Get the Look: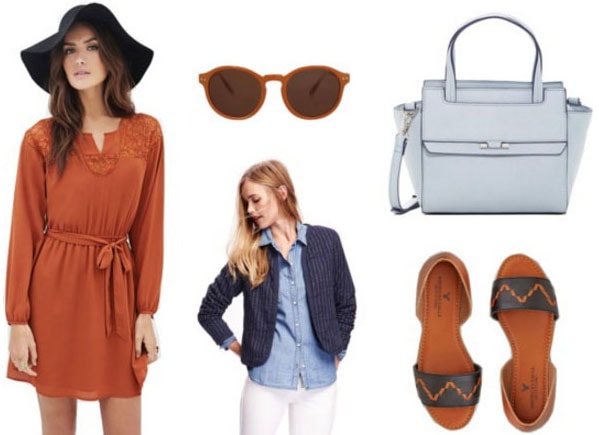 Products: Dress, Sunglasses, Jacket, Handbag, Shoes
For a similar outfit, pair a tan belted dress with a navy blue striped cardigan. Accessorize with wide-rimmed sunglasses and a contrasting white handbag. Finish the look with eccentric tan and navy blue peep toe flats.
2. Prepped & Polished
A blouse and pants combo is a classic look that's been given a chic update with loose-fitting pants and color-blocking on the shirt. This ensemble also features tan accents for a sophisticated, spring-ready appearance.
Get the Look: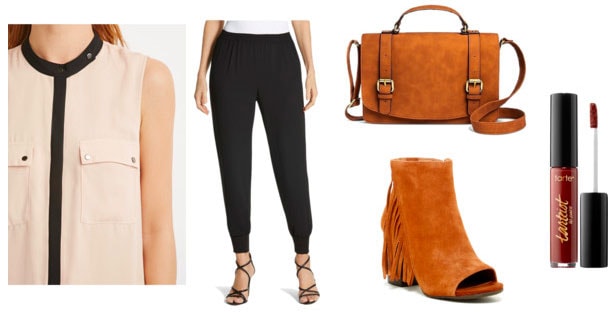 Products: Shirt, Pants, Handbag, Shoes, Lipstick
For this look, combine a cream and black contemporary blouse and loose-fitting black pants. Add on tan fringe peep-toe booties and a matching tan handbag. Top it all off with dark red lip paint.
3. Leather Edge
Leather always makes a statement, whether in the form of a shirt, a skirt, or a handbag. Although you might not think of leather as a springtime fabric, it works so well in this look, mixed with blush pink and white.
Get the Look: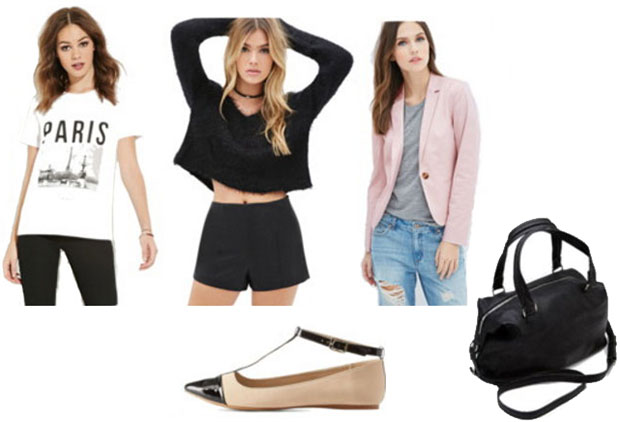 Products: Shirt, Shorts, Jacket, Handbag, Shoes
For this last look, start with a nice, simple graphic tee. Put on some edgy leather shorts with a soft baby pink blazer to get that mix of edgy and sweet. A large black bag works well for this ensemble. Complete the look with nude and black t-strap flats.
Your thoughts?
What do you think of Emporio Armani's Spring 2016 collection? Which outfit is your favorite? Remember to share your thoughts in the comment section below!