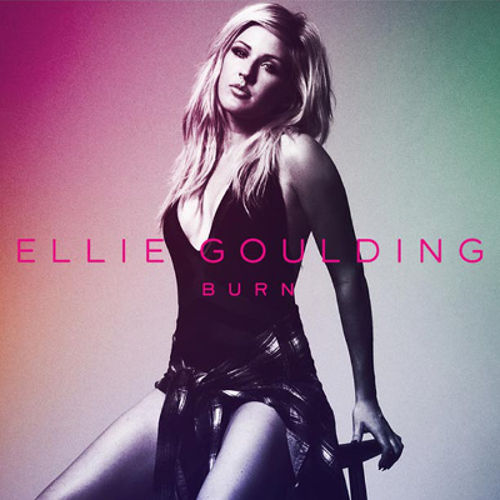 Photo Credit: Interscope
Ellie Goulding's music is malleable. It transcends synth, pop, EDM, and indie rock, so there's a little bit of something for everyone. The same can be said about her fashion, which is a unique mix of hip-hop, glam, minimalist, and avant garde. Words that come to mind when considering Ellie Goulding's style are: fun, fearless and eclectic, and her bonus track single "Burn," from the album Halcyon Days, radiates these traits.
"Burn" is a perfect getting-ready song: Goulding's angelic voice is inspired and the ethereal beat is as invigorating as those little microbeads in Clean & Clear facial scrubs.
If you haven't seen the video yet, it's pretty much what we all want our spring break to consist of: looking flawless in an expansive meadow (and airport runway?) and dancing the night away with friends amid flashing lights. Check out the music video below, then read on to see three outfits inspired by the song and Ellie's style:
We Got The Fire
The songstress has that Twiggy-meets-David Bowie thing going on, and said herself that the androgynous look appeals to her. "Burn" is an up-tempo song and calls for an outfit you can dance in—one that's both funky and comfy. Ellie often wear tights or bootie shorts with tomboy muscle tees, and implores "badass boots" are always a necessary item. Keep the jewelry minimal and "let it burn" with a bright orange jersey top, some cool print leggings and punk kicks.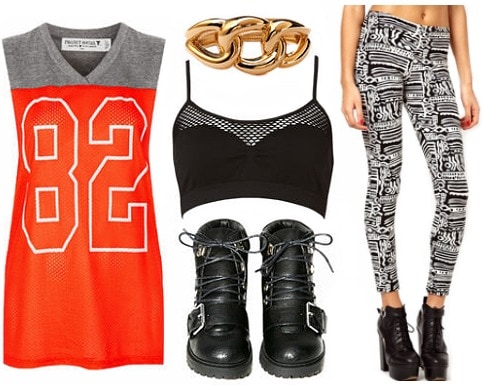 Product Information: Shoes- NastyGal, Top- Topshop, Leggings- ASOS, Bracelet- Forever 21, Bralette- Forever 21
See Us From Outer Space
Don't hesitate to mix and match bold pieces when channeling this Brit beauty. "Burn," much like Ellie's other tracks, gives off an airy and spacey feel, so galaxy leggings and a statement necklace (with asteroid-size gems) are sure to have people "see [you] from outer space." Tone things down with a clean oversized top and black boots. Remember: we're the "stars of the human race," so go on and shine!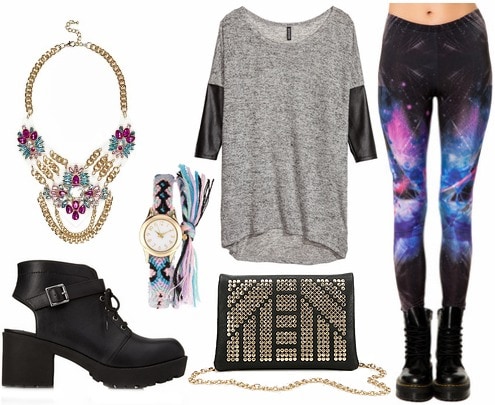 Product Information: Booties- Forever 21, Leggings- Karmaloop, Purse- Urban Outfitters, Watch- ASOS, Top- H&M, Necklace- ASOS
We'll Be Raising Our Hands
This free spirited artist has one of the most unique voices in the business—it's so distinct that she stands out like a unicorn among a string of ponies. Okay, that was bad, but the point is: don't be afraid to stand out. Pair some rubber boots with cute tights and matte shorts. "There's no sleeping now," so roll out of bed with a quirky sweater, stack up some rings and you're good to go! Since you're going to be raising your hands—perhaps not up to the sky, but maybe just to answer a few questions in class—why not "light it up" and leave a rainbow wherever you go?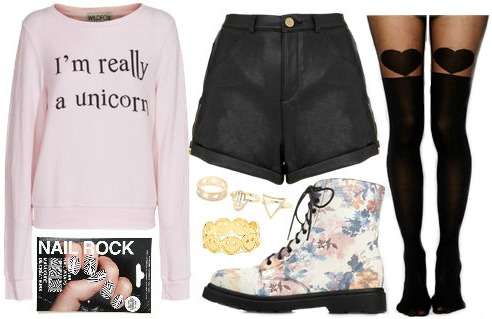 Product Information: Boots- Forever 21, Tights- ASOS, Nails- NastyGal, Rings- PacSun/NastyGal, Sweater- Wild Fox, Shorts- Topshop
Bonus!
If you like Ellie's look as much as we do, you should watch her interview with ASOS. She talks about her personal style, her favorite fashion moments, and more:
https://www.youtube.com/watch?v=p0xKvo0fS5s
What do you think?
Do you like this song? Would you wear these outfits to class? How do you like Ellie Goulding's unique style? Let me know in the comments!