It's May! And with spring finally here, magazine editorials are starting to display some refreshingly bright ensembles to reflect a new season. As these glossies demonstrate, it's time to say goodbye to layers and layers of knits, and welcome the warm, sunny rays with spring and summer-appropriate ensembles.
Not sure what to wear for the weather's change of heart? Well, all you need to do is scroll on down: I've compiled some of my favorite of-the-moment fashion editorials and paired them with some inspired outfits. Interested? Read on, sunshine!
1. Tati Cotliar by Richard Burbridge for T Magazine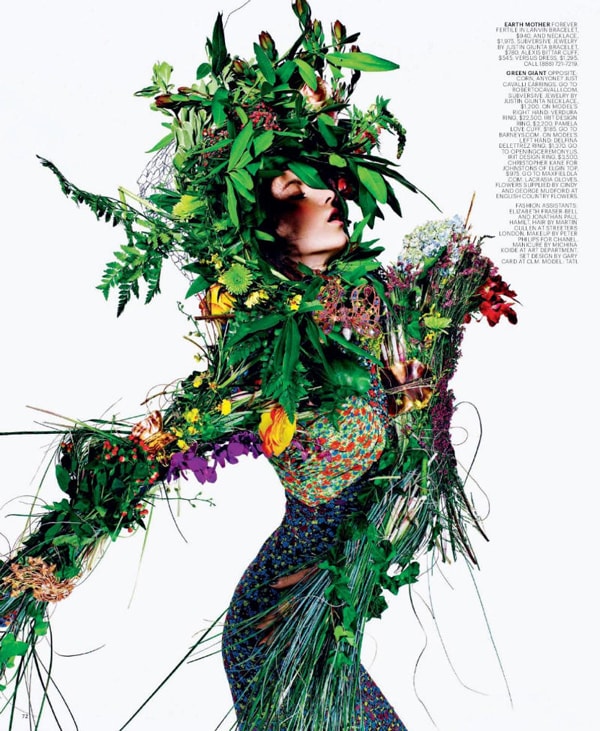 (To see the rest of this editorial, check out the source, FashionGoneRogue.)
While the outfit is not exactly real-life wearable, I couldn't help but admire the beautiful colors and prints in this explosive editorial. Definitely taking the whole "florals for spring" thing literally, T Magazine managed to flawlessly fuse fashion and art together. I love the interesting prints as well as the cool, sculptural aspect of this photo.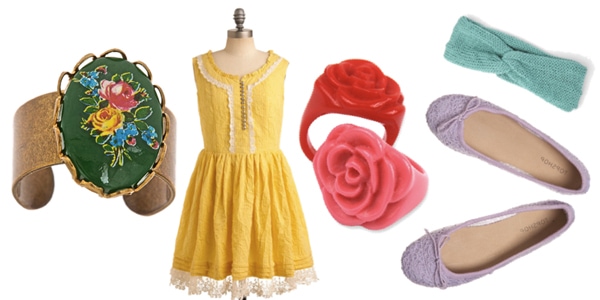 (Ring, Dress, Rose Rings, Flats, Turban)
To create an outfit inspired by the editorial, I tried to find garments that stayed true to the colors in the photo. To start, I chose a '60s-esque lace-embellished dress and paired it with an adorable set of lilac ballet flats, also with floral lace detail. To add that extra kick of color, I picked three fun rings – one vintage style cameo ring with a kick of green, as well as a pair of lovely rose rings. Lastly, to finish off the look, I picked out an optional knit headband – it adds a fun kick of teal to the look, without being too loud.
2. 'Delightful, Stripe & Dot' Choi Joon Young by Zo Sun Hi for Singles Korea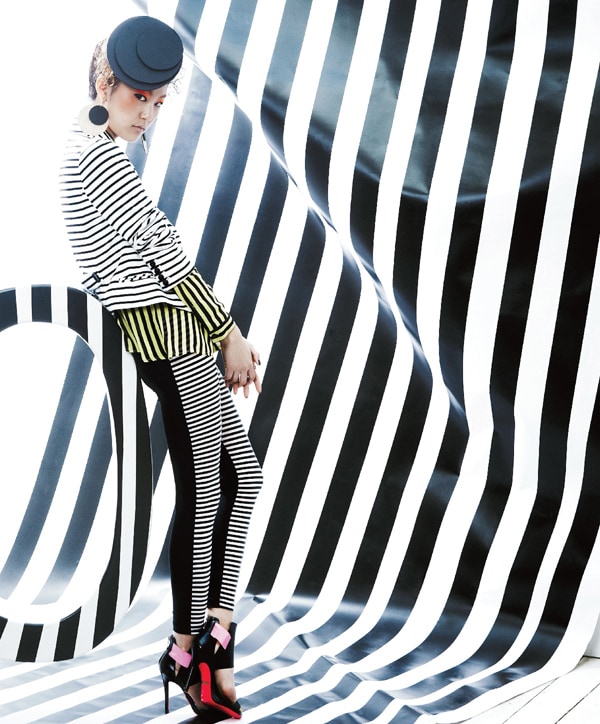 (To see the rest of this editorial, check out the source, FashionCopious.)
If you're a fan of edgy minimalism, you'll love this editorial from Singles Korea. It's an absolute love letter to stripes, and as a fan of patterns myself, I can't help but go gaga for it. Love the heels, the pops of color, and the complex simplicity of it all.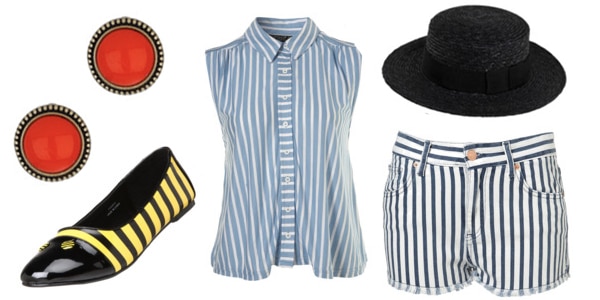 (Earrings, Flats, Shirt, Shorts, Hat)
To help you get a similar look, I went hunting for everything stripey. First on the list? A pair of awesome striped shorts – they're so nautical chic! For an interesting contrast, I paired the shorts with this cool soft blue button-up blouse. To add those pops of color to the mix, I picked out a pair of red studded earrings, and a fun pair of bumblebee striped flats. And last but not least, to keep that noggin of yours company, I found a simple but cool black hat.
3. Melissa Tammerijn by Andreas Larsson for 10 Magazine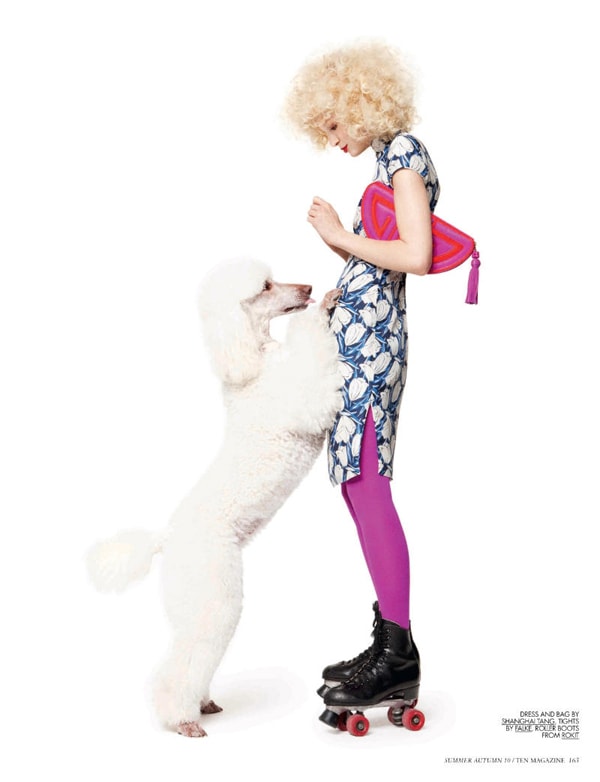 (To see the rest of this editorial, check out the source, FashionGoneRogue.)
10 Magazine's '70s disco editorial is too cute for words! With its loud, bright colors, pretty pop of print, and minimalist background, what's not to love about this photo? I'm obsessed with the fun lively mood, and I can't get enough of the precious poodle/model relationship! So adorable.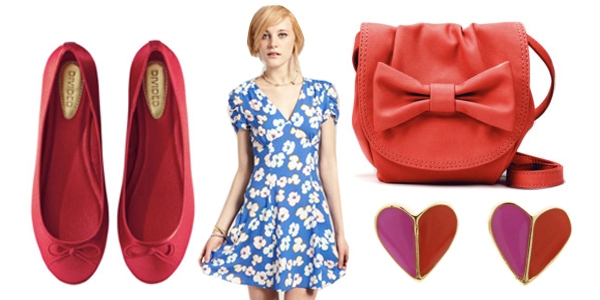 To create a similar look, I stayed true to the colors in the picture and started off by picking out a lovely printed dress that's perfect for a summer's day. I then paired the dress with a double whammy of bows – one pair of bowtie ballet flats, and a cute mini bag with a hello kitty-esque bow attached. Finally, to complete the look, I picked out an adorable pair of heart shaped earrings. Zooey Deschanel, eat your heart out.
Thoughts?
What do you guys think of this month's batch of editorials? What was your favorite? What about the outfits I put together? Did you love them or hate them? How are you planning to embrace the summer sun? Whatever your thoughts, let me know in the comments!