It's finally March, which means we're almost out of the woods and into the meadow – spring is around the corner! Accordingly, this month's batch of editorials is an eclectic mix of spring must-haves, floral finds, and outfits to cure your lingering winter blues.
So whether you're looking for that perfect "first day of spring" top or you're trying to get some last chance mileage out of your favorite tights, there is a look in here for you. Interested? Scroll down to check out some great fashion inspiration – you wont be disappointed!
1. Ornamental Orchid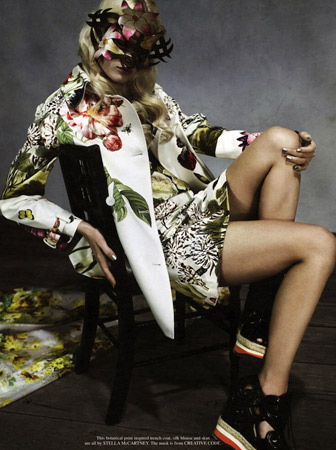 Click image to enlarge. (Source: Cartoon Styles)
To start off this month's list of editorial looks, I picked out this awesome shot of Hannah Holman for Grey magazine. I love everything about this picture, ESPECIALLY the fact that Hannah is rocking her Stella McCartney head to toe. The prints on the blazer and dress are so cool. And I love the headpiece (or I guess you could say mask) and shoes. The whole look has this muted color palette which is yummy to look at.
Get the Look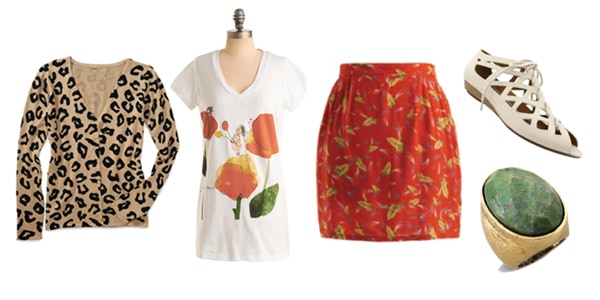 (Cardigan, Shirt, Skirt, Ring, Flats)
I tried to make my inspired outfit more "young" than the editorial look, so I pulled similar colors and also tried to capture the spirit of the prints instead of outright copying them.
I started off with a white graphic tee that's meant to be tucked in to this great red floral print skirt I found. Then, to throw over your shoulders, I picked out this catty cheetah cardigan – it adds a bit of dimension and also throws some unexpected hues into the ensemble's color palette (which I love). Finally, I picked out a pair of peep-toe cutout flats for your feet and a cool green stone ring to rock on your hand. Pull this look together and you'll look retro-chic in a modern way.
2. Pretty Punk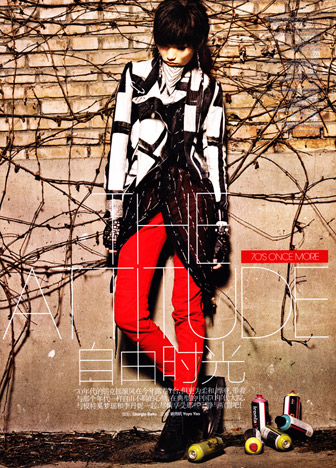 Click image to enlarge. (Source: Fashion Copious)
This girl (shot by Giorgio Batu for Vogue China's March issue) has got this whole rock 'n' roll rebel thing going on, and I'm diggin' it. I love her black sheer top – it's so cool how you can see the red of her pants peeking out from underneath. And also, I didn't notice until just now, but she's got lace gloves on, too – is there anything more fierce? This outfit is all about the understated details (except for that jacket – that's way too cool to be understated).
Get the Look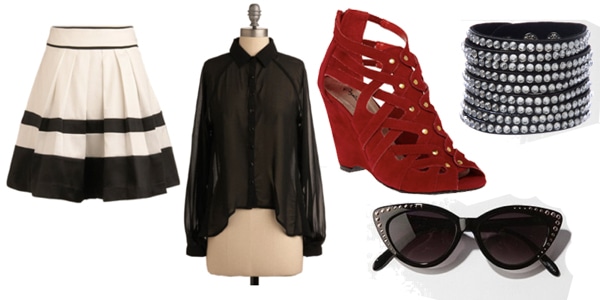 (Skirt, Shirt, Heels, Sunglasses, Bracelet)
I went a little preppy rockabilly for my look inspired by the Vogue China editorial. To start, I picked out a sheer top like the one the model above is wearing – I recommend throwing on a black top or some cool lace shirt underneath to show garment depth. Then, I picked out this gorgeous a-line skirt to get that whole monochromatic look the shot has. Finally, getting down to the details, I picked out a pair of great strappy wedge heels in a deep, rich red color, as well as a pair of studded bracelets and cat-eye sunglasses.
3. Short Stemmed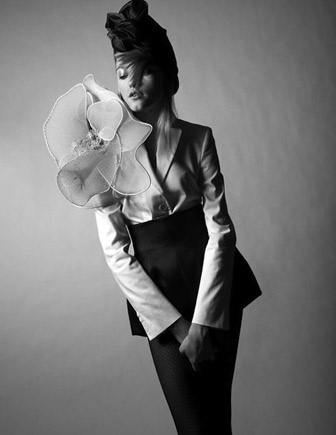 Click image to enlarge. (Source: Cartoon Styles)
This editorial (which, to be fair, isn't recent – it's from Numéro magazine's April 2007 issue – but I thought it was too Spring-perfect to ignore!) is deceptively simple all around – and I think that's why I love it. Clean lines, set against a grey background, help to show off the most important parts of the garments – their structures. Plus, that flower is freaking huge. (And who doesn't love flowers for Spring?)
Get the Look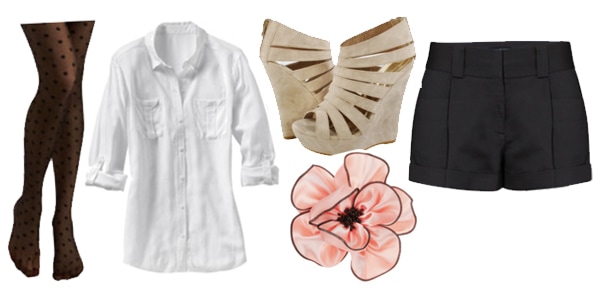 (Tights, Shirt, Heels, Pin, Shorts)
To get a similar look, I stayed pretty true to this editorial's look, pulling a similar shirt-and-shorts combo. I also picked out a pair of polka dot tights, which are adorable while still giving off a little bit of sex appeal. To finish the look, I picked out some drool-worthy cutout heels, as well as a flower to pin onto your blouse. Half mod, half modern, this look is classic prep.
4. Rainbow Brite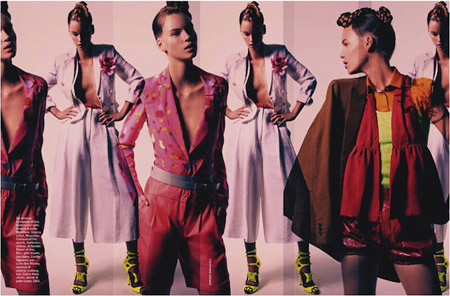 Click image to enlarge. (Source: Fashion Copious)
I usually only feature three editorials per post, but I loved this editorial (from D La Repubblica – an Italian magazine) so much I couldn't drop it. I love the colors that are represented here: Reds, blues, greens, yellows – they're all included in some way, and in fun patterns and cuts.
Get the Look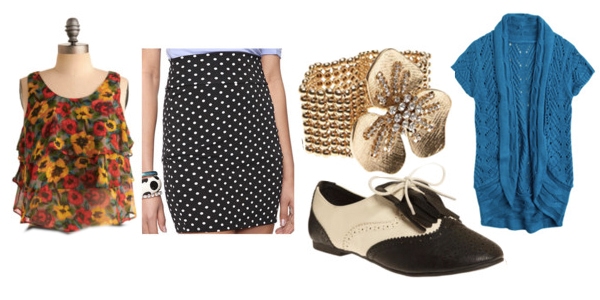 (Top, Skirt, Bracelet, Shoes, Cardigan)
To help you get this look, I tried to pick out garments with a wide variety of colors and patterns. Starting us off, I picked this springtime fresh floral blouse and paired it with a cutesy polka dot skirt. These two patterns are so different that, despite their differences, they somehow work flawlessly together.
Continuing the look, I pulled a beautiful blue jay-hued cardigan – the cutouts add another layer of pattern, which creates more interest for the eye. For shoes, I took note of the fabulously quirky oxford heels in the editorial, and toned them down, choosing the oxfords you see above. Now just pair those oxfords with the gold flower bracelet I found and you'll have a picture-perfect outfit.
Thoughts?
What did you think of this month's editorials? Did you love them? Hate them? What about the looks I put together? Whatever your thoughts, let me know in the comments!
And if you want to see the rest of the respective editorial spreads featured, check out the source link under the pictures, they'll take you to the website they were found at. Check em out; you won't be disappointed.