With June finally here, it's time to embrace the summer sun and wave bye-bye to stormy weather. That means saying "Hell-o!" to shorts, skirts, and dresses, and "Goodbye!" to trench coats and scarves. Don't know what to wear with the increase in temperature? Why not check out some of the best fashion editorials from this month's crop of glossies!
Interested? Read on to see some of my favorite looks this week as well as some wearable inspired looks!
Valerie Van Der Graaf In 'Hong Kong Garden' for Vanidad Spain May 2011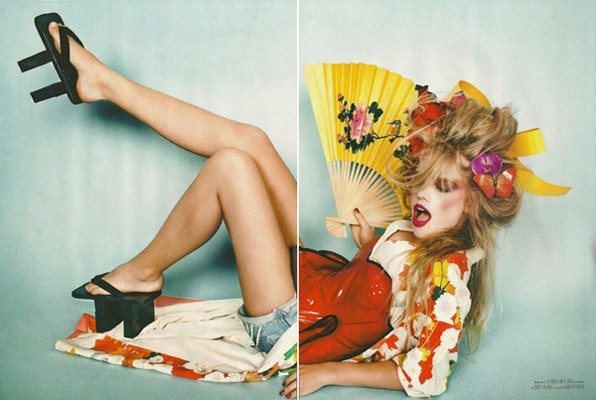 (See the rest of this editorial at FashionCopious.)
If you like this Asian-inspired/floral look, you'll love the rest of the editorial (which I highly recommend you check out – click the link above!). With oodles of warm colors, a hint of denim, and a sexy updo, it's hard to resist this pinup-esque look. Love it!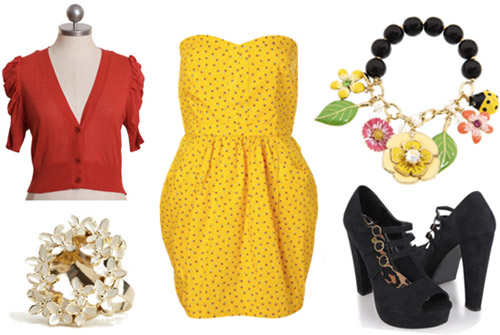 (Products: Cardigan, Ring, Dress, Bracelet, Heels)
To get a sultry and sweet inspired style, I picked out this fantastic strapless dress in a canary yellow print. I then added a vibrant red cardigan that can be easily thrown over your shoulders on warmer days. For shoes, I picked out a pair of strappy black peep toe heels that are both cutesy and sexy at the same time. And lastly, to add a pop of flower power, I found a chic flower ring and a whimsical floral charm bracelet. Whether you're headed to a garden party or high tea with Grandma, don this outfit and you'll feel like a million bucks.
Bonus Editorial Video:
Surprise! In addition to an amazing editorial, this shoot also had an awesome video attached to it. Check it out above, you'll love the vintage-y pin-up vibe mixed with the Asian-inspired details, promise!
Saskia de Brauw by Ben Toms for Dazed & Confused June 2011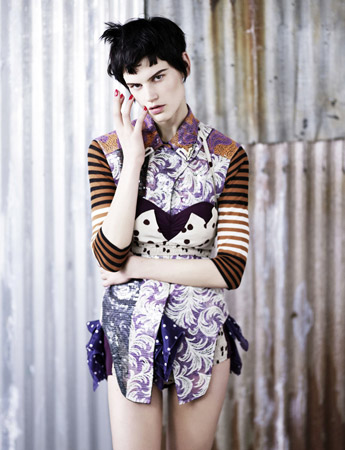 (Click image to enlarge. See the rest of this editorial at FashionCopious.)
If you have a passion for prints, you'll love this avant-garde look. By mixing a bevy of colors, prints, polka dots, and stripes, this outfit achieves an awesome look that is sure to inspire. I absolutely love the strong eyebrows on model Saskia, as well as all the rich browns and vibrant plums that she is wearing!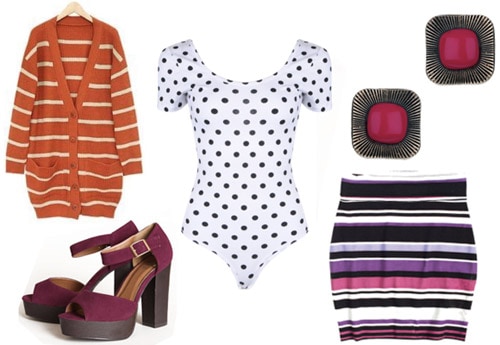 (Products: Cardigan, Heels, Bodysuit, Earrings, Skirt)
To get an inspired look, I picked colors and prints like those found in the editorial, and looked for garments in similar tones. I first found a super cool polka dot bodysuit that you can easily layer with a skirt, like the purple/magenta striped one that I chose. For some extra eclectic edge, this combo can then be paired with this orange striped cardigan and some chunky magenta heels.
'The Shirt Off His Back' Adina Forizs by Damian Foxe for How to Spend It May 2011
(Click image to enlarge. See the rest of this editorial at FashionCopious.)
All you tomboys and preps will love this look! Highlighting menswear with a twist, this model rocks the "boyfriend" look perfectly. While it is a masculine look, the outfit still manages to highlight Adina's fantastic stems, which offer that perfect touch of femininity. J'adore her oxfords, her watch, and her suspenders – overall, this entire editorial is impressive!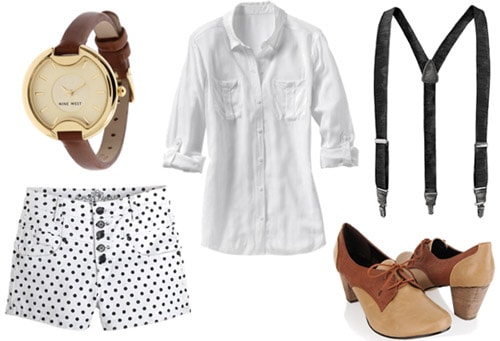 (Products: Watch, Shorts, Shirt, Suspenders, Heels)
For my inspired look, I stayed pretty true to the editorial, choosing a pair of heeled oxfords, some suspenders, and a basic button up. However, I jazzed up the outfit by adding this fantastic pair of polka dot high-waisted shorts. Attach the suspenders to the shorts, and slip the fabulous big faced watch onto your arm, and you'll be done. Chic and fun, this outfit maintains the simplicity of menswear while throwing in a couple jazzy details.
Thoughts?
What did you guys think of the editorials I chose? Love them? Hate them? Which one was your favorite? What did you think of the inspired looks? Whatever your thoughts, let me know in the comments!