I don't know about you, but one of my favorite pastimes is checking out the crazy, elegant, beautiful getups that I see worn by the models in my favorite glossies. I don't know exactly why I'm so in love with fashion editorials – there's just something so inspiring about seeing a person dressed in "different" way, doing a "different" pose, often in a situation outside the norm, that just gets my blood rushing and my artsy fartsy brain in a tizzy.
So, with my new series "Electric Editorials", I'm hoping to share my passion for editorials with you! Every two weeks, I'll show you some cool magazine spreads (be they edgy, casual, or classy), plus show you how to channel the high-fashion looks on the pages into real-life outfits. Excited? Me too!
1. Modern Monochromatic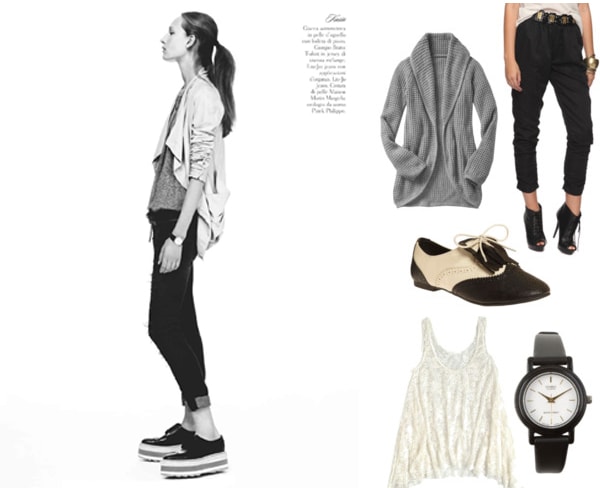 (Editorial: Amica Source: Fashion Gone Rogue | Get The Look: Cardigan, Tank, Oxfords, Harem Pants, Watch)
For our first look, I thought we'd start off cool and casual. This great monochromatic editorial from Amica Magazine caught my eye and I couldn't resist including it in this week's article. I love the slouchy yet refined top-to-bottom contrast, as well as the minimalistic simplicity of the overall look.
To help you get a similar look, I picked out a pair of slim harem pants and paired them with a white lacy tank top and a pair of adorable black and beige oxfords. Then, to finish it off and cool it down, I pulled a menswear-inspired black watch, as well as an awesome cocoon cardigan that will keep you comfy and chic at the same time.
2. An American Classic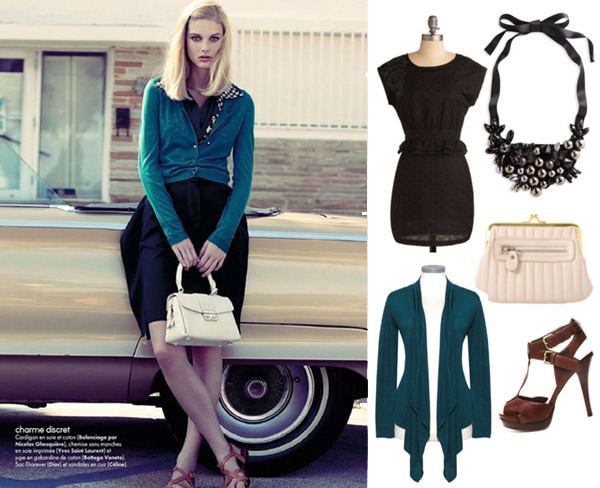 (Editorial: Elle France Source: Fashion Gone Rogue | Get The Look: Dress, Necklace, Cardigan, Heels, Clutch)
My second editorial choice is a walk down '50s street, shot by Elle France. I saw this girl and fell in love with her quiet beauty and elegant attire. When looking at this shot, I feel almost as if I am in the picture myself, with the wind softly blowing my hair in the same direction.
To recreate this retro-fabulous look, I picked out this great black peplum-style dress and topped it off with an attention-grabbing jeweled statement necklace. I also picked out a beautifully drapey cardigan in a similar color to the one in the editorial. Finally, I found a pair of sultry-chic brown heels that can be dressed up or down for any occasion.
3. Flower Child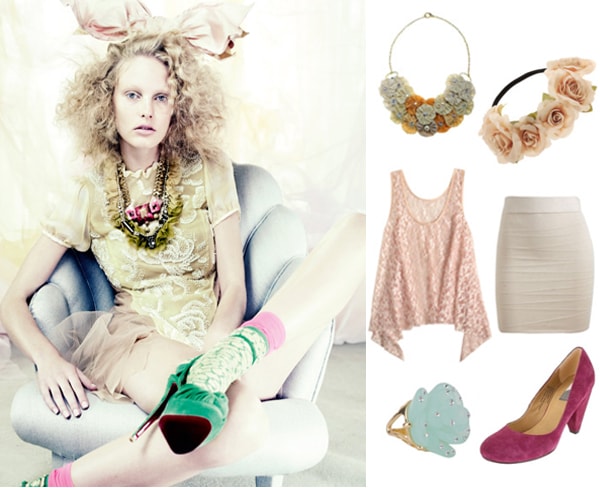 (Editorial: Vogue UK Source: Fashion Gone Rogue | Get The Look: Necklace, Tank, Skirt, Heels, Ring, Headband)
My last editorial choice, from Vogue UK, is my favorite look of the week and – with its confectionery aesthetic – the icing on the cake. This shot is absolute perfection – the lace detailing is amazing, the colors are vibrant, and everything the model is wearing looks so soft and velvety that I feel like melting into a pool of butter.
To get a sugary sweet look reminiscent of this candy-coated editorial, I started off with a pale pink lace tank and paired it with this great off-white bandage skirt. For heels, I found a pair of maroon suede pumps that are just loud enough to announce your arrival.
Finally, for accessories, I brought out the big guns – yes, it's floral time. I first picked out this great rose-adorned headband that can be worn as a traditional headband or a hippie headband (depending on your taste), then, for your neck, I picked out a fabulous statement necklace with floral accents. (I love the flowers' muted colors!) Last, but certainly not least, I grabbed this soft blue rose ring to keep your finger company.
Thoughts?
So, what'd you think? Did you like the editorials I chose? What about the inspired looks I put together? Whatever your thoughts, let me know in the comments!
And, if you want to see bigger shots of the pictures I chose, as well as the rest of the editorials, just click the "source" link under each of the pictures – it'll take you to the website where I found them. Take a gander – I guarantee they won't disappoint!