Spring's here, and with it comes the long-awaited heat wave. (Northerners, it'll be here before you know it!) Unsure of what to wear with the temperatures finally creeping up? Well, I've picked out some of my favorite fashion editorials for this month and created inspired looks to get your noggin churning and your own sartorial style abrewin'.
You know the drill, scroll down to check out my favorite fashion editorial shoots this month – you won't be disappointed!
1. 'Shades of Summer' with Jenny Sinkaberg by Saga Sig for Topshop Spring/Summer 2011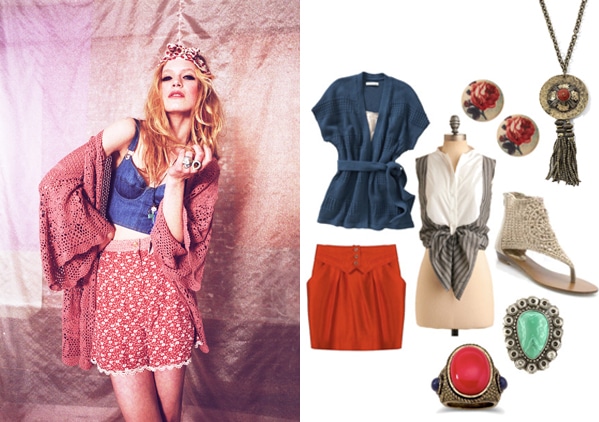 (Source: FashionCopious | Cardigan, Skirt, Blouse, Earrings, Necklace, Sandals, Red Ring, Green Ring)
First off, if you get a chance, click the source link above and take a look at this Topshop editorial in its entirety before reading on – it's got a great young bohemian feel to it, perfect for those of you who love the '60s. Speaking of the editorial, I love the retro look that the model above is rocking. Everything she's wearing is very "other era," which always makes a statement.
To help you get a similar, yet more wearable version of our model's look, I stayed true to the outfit's prints and colors. I started by picking out this great blouse that knots up at the bottom and pairing it with an adorable red skirt that's just the right length. To add that hint of blue, I snuck in a blue crochet cardigan that can easily be slipped on or off, depending on the temperature. For accessories, I found some spring-perfect crocheted sandals, two beautiful stone rings, a pair of rose earrings, and this great chunky necklace.
If you're looking for a free-spirited ensemble that's not too "new age" then this look is for you – throw it on and you'll be retro-chic all day.
2. 'Fan For Life' with Jessica Stam for Russh #39 by Will Davidson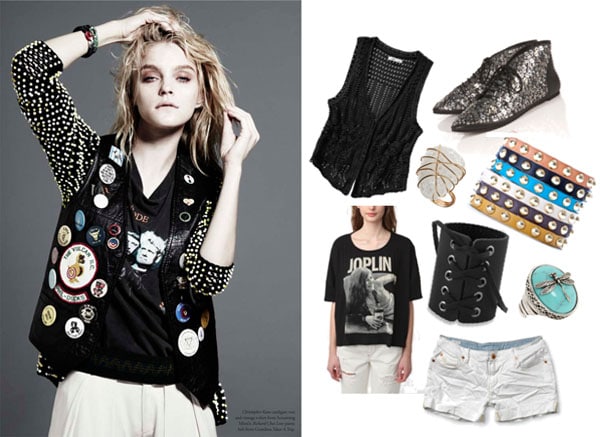 (Source: FashionGoneRogue | Vest, Top, Stone Ring, Shoes, Lace Bracelet, Studded Bracelet, Dragonfly Ring, Shorts)
Rock n' roll style is back in this month's Russh Magazine: The glossy features an editorial with top model Jessica Stam rocking black, white, denim, and band tees galore. I love the outfit above – it has so many layers, yet they somehow all combine for a cohesive look. I also love that studded jacket, and the accents on the vest – they make the ensemble effortless, in the best possible way.
For my inspired look, I started with a band tee featuring my favorite rockstar, Janis Joplin. Next, to get that "vest" look without choosing something too "editorial looking," I went for a cool crochet vest that is not too loud, but makes just enough of a statement to turn heads. Pair the tee/vest combo with a pair of cutoffs like the ones I picked out and you're halfway done.
Now for the best part: It's time to add oodles and oodles of accessories. For a pop of color, I first picked out some awesome studded bracelets that you can stack to your heart's desire. I also pulled this really cool cuff bracelet that laces up, just like your favorite pair of combat boots. For that final jewelry push, I included two different rings, one stone/wire wraparound style, and one with a turquoise center. Lastly, for shoes, I added that final zip with a pair of sequined lace-ups.
3. 'Lesson in Prep' with Kate Fogarty by Tesh for Elle Russia April 2011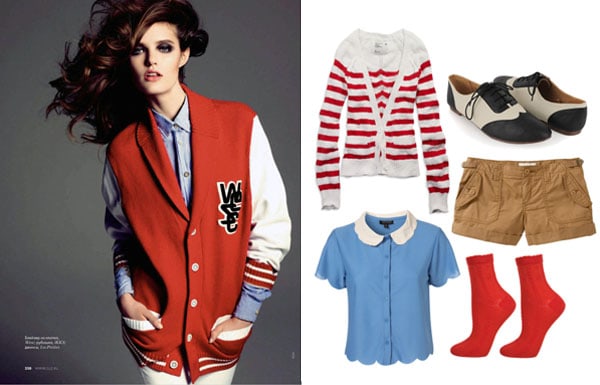 (Source: FashionGoneRogue | Cardigan, Top, Shorts, Socks, Shoes)
I absolutely love Elle Russia's collegiate prep-styled editorial. Every shot is loaded with menswear-as-womenswear inspiration (my personal favorite style right now). I love the way model Kate Fogarty rocks the letterman jacket with a button-up blouse… and just the right amount of badass attitude.
To get an inspired look, I stayed true to the "preppy" look and color palette. I first picked out a chic red and white striped cardigan and paired it with a darling cropped blouse with a peter pan collar. For bottoms, I picked out a pair of cute brown cargo shorts. Finally, for your feet, I pulled a pair of red ankle socks and some adorable black and white saddle shoes. If you're into whimsical outfits with a little bit of sass, this ensemble is for you.
Thoughts?
What did you think of the editorials I picked this month? What about the inspired looks? Which one was your favorite? Which was your least favorite? Whatever your thoughts, let me know in the comments!