This post may contain affiliate links, which means we may receive a commission if you purchase through our links. Please
read our full disclosure here
.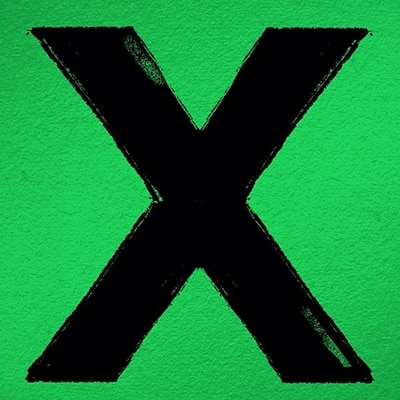 Official Album Cover
Ed Sheeran is back at it again with his long-awaited sophomore studio album x, otherwise known as "multiply." If you liked Ed's debut album, you're going to love how these new songs bring some fresh new twists to his classic singer-songwriter sound.
From a catchy anthem like "Sing" to beautiful ballads like "Afire Love," every track is full of honest and emotional lyrics, and the variety will keep you wanting more. One of my personal favorite tracks, "Runaway" (mentioned below), features an irresistibly funky bassline and those oh-so-smooth vocals we know and love.
Bump the tunes and check out these outfits inspired by five standout songs from Ed's new album:
Don't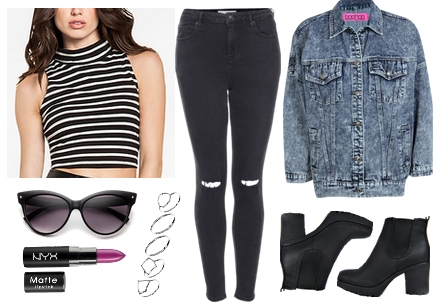 Product Information: Top- DailyLook, Jeans- Topshop, Jacket- Boohoo, Boots- Boohoo, Sunglasses- Amazon, Lipstick- NYX, Rings- ASOS
In "Don't," Ed makes it very clear that his love is not to be messed with. Show off your tough girl side with an acid-wash denim jacket and ripped skinny jeans. The striped top and chunky boots add a sassy feel, and no one will want to get on your bad side after you finish the outfit with a pair of dark shades, cool geometric rings, and some bold purple lipstick. So fierce!
Photograph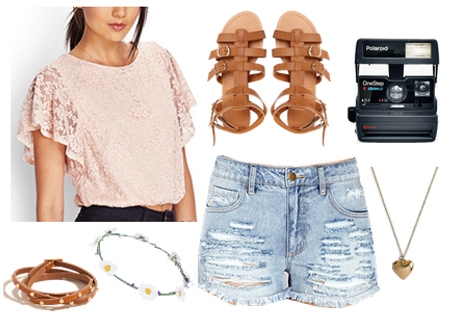 Product Information: Top- Forever 21, Shoes- ASOS, Shorts- Forever 21, Flower Crown- Wet Seal, Bracelet- Guess, Locket- J. Crew Factory, Polaroid Camera- Urban Outfitters
With a soft pink lace top and high-waisted distressed denim shorts, this outfit is sure to get you in a summer mood. In "Photograph," Ed mentions a necklace you can keep a picture in, which makes this locket a perfect accessory. The tan gladiator sandals, leather wrapped bracelet, and daisy crown give the outfit an added bohemian feel.
As a bonus, this retro-inspired Polaroid camera will help you record fun memories and have a photo that you can keep "inside the pockets of your ripped jeans" (Well, shorts, but you get the idea).
Tenerife Sea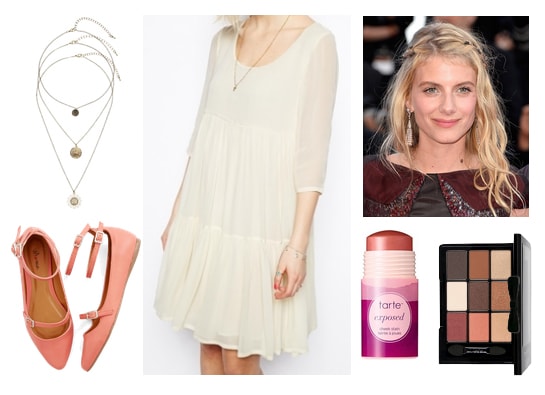 Product Information: Dress- ASOS, Shoes- ModCloth, Necklace Set- Miss Selfridge, Cheek Stain- Tarte, Eyeshadow Palette- NYX | Hair Photo: ELLE
This sweet look channels the dreamy sounds of the love ballad "Tenerife Sea." Start with a flowy swing dress and some loosely braided bangs inspired by the lyrics "You look so wonderful in your dress, I love your hair like that." Dusty pink flats and layered necklaces add to the relaxed yet romantic vibe. Top it off with neutral eyeshadow and flushed cheeks to enhance your natural features.
Runaway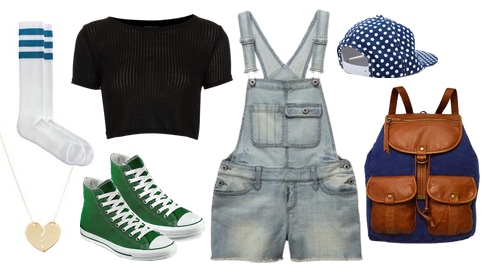 Product Information: Top- Topshop, Shortalls- Target, Converse- JCPenney, Backpack- JCPenney, Hat- American Apparel, Socks- American Apparel, Necklace- ASOS
This outfit, inspired by "Runaway," exemplifies a quirky interpretation of a kid running away from home. This look includes lyrical references – such as the "backpack and a flat cap" – as well as the tied shoelaces represented by the green Converse (a nod to the bright green album cover art!), which you can pair with funky knee-high socks.
The crop top and shortalls combo is easy to simply wear-and-go without much hassle, plus it's a fun trend to try out this summer! Finish the look with a dainty accessory, like this broken heart necklace, which alludes to the emotions and tough decisions being made within the song.
Shirtsleeves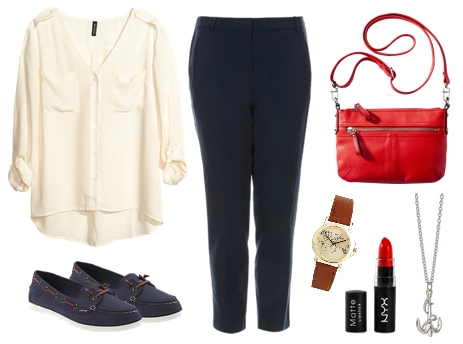 Product Information: Top- H&M, Pants- Topshop, Shoes- Old Navy, Bag- Target, Watch- ASOS, Lipstick- NYX, Necklace- Topshop
A nautical look is the perfect complement to "Shirtsleeves," which heavily references the ocean. A breezy chiffon blouse and navy pants paired with classic boat shoes is perfect for the sunshine, whether or not you're on a boat! A red crossbody bag and lipstick complete the nautical color palette. Accessorize with a classy watch with cute map detailing and of course, an anchor necklace!
What Do You Think?
How do you like Ed's new album? Would you wear any of these looks? Would you like to see more posts like this in the future? Let me know in the comments!