This post may contain affiliate links, which means we may receive a commission if you purchase through our links. Please
read our full disclosure here
.
When I first got into fashion, I had a lot of trouble distinguishing between different designers. I never understood how anyone could recognize a certain designer just by looking at their work. What I have learned over the years is that knowledge comes with experience… and reading. Each designer has their own aesthetic, and I'd like to introduce you to some of them in my new series, Designer Basics.
If you're getting tired of reading about old men almost as much as I'm getting tired of writing about them, you'll love the fresh, innovative, and contemporary designer behind Alice + Olivia.
Unlike many other designers, whose high-fashion creations are only for the runway and red carpet, Stacey Bendet's designs are extremely wearable. Find out all you need to know about her in this week's Designer Basics post:
Know the Basics
Bendet's father owned a textile business, which sparked her interest in fashion.
Although she grew up in New York, Bendet graduated from the University of Pennsylvania's prestigious Wharton School of Business.
Bendet's big break came when she was stopped by Lisa Kline, who noticed a pair of pants she designed. Kline ordered them on the spot, and Bendet's collection slowly grew from there.
Alice + Olivia makes ready-to-wear, gowns, shoes, handbags, and accessories.
The brand can often be spotted on celebs like Gwenyth Paltrow, Jamie Chung, Taylor Swift, and Blake Lively.
Aesthetic
Alice + Olivia is known for being both girly and eclectic. Here's what you need to know about Bendet's design aesthetic:
Alice + Olivia is, first and foremost, very feminine. Designs often include A-line skirts and dresses, ladylike jackets, crop tops, high waists, and matching sets.
These designs stay modern and trendy due to interesting, unexpected touches.
Stacey incorporates her love of music, art, and culture into her designs, often channeling certain decades and counter-cultures.
Bendet's designs typically include an element of quirkiness with playful patterns and interesting cutouts.
In addition to patterns, Bendet uses bright colors and colorblocking to create a fresh and young vibe.
How to Look like You're Wearing Alice + Olivia (on a College Budget)
The great thing about Alice + Olivia is that, unlike red carpet designers, these designs are extremely wearable. Since A+O is so trendy, it's easy to find similar pieces at places like Zara, Forever 21, and Topshop.
Below, I've put together two outfits to help you get the look for less:
Modern Feminine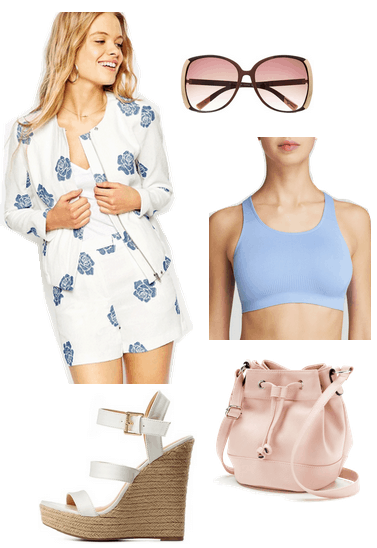 Product Information: Matching Set, Shoes, Bag, Sports Bra, Sunglasses
This outfit is a modern, trendy take on ladylike fashion. Start with a matching shorts and jacket set; the floral print is perfect for spring. Layer a periwinkle sports bra underneath, in the style of Lorde, then add white espadrille wedges for a perfectly modern and feminine look. Finish the outfit with rose accents, like a trendy bucket bag and big sunglasses.
Decades of Inspiration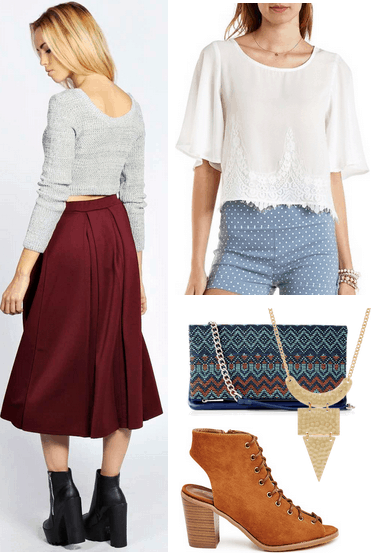 Product Information: Skirt, Top, Clutch, Necklace, Shoes
The '70s are big this spring, and if anyone knows it, it's Stacey Bendet. Since she draws from specific decades in her designs, source your inspiration from the same place.
Start with a ladylike full skirt for a 1970s feel, then add on a girly top with boho lace trim. Suede cutout sandals make the '70s inspiration feel modern, and a patterned clutch adds color. Complete the look with a gold statement necklace.
What do you think?
Are you happy to see a fresh new designer, or do you prefer the classics? Would you wear these outfits? Have you found any great A+O-inspired pieces at cheaper, fast-fashion stores? Who would you like to see on Designer Basics? Let me know in the comments!