This post may contain affiliate links, which means we may receive a commission if you purchase through our links. Please
read our full disclosure here
.
When I first got into fashion, I had a lot of trouble distinguishing between different designers. I never understood how anyone could recognize a certain designer just by looking at their work. What I have learned over the years is that knowledge comes with experience… and reading. Each designer has their own aesthetic, and I'd like to introduce you to some of them in my new series, Designer Basics.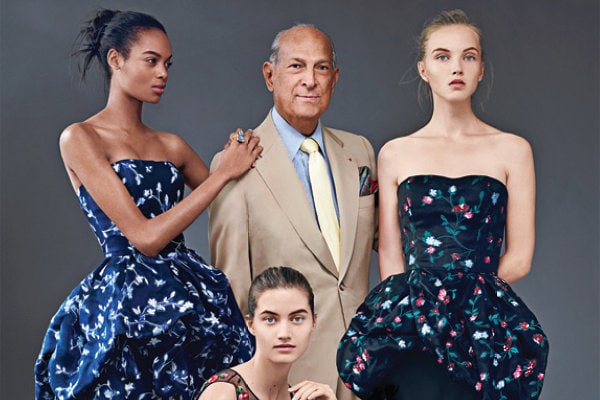 Photo Credit: ELLE
By popular demand, this week's Designer Basics post will feature a true jewel of the fashion industry, Oscar de la Renta. Unlike the previouslyfeatureddesigners, de la Renta has had a much longer run in the industry. Sadly, he passed away last October, but his legacy lives on in the hearts of many.
Know the Basics:
Oscar de la Renta, an industry favorite, was known not only for his beautiful, feminine designs but also for his charisma and cheery attitude, which made him many friends. Here's what you need to know:
De la Renta was born in the Dominican Republic, and frequently drew from his heritage in his designs.
He studied under Balenciaga.
From 1993 to 2002, he led Balmain.
De la Renta launched his own ready-to-wear label in 1965.
He was loved by many in the fashion industry, as well as the many stars whom he designed for.
After his death, Anna Wintour left us with this lovely quote from de la Renta: "accept your friends for who they are, not for who you want them to be."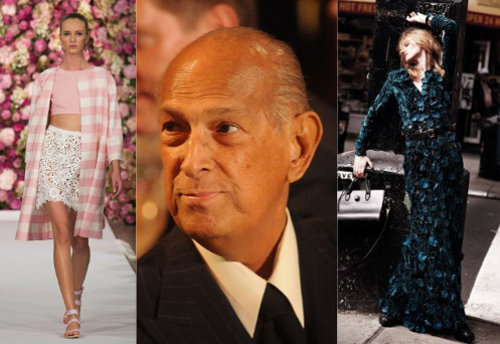 Photos Courtesy of ELLE: 1, 2, 3
Aesthetic
Oscar de la Renta is known for his "ladies who lunch" aesthetic, meaning extremely feminine and luxurious designs for well-to-do women. De la Renta was quoted as saying:
"I am not interested in shock tactics. I am not trying to impress people; I just want to make beautiful clothes."
Key elements of OdlR designs include:
Feminine tailoring that flatters the female form; small waists, pencil skirts, etc.
Bright colors borrowed from his Caribbean background.
Vivid patterns.
Combining simple and polished silhouettes with lively color.
Glamorous details, such as embroidery, beading, ruffles, and fur.
How to Look Like You're Wearing Oscar de la Renta (on a College Budget)
While designers like Alexander Wang and Marc Jacobs would be easy to wear to class (if only we could afford them!), de la Renta's designs embody an air of complete luxury and glamour, one you just couldn't justify wearing to your 8 AM's, even if you're a fashion student.
By drawing from frequently used elements of OdlR's designs, however, we can turn his look into everyday wear. Here's how:
Ladies Who Brunch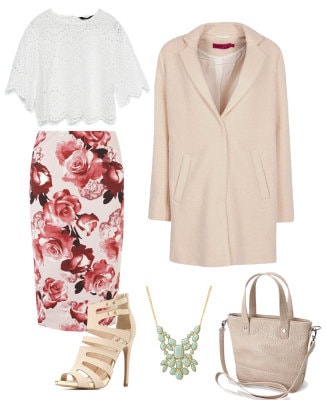 Product Information: Top, Skirt, Coat, Shoes, Necklace, Bag
Sure, we can't all have tea at the Plaza, but who's to stop us from dressing up for brunch? Start with a delicate embroidered top and a ladylike pencil skirt in a cheerful print, like this floral one. Like OdlR, you'll have a feminine silhouette with a pop of bright color. Add on a classy coat for these chilly days, as well as strappy heels. Finish with a structured bag in a neutral tone and a chunky necklace to brighten the top. De la Renta would be proud!
Darling Details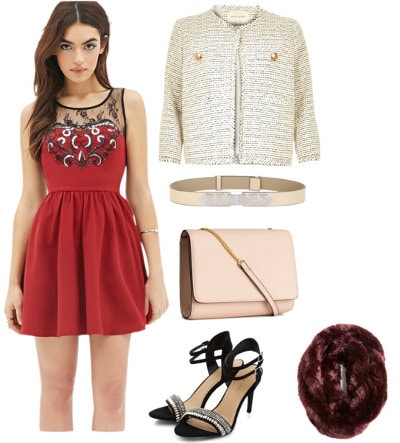 Product Information: Dress, Jacket, Belt, Bag, Shoes, Scarf
This look is all about the details. It combines several de la Renta staples: bright colors, embellishment, a cinched waist, and (faux) fur. Start with a cheery red dress with embellished details and embellished heels to match. Add definition at the waist with a belt, then throw on a ladylike tweed jacket. Complete the outfit with a small bag, as well as a faux fur circle scarf to keep warm on chilly nights.
Extra Credit Reading
Oscar de la Renta was loved by many in and out of the fashion industry – not just for his work, but for his cheerful attitude as well. While I was doing research for this article, I came across a few very touching and wonderful reads in memorial of de la Renta:
This moving piece from New York Magazine is a collection of tributes from de la Renta's friends and fans.
This article explores a few of the many designers who were inspired by de la Renta's work.
This piece looks to the future of de la Renta's label now that he's gone.
What Do You Think?
Would you wear these looks? What do you think about Oscar de la Renta's successor? Do you have a better understanding of de la Renta's aesthetic? Who would you like to see next on Designer Basics? Let me know in the comments below!