This post may contain affiliate links, which means we may receive a commission if you purchase through our links. Please
read our full disclosure here
.
When I first got into fashion, I had a lot of trouble distinguishing between different designers. I never understood how anyone could recognize a certain designer just by looking at their work. What I have learned over the years is that knowledge comes with experience… and reading. Each designer has their own aesthetic, and I'd like to introduce you to some of them in my new series, Designer Basics.
Know the Basics
Unlike many designers, who had to claw their way to fame straight out of art school, Miuccia Prada has become a sort of "accidental" phenomenon. Originally a Ph.D. in political science with no training in design, Miuccia built up her family's luggage business and learned a thing or two along the way.
Miuccia Prada was born in Milan, Italy.
Her career began when she designed a line of bags for her family's luggage business.
A few years later, Prada opened a women's ready-to-wear line, and the company evolved into the powerhouse it is today.
Miuccia Prada also owns Miu Miu, a diffusion line, as well as a line of menswear.
She had no formal training in design.
Prada is known for disregarding the rest of the fashion industry. She sticks to her own designs and doesn't follow trends.
She has been a feminist since her early days in college.
Aesthetic
Despite the beauty of Prada's designs, she says she is most inspired by "ugliness."
Prada designs often look to sophisticated elegance, including minimal, simple lines and luxurious fabrics.
Inspired by that "ugliness," Prada designs are often known for their "crunchy" fabrics, like polyester and nylon, as well as their wild, art deco, and almost wallpaper-like prints.
Prada balances ugly and ladylike with boxy, "nerdy" proportions, such as cropped legs, oversized jackets, and quirky, mismatched separates.
Miu Miu, Prada's diffusion line, takes a different approach to the design process; Prada says she "doesn't think" when designing for Miu Miu.
As a result, Miu Miu designs are more naïve, wearable, and quirky.
How to Look like You're Wearing Prada (on a College Budget)
Prada's Nerdy Elegance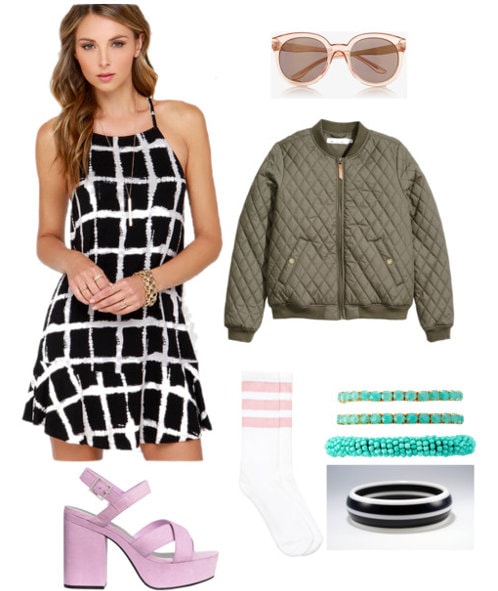 Product Information: Dress, Jacket, Sandals, Socks, Sunglasses, Green Bangles, Black Bangle
To capture both Miuccia Prada's sense of elegance and her fascination with ugliness, start with a dress in a timeless silhouette and classic print, thrown off-proportion by an oversized, puffy bomber jacket in an "ugly" earth tone.
Add a "nerdy" layer to the outfit by pairing socks with platform sandals. The pink shoe adds a pop of color without becoming the focus of the outfit. Finally, accessorize with cheeky sunglasses and bold bangles to tie the look together.
Miu Miu's Naïve Wearability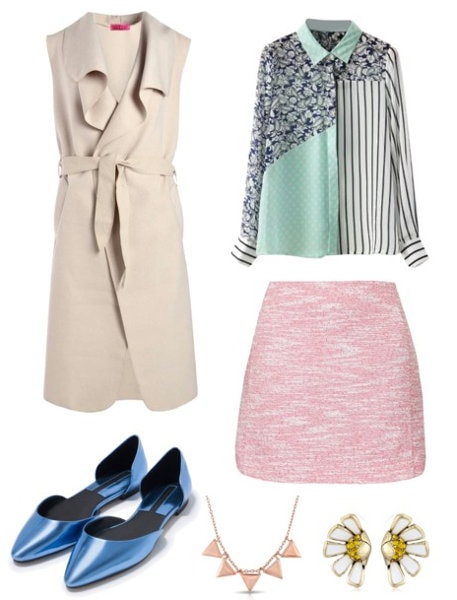 Product Information: Blouse, Skirt, Coat, Shoes, Necklace, Earrings
Because the designs for Miu Miu are more spontaneous, the line itself is more young and accessible. Start with a mini-skirt, kept classy by its texture but youthful from its bubblegum pink color. Add on a bold, almost wallpaper-like printed top, and layer a sleeveless duster coat (left untied) on top.
Take the unexpected path with d'orsay flats instead of heels, but opt for a bold, shiny color so they'll stand out. Finish the look with a bib necklace and bold earrings that allude to Prada's notorious Candy fragrance.
What do you think?
Do you prefer Prada's timeless elegance or Miu Miu's youthful appeal? Which of these outfits would you wear, and where? Which designer do you wish you could wear on the reg? Let me know in the comments!