This post may contain affiliate links, which means we may receive a commission if you purchase through our links. Please
read our full disclosure here
.
When I first got into fashion, I had a lot of trouble distinguishing between different designers. I never understood how anyone could recognize a certain designer just by looking at their work. What I have learned over the years is that knowledge comes with experience… and reading. Each designer has their own aesthetic, and I'd like to introduce you to some of them in this series, Designer Basics.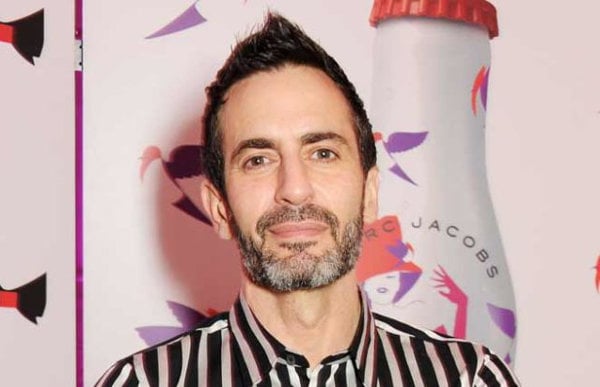 Photo Credit: ELLE
Now, Marc Jacobs isn't as young as the previous featureddesigners, but his designs are just as fresh, and constantly changing from season to season. Marc Jacobs is to American fashion "what Miuccia Prada is to Italy;" his don't-miss shows have a knack for defining each Fashion Week.
Know the Basics:
Marc Jacobs is arguably the most influential force in fashion right now. His designs change from season to season, but his distinguished role remains the same. Here's what you need to know:
He studied at Parsons School of Design.
Jacobs launched his eponymous label in 1986.
He is the youngest designer ever to win the CFDA Perry Ellis Award for New Fashion Talent.
Jacobs acted as the creative director for Louis Vuitton until 2013, when he gave up the job to focus on his own label.
Marc Jacobs now designs ready-to-wear, accessories, shoes, and his diffusion label, Marc by Marc Jacobs.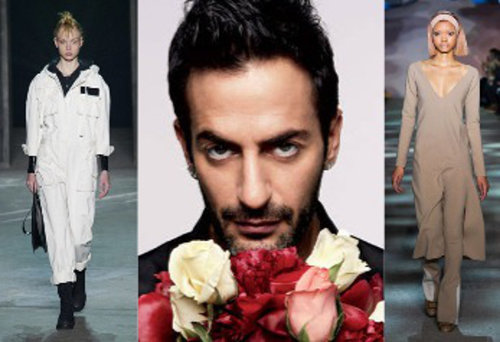 Photos Courtesy of ELLE: 1, 2, 3
Aesthetic
Part of the beauty of Marc Jacobs is that his aesthetic is nearly impossible to pin down. Jacobs manages to keep his line fresh every season. There are, however, some basic motifs he often returns to:
Looks that incorporate elements of grunge (plaid! so much plaid!), prep, and utility (jumpsuits, hardware, and army green).
References to time periods, whether it's a 1940s silhouette, a 1960s mod aesthetic, or 1980spatterns and colors.
Jacobs has a great grasp on layers and proportions, often playing with oversized elements and cinched waists.
Ugly-pretty.
An element of unpredictable quirkiness. Jacobs says his designs are never "hot."
The biggest key element of Marc Jacobs' aesthetic is that it is constantly changing.
How to Look Like You're Wearing Marc Jacobs (on a College Budget)
I don't know about you, but clicking through photos from Marc Jacobs' runway shows gives me the ultimate Fashion Week envy (why oh why can't I skip school for NYFW?!). While I'm sure we'd all love to blow our bank accounts on just one Marc Jacobs dress (yes, I have one in mind), that's not exactly realistic.
So, how can you dress like you're wearing Marc Jacobs, at least until you can get your hands on some real pieces? Keep reading to find out!
Mod Meets Grunge (Meets Menswear)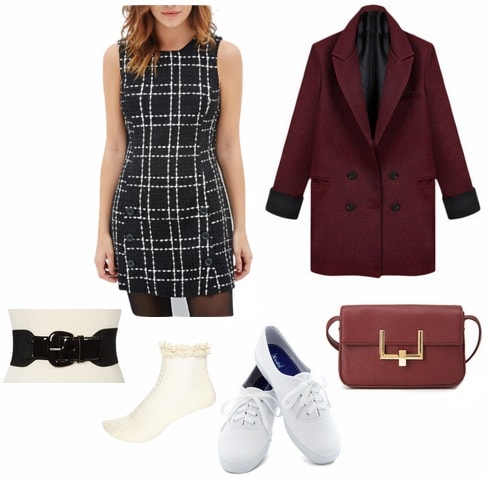 Product Information – Dress, Coat, Belt, Bag, Sneakers, Socks
This outfit pays homage to one of my favorite collections of all time, Marc by Marc Jacobs Fall 2013 RTW, a collection that includes strong '60s influences.
Because Jacobs often mixes themes in his designs, I included his frequently-used plaid in this cute mod dress. Add rich pops of color with a menswear-inspired oxblood coat and structured bag. Cinch the dress at the waist, and throw on Keds with frilly socks for a cute finishing touch. This look is perfect for those winter-to-spring transition days that are coming up.
Function Meets Fashion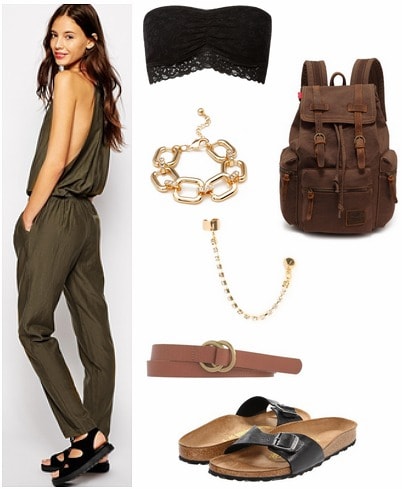 Product Information – Jumpsuit, Bandeau, Sandals, Backpack, Belt, Bracelet, Ear Cuff
This outfit looks at a more utilitarian aspect of Marc Jacobs' designs. Start with an army green jumpsuit, the epitome of utilitarian fashion, with the pants cuffed and a bandeau layered underneath. Add on a simple brown belt and a handy backpack for all your books.
Since Jacobs loves to play with "ugly-pretty," slip on the ultimate in ugly-pretty footwear: Birkenstocks. Finish with a chain link bracelet and ear cuff for a delicate take on heavy-duty hardware.
What do you think?
Were you wowed by Marc Jacobs' spring fashion week runway shows? Would you wear these Marc Jacobs-inspired outfits? Do you have a better understanding of his aesthetic? Who would you like to see next on Designer Basics? Leave a comment and let me know!