This post may contain affiliate links, which means we may receive a commission if you purchase through our links. Please
read our full disclosure here
.
Dads. They get a bad rep, fashion-wise, don't they? When you think of a "dad outfit," you immediately picture socks and sandals. Maybe some khakis. A polo shirt. Probably a baseball cap.
Indeed, dads are constantly thought of as being unfashionable. Even my own father is guilty of some sartorial sin, although he does rock a cable knit sweater like no other and has a pretty impressive collection of obscure band t-shirts.
Today, I'm going to try and challenge the stereotype of the "dad outfit," with the help of one of my personal favorite Instagram accounts: Fashion Dads. Fashion Dads is genius – it's pictures of various dads with fashion blogger-esque captions. So simple, yet so hilarious.
So, here are some surprisingly stylish outfits inspired by some exceptional dad outfits. Time to brush up on your best dad jokes.
1. Hell for Leather
Look at this stud. Leather is always cool, and always in fashion, but this particular dad really knows his stuff – look at the fringing on that bike! Mirrored sunglasses are also a huge trend this summer, especially colored pairs, and he's working them.
Copy his look by pairing a slogan t-shirt with some light wash jeans, these cute ankle boots and a classic leather jacket. This Dad doesn't need a bag but I added this fringed one because I don't know about you, but I tend to carry everything but the kitchen sink with me and I want to do it in style.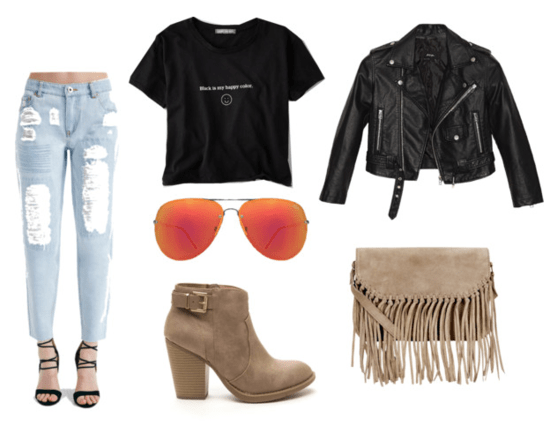 Products: Jeans, Top, Sunglasses, Boots, Jacket, Bag
2. Classic Band Tee – a Dad staple
I picked this particular Dad because I think he must have similar taste in music to my own – or do all Dads just like the same music? Who knows.
Anyway, to emulate his look, start with a band t-shirt. I stuck with Pink Floyd, albeit a different album, but feel free to substitute for your favorite band. These polka dot jeans are slightly more expensive than what I'd usually go for, but they go with many items, as they're basically just a black pair of jeans with a little extra detail. Add a comfy pair of slip on sneakers and you've got a perfect easy, casual outfit that's almost as cool as this Dad.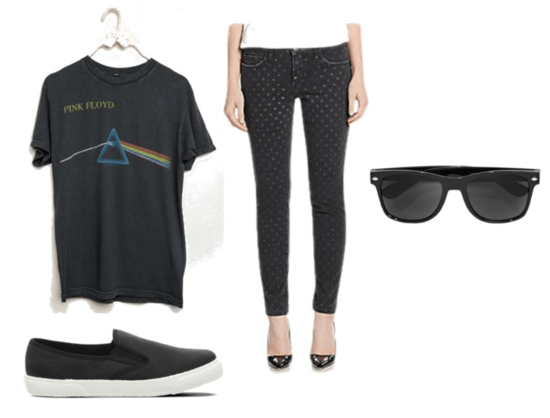 Products: Top, Shoes, Jeans, Sunglasses
3. Romper Dad
This dad is working that romper. I never want to imagine my own father in a romper – but this Dad, he was born to wear one.
Obviously, this look is based around this Dad's printed romper and straw hat, two very stylish summer items. I had to take a bit of artistic liberty with the rest of the look, but I went with some Dad-approved mirrored shades, sandals, and a practical cross body bag, because if there's one thing I've learned from Fashion Dads – it's that practicality is a must.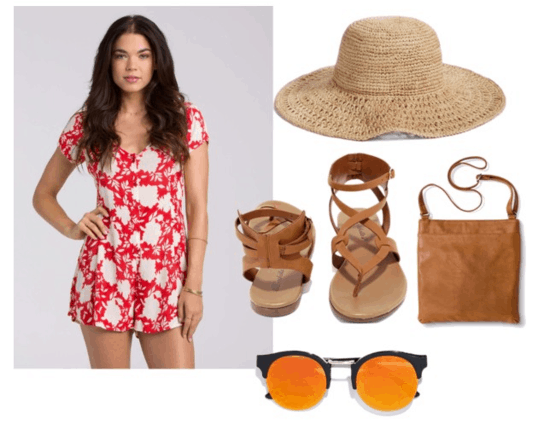 Products: Romper, Sandals, Sunglasses, Hat, Bag
What do you think?
Do you like these outfits? Do you love Fashion Dads as much as I do? What's your best Dad joke? What's your favorite band – do you have their t-shirt? Let's chat in the comments!