Another month has come and gone – October is officially over, and winter is rapidly approaching. From all of us here at CF, we hope you guys had a great month and are finally coming down from your Halloween sugar rush.
And while you might be sad that your October 31st dress-up escapades are over, I'm here to remind you that every day is an opportunity to dress up – just look at the lovely ladies (and gentleman) that I managed to find for this month's street style roundup! Interested? Satisfy your sweet tooth with a look at this month's best-dressed!
Street Style Outfit 1: Transitional Chic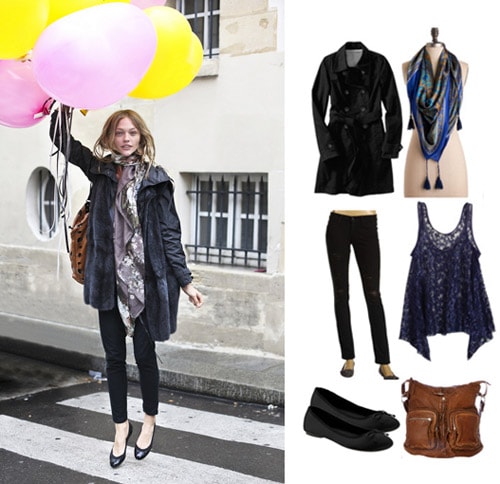 (Source: Altamira | Trench, Scarf, Jeans, Top, Flats, Bag)
Cutie model Sasha Pivovarova starts off our roundup with a great transitional ensemble. By throwing on a nice tailored jacket and a scarf, she looks both easygoing and cute – not to mention perfect for this chilly time of year.
To create a similar look, I started with a cool black trench coat and paired it with a pretty lace blue tank top. I then picked out some cute skinny jeans, ballet flats, and a brown utilitarian-style bag. This outfit is easy to throw together, and even better, its components are all wardrobe staples. So whether you rock this look in its entirety, or work the pieces into another, your ensemble is sure to be a hit.
Street Style Outfit 2: Funky & Fabulous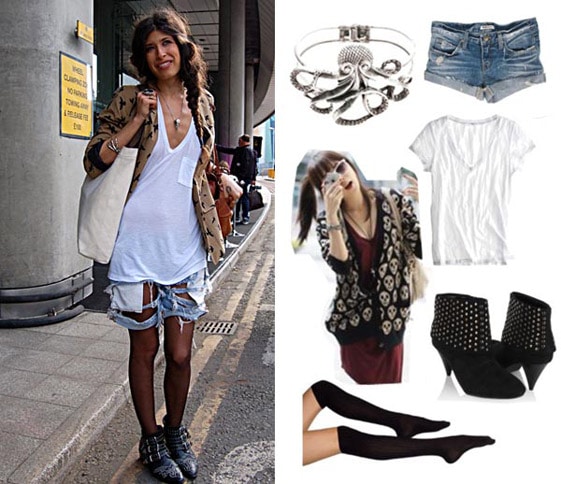 (Source: |Bracelet, Shorts, Shirt, Cardigan, Shoes, Socks)
I'm totally in love with this girl's look – it's put-together and stylish yet still funky and rock 'n' roll.
To help you recreate this unique aesthetic, I first found an awesome scull cardigan and paired it with a basic slouchy v neck and ripped jean shorts. For your legs, I chose a pair of knee socks that will keep you warm this winter (you could also go for tights), and a pair of studded ankle booties. The final touch on this look is my favorite part: I found an amazing hinged bracelet with an octopus on it to add some intricate shine to the mix. Wear this outfit and you'll be good to go to any rock show.
Street Style Outfit 3: Mad Men Marvelous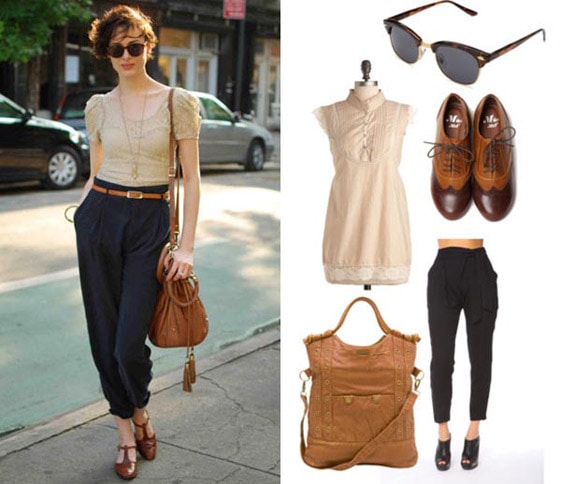 (Source: Elle | Top, Sunglasses, Shoes, Bag, Pants)
I couldn't help but do a double take when I saw this picture – this girl reminds me so much of Mad Men's Christina Hendricks – plus her style is so well put together!
To replicate our Christina lookalike's demure ensemble, I first picked out a cute tunic top that can be tucked into these perfectly slouchy trousers. For your feet, I found a pair of darling brown oxfords, and to keep the sun off your face, I picked out a pair of cool horn-rimmed sunnies. Throw on this outfit and you'll feel totally retro – in the best possible way!
Street Style Outfit 4: Borrowed from the Boys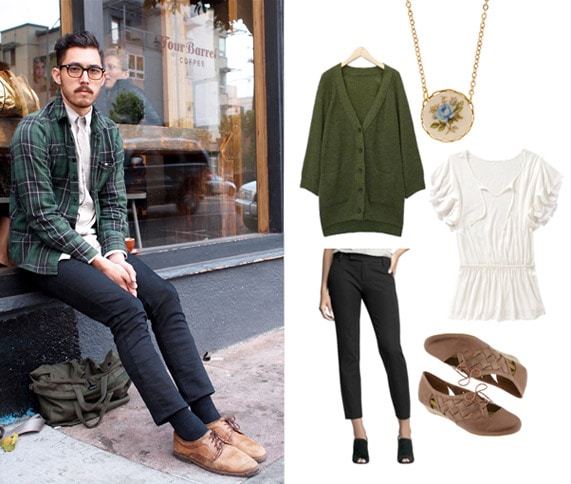 (Source: TheSFStyle | Cardigan, Necklace, Blouse, Pants, Shoes)
Here at CF, we draw fashion inspiration from every possible source – so why not from the opposite gender? When I saw this gentleman's look, I couldn't help but covet every piece, from his cute oxford shoes to his perfect cropped trousers.
To create an inspired look with a girly twist, I first picked out an ethereal draped tunic top, which goes perfectly with some cropped skinny jeans. To replicate our model's dash of green and blue, I found a cool boyfriend cardigan, and a trinket-y gold necklace. Finally, for your feet, I pulled some brown wedge oxfords with a basket weave detail. This menswear-inspired outfit is perfectly easygoing, while still managing to look pulled-together and thoughtful – a win/win in the wardrobe department.
Your Thoughts?
What do you guys think of the outfits I picked out? What's your favorite outfit? How was your Halloween? Are you sad it's over? Whatever your thoughts, let me know in the comments!