SPRING'S HERE, AWWWW YEAH. Let's all let out a collective fist pump, and then move onto the issue at hand – what are we going to wear?
With the warm sun finally starting to shine, it's more important than ever that we have easy looks that keep us looking effortlessly chic… without feeling the heat. In need of some fashion inspiration? Look no further than my favorite street looks from the past few weeks, as these lovely ladies are model examples of street chic. Take notes, class – this is gonna be good.
Creme de la Creme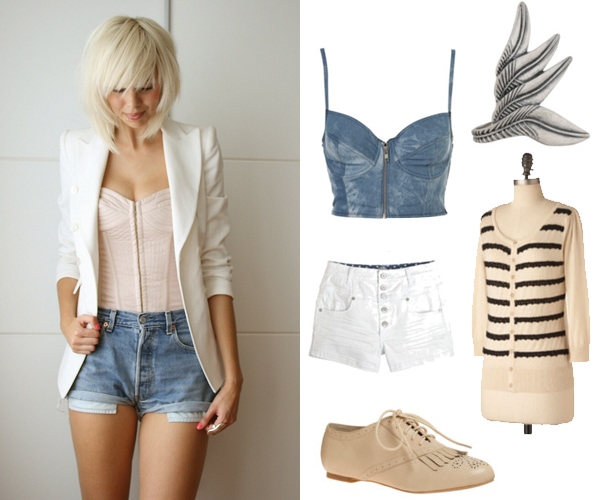 (Source: Lookbook | Corset, Shorts, Shoes, Ring, Cardigan)
Mmm, mmm, like a tall glass of iced coffee, or a yummy scoop of vanilla ice cream, this girl's outfit is both sweet and refreshing. What can I say that isn't already obvious? She's managed to flawlessly pair her deliciously buttery bustier with that beautiful blazer and a perfect pair of denim cutoffs. Lovely.
To get an inspired look, I stayed true to the original color palette. I picked out a cool denim bustier and paired it with a pair of white high-waisted shorts. Pull on a white cardigan like the one and then all you'll have to worry about is tying your laces on a pair of cute oxfords like the ones I found, and finding a cool ring like the silver one above. The perfect mix of sultry and classy, this look is totally modern Marilyn – Monroe, that is.
Class Act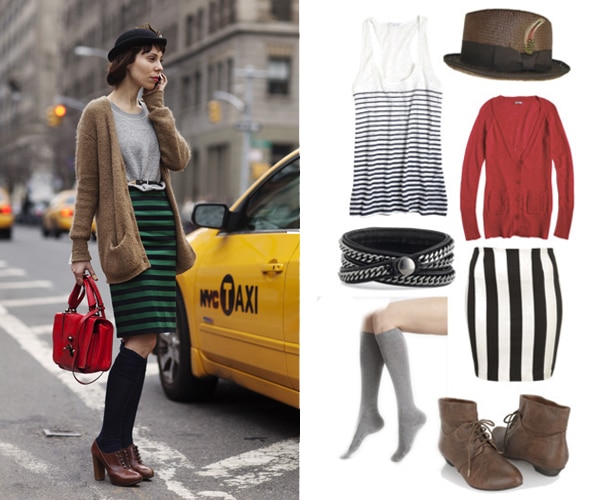 (Source: The Sartorialist | Tank, Bracelet, Socks, Hat, Cardigan, Skirt, Boots)
This girl knows fashion. You know how I can tell? She manages to pull together a whole bevy of trends and colors in one look without appearing overdone. I'm in love with that green skirt, her ensemble's complementary colors, and, of course, her bowler hat.
To create a similar outfit, I first found this awesome black and white striped skirt and paired it with an easygoing striped tank. (Stripes and stripes can work – it's all about choosing stripe patterns that are different enough from one another!) I then picked out a fun feather hat and a black banded bracelet. To add some color interest, I threw in some grey socks and a bright red cardigan. Finally, to keep your feet happy, I added a pair of low top boots. Perfect for a trot through the city streets or a a night at the local clubs, this look will have you feeling smart and stylish in one fell swoop.
Pretty Pastels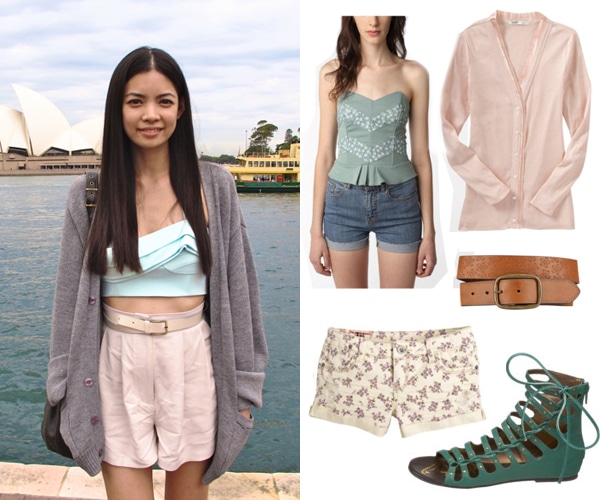 (Source: Yvan Rodic, AKA Face Hunter | Corset, Shorts, Cardigan, Belt, Sandals)
Me oh my, this girl's outfit manages to look both flirty and cozy – something that I'm sure you can all appreciate. I love the top and bottom pairing, as well as that hint of skin in between. My favorite part is how she adds a boyfriend cardigan to pull back the "cute" and make it a little boyish. Little tweaks like that are great, don't you think?
To get a similar look, I picked out this great corset-esque top and paired it with a sweet pair of floral shorts. Add some interest with some fun accessories like the teal sandals I picked out, and top it off with a nice sturdy belt. Finally, throw on an optional cardigan like the one I picked out above. If you're looking for a cute picnic outfit or something to wear to a concert, this look is the one – it absolutely exudes effortless cool.
Blue Suede Shoes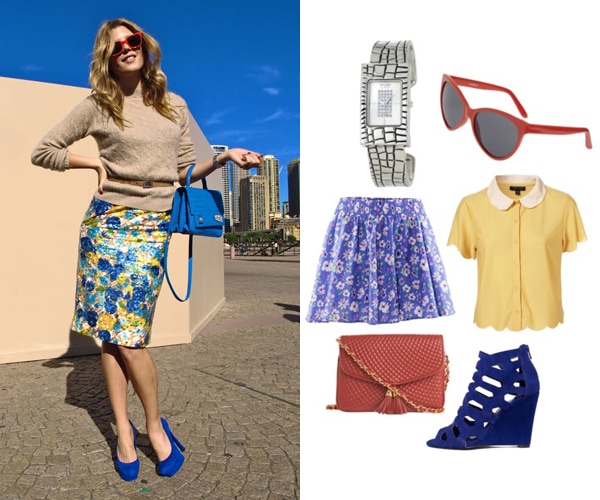 (Source: Facehunter | Watch, Skirt, Bag, Sunglasses, Blouse, Heels)
In a perfect mix of yellows, blues, and reds, our friend above is owning her outfit. Missy's got some serious color pops in her ensemble and she's not afraid to show them off. I'm lovin' the red shades and the blue heels: they elevate the outfit and make it fab.
To get an inspired look, I stayed true to the original colors, picking out an adorable yellow scalloped shirt and pairing it with a lilac blue floral skirt. The rest of the outfit relies on accessories. I included a great pair of blue wedge heels, a silver watch bracelet, and a dynamic duo of reds in the form of some fierce cat eye sunnies and the classic quilted purse. Flirty and fun, I like to imagine a young Jackie O rocking this outfit – très chic, non?
Thoughts?
What did I tell you girls? Wasn't this month's crop of looks a knockout? Or were they not your taste? What look was your favorite? What about your least favorite? And what did you think of my inspired looks? Let me know your thoughts in the comments, I love your feedback!