As of yesterday, spring has officially arrived! Unfortunately the weather seems to have recieved the memo late- I don't know how it is where you live, but it's still pretty chilly out here in "Sunny" California.
However, even though the weather may still be a bit nippy, that doesn't mean you can't start celebrating spring right now! By pulling out pieces from your spring wardrobe, and mixing them with fall staples, you can achieve a fresh look that is transitional and chic. After all, that is what the lovely ladies I chose for this month's Street Style Roundup managed to do! Ready to check them out? Scroll on down!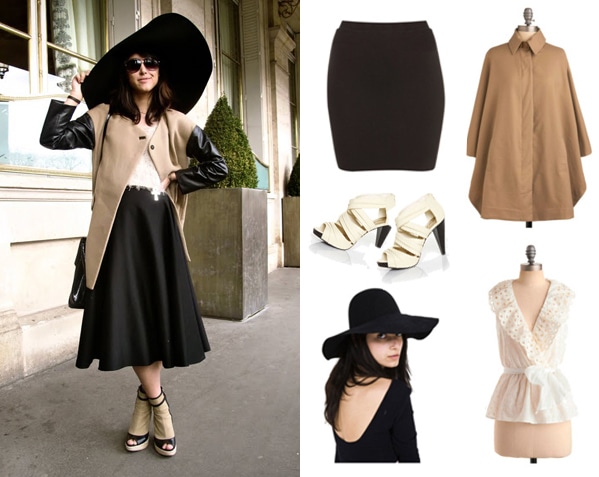 (Source: Facehunter | Skirt, Heels, Hat, Coat, Blouse)
This outfit is definitely a head-turner and I love everything about it. Our friend manages to look a bit over-the-top, yet totally elegant at the same time – not an easy feat to achieve. And don't even get me started on that fabulous (FABULOUS!) sun hat. Sun hats have been on my "must-buy" list this whole season, so I'm kind of obsessed with them.
Anywho, to help you recreate our friend's look, I first went hunting for a coat. What I ended up with was a fabulous '60s-esque capelet that can be thrown over the shoulders to keep the wind from ruffling your feathers. Continuing the outfit, I picked out a gorgeous cutout blouse and simple black mini skirt. And for your feet, I found a pair of stylish white cutout heels by Qupid (unfortunately they're sold out but we'll update the link if we find them elsewhere!) – perfect for a day out and about. Finally, to put the icing on the cake, I found an elegant black sun hat to keep the sun off your pretty little face and leave you feeling like a million bucks.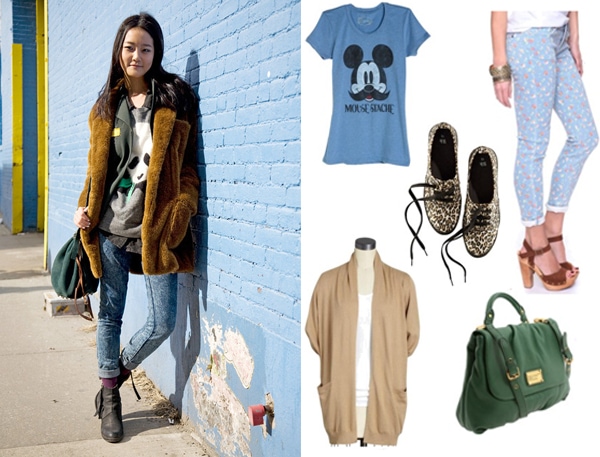 (Source: Streetpeeper | Shirt, Shoes, Pants, Cardigan, Bag)
This next outfit is from one of my personal favorite street style icons, top model Hyoni Kang. Always stylish, but never overdone, Hyoni always manages to look cool and pull off that "just threw it on" aesthetic. I love how she's rocking a graphic tee and jeans, but also accents her look with cool socks and a fun jacket. These pieces add depth to her outfit instead of keeping things "trendy."
To get an inspired look, I took color cues from Hyoni's outfit, and tried to find pieces that were both fun and breezy. To start off the look, I found this cute Mickey Mouse graphic tee and paired it with these amazing floral jeans that I am seriously coveting as I type this. I then found these wild leopard print shoes and paired them with a nice, neutral-colored cardigan. Finally, to keep your things organized, I picked out a roomy green satchel so wherever you go, you'll have everything you need with you. Throw on this outfit and you'll feel stylish without feeling stuffy.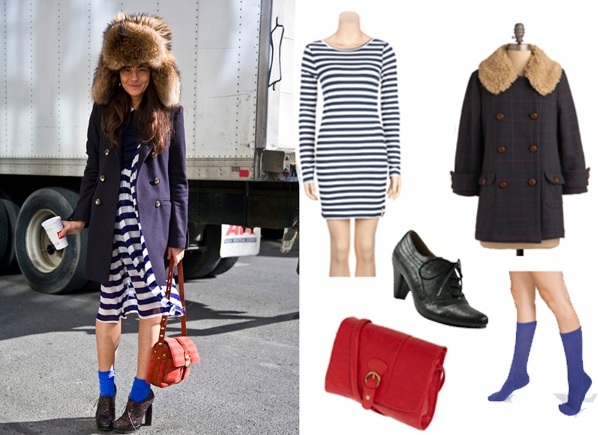 (Source: Streetpeeper | Dress, Heels, Coat, Bag, Socks)
This outfit is such eye candy for me – with so much style in one look, it's hard for me to figure out what to gush about first. But I gotta say, I love the socks. They pop out and are a perfect "outfit changer" – something every fashionista needs.
To get a similar look, I first found this awesome faux fur lined coat that reminds me of something you'd see worn on Mad Men. I then paired that with a sexy, yet still classy, striped dress and simple oxford heels. Taking cues from the photo, I also included some blue socks and a red colored bag. Finally, I left the hat off for a more spring-appropriate ensemble, but you could always add one if you're feeling extra bold (or cold).
Thoughts?
What did you guys think of the looks I picked out? Did you love them? Hate them? What about the looks I put together? Which was your favorite? Whatever your thoughts, let me know in the comments!