I don't know about your hometown, but here in California, the sun has finally decided to come out to play. And all I have to say is… FINALLY! It's time to dust off your favorite day dresses, iron your shorts, and slip on some sunnies because spring/summer weather is finally here!
Don't remember how to dress for warmer weather? Why not grab some inspiration from some stylish folks all over the web? For this month's CF street style roundup, I've picked out some fun summer looks to sport all season long! Excited? Me too! Scroll down to check it out.
A Cut Above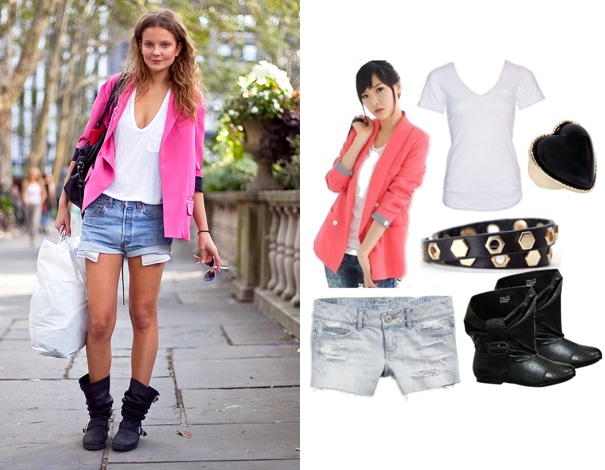 (Source: Altamira | Product Information: Blazer, Cutoffs, Shirt, Bracelet, Ring, Boots)
I saw this look and immediately fell in love. Not only does this girl show us that blazers don't have to be boring (love that pink color!), but she also shows us that boots don't have to be constrained to those long winter months. Our friend here mixes class with grunge by pairing her awesome blazer with a plain white tee and a pair of denim cutoffs.
The best part? It's a fun look that you too can try out! Just take the basics I chose up above, and slip them on just like Pinky does. Pretty simple, yet so cool! Along with the blazer, cutoffs, and boots I chose, I also added a cool studded bracelet and heart-shaped ring. They add a little bit more of a punky edge to the outfit, and give it just a little more pizzaz!
Birds of a Feather
They say birds of a feather flock together, and I guess "they" are right (whoever they are). After all, look at how cute these two ladies are in their spring day dresses. For the first time in Street Style Roundup history, I'll be breaking down TWO fabulous outfits in one picture- I know, I'm excited too.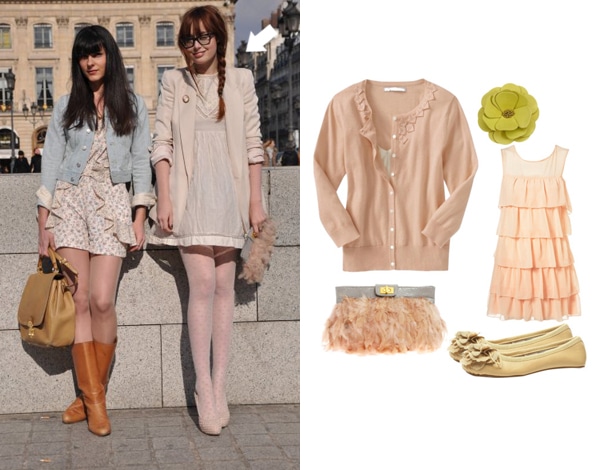 (Source: Miss Pandora | Product Information: Cardigan, Clutch, Brooch, Dress, Flats)
For outfit breakdown number one, we will check out our friend in the the nudes on the right above. This outfit is a great transitional ensemble for those of you who are still stuck in chillier weather. She is covered from head to toe, but still looks "spring-ready" since she is wearing nude colors.
To mimic her style, I chose a fun ruffle dress and paired it with a cardigan in a beige-y pink color. As those two garments are in the same color family, I decided to also include a fun brooch to break things up. But instead of a traditional one like the one in the picture, I found an adorable yellow brooch that can easily be pinned on either your dress or your cardigan for that extra pop of color. For your feet, I found a fun pair of floral flats. Lastly, just for kicks, I thought I would look for a similar clutch, and what do you know- for the first time in history (two firsts in one post!), I managed to find the exact same clutch as the one in the picture! Anywho, this look is fun, functional, and perfect for summertime.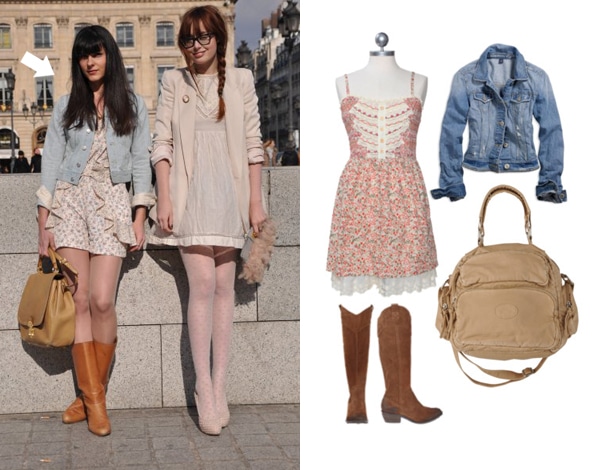 (Source: Miss Pandora | Product Information: Dress, Boots, Jacket, Purse)
Looking at this second outfit reminded me of those old western movies they show on AMC sometimes. Both flirty and proper in one look, this little lady looks springtime-fresh in her day dress and denim jacket! To get a similar look, grab a floral dress like the one I chose, and put on a denim jacket. After that, slip on some fun boots in a tan brown color, and then throw on a basic purse like the one above. You'll be good to go, whether you're planning to frolic through the fields or go for a hayride.
Summer Noir
(Source: Behind the Seams | Product Information: Bangles, Shirt, Aviators, Shorts, Heels)
I don't know about you, but I love, love, love, wearing black. And although I love summer just as much as the next girl, it makes me sad to think that as winter leaves, black might not be the best choice for those sweltering summer afternoons. Luckily for me, I stumbled upon this little adorable look featuring this fab side-slit blouse, offering just enough ventilation to keep us gothic-inclined fashionistas in check with our "looks".
To get a similar look, I found a black shirt with a similar styling and paired it with some fun dark wash denim shorts. Then I picked out a pair of cute peep toe booties to elongate those gorgeous stems of yours. Finally, to accessorize your outfit, I chose some wooden bangles similar to the ones our model is wearing. Now all you need is a fun pair of aviators like the ones I picked out, and you'll be ready to face those bright UV rays.
Time Warp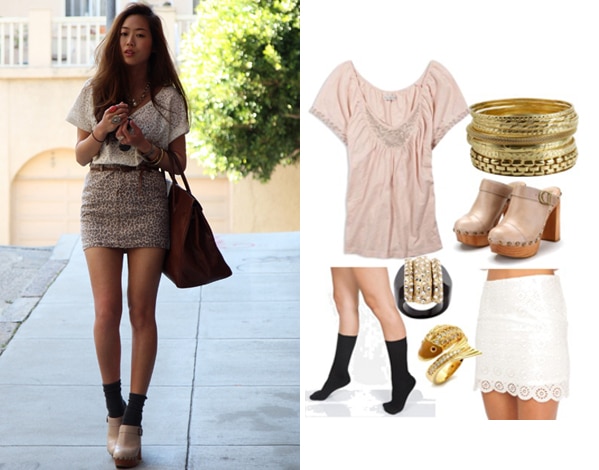 (Source: Lookbook | Blouse, Socks, Black Ring, Fish Ring, Bangles, Clogs, Skirt)
We've gotten some pretty mixed reactions to the "clogs" trend ever since we wrote an article about it. But whether you love them, hate them, or are still wondering how you time warped back to the 70s, you gotta admit, this girl makes clogs look pretty cute. I love the color family and how she didn't stray too far in her color palette, giving off a fun, earthy vibe.
For my "inspired" outfit, I chose a fun peasant blouse in a basic off-white color. Tuck that into this drop dead gorgeous eyelet skirt I found, put on some ankle socks, and then throw on some clogs to rock out in (or not- shoes of your choice are acceptable as well). Accessories wise, I chose some fun rings and bangles that you can wear all together, or pick and choose from.
Thoughts?
Are you ready for summer, or are you already missing your leather jackets and eternity scarves? What's your favorite summer outfit?Did you like the looks I chose? Whatever your thoughts, leave them in the comments! I love your feedback!