I don't know about you, but I'm still waiting for the summer weather to feel… well, summery. I've never been much of a heat fan, but for some reason, this season I'm eagerly anticipating the heat wave so I can rock my high-waisted shorts and mini skirts.
Unfortunately, the weather doesn't seem to want to cooperate – with breezy winds galore here in California, it looks as though layering is the only option. Because of this, I've picked out some choice looks from around the interweb that can be worn in both hot and cool weather. Interested? Scroll on down!
1.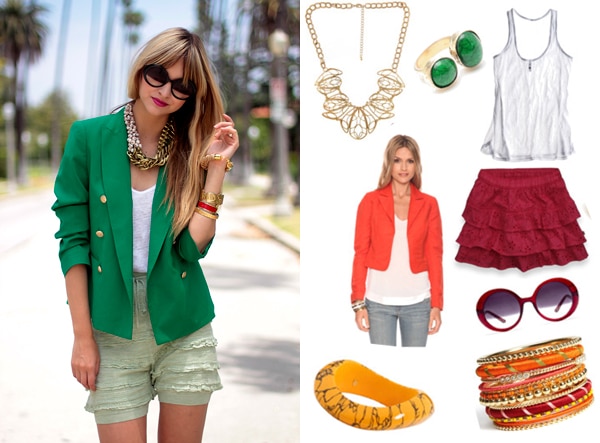 (Source: PopCultureAfternoon | Necklace, Ring, Tank, Skirt, Blazer, Glasses, Yellow Bangle, Misc Bangles)
First up in my collection of looks for this month is this emerald green number. I love everything about this girl's look, from her bold two-tone circle lenses to her lacey shorts. Everything is exactly where it should be, and it all looks chic to boot.
To get a similar look, I tried to stay true to the outfit's tone, but instead of choosing green pieces, I found different garments in various shades of red and yellow. I first chose a fun red blazer that can be paired with a burgundy skirt and basic white burnout tank. Then, taking a cue from our friend's plethora of bracelets, I chose some fun bangles in various shades of red, yellow, and gold. Finally, for the icing on the cake, I picked out a great bib necklace and pair of red sunglasses – throw them on and you'll fight those treacherous UV rays and top off a perfect outfit.
2.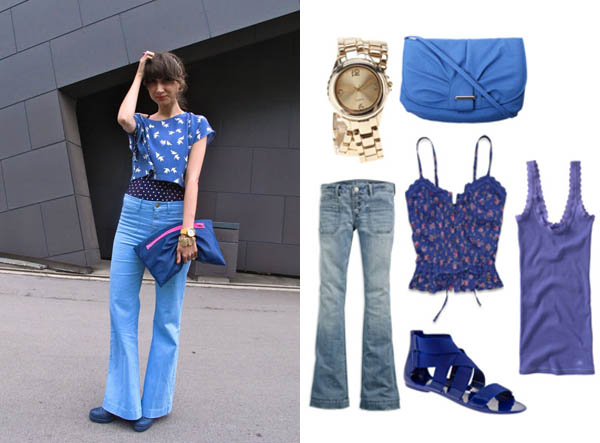 (Source: FaceHunter | Watch, Bellbottoms, Purse, Blouse, Tank Top, Sandals)
Next up on the list is a casual yet stylish ode to the color blue. Calming and chic, the styling of this outfit is on-point. I especially love our friend's bell bottoms and gold watch!
To get a similar look, I picked out a great pair of bell bottom jeans and some beautiful deep blue sandals. For the top of the outfit, you can either go layered up with a fun lace tank-and-cami combo, or go sans cami and opt for a belly-baring cropped tank – your choice. Then just throw a blue purse over your shoulder and start strutting – wherever you are, you'll feel anything but blue.
3.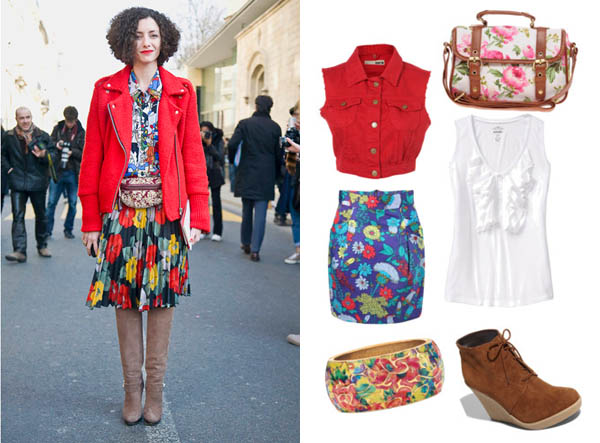 (Source: StreetPeeper | Vest, Skirt, Blouse, Purse, Bangle, Boot)
Last on the list of this month's best looks is this ensemble, a pattern maker's dream. This women's look is so bold and fresh that I can't stand it! Despite her rather unconventional pairing of prints, colors and shoes, somehow everything still works.
For my inspired look, I tried to stay true to the color scheme and basic look of the outfit. I picked out a red sleeveless jacket and paired it with a white ruffle tank and floral print skirt. For jewelry, I chose a fun yellow print bangle that mimics the yellows in our friend's skirt, and then lastly I chose a floral bag and pair of boots in a lovely shade of chocolate brown. Bold but still wearable, this look is perfect for making a statement – you just need to be brave enough to try it!
Thoughts?
What do you guys think of this month's picks? Which is your favorite? Which is your least favorite? What are you wearing as you wait for summer to heat up? Let me know in the comments!