It's been one week since my emancipation from school, and I must say: waking up at 11:00 AM has never felt so sweet. With summer finally here, I am stoked for picnics in the park, epic music festivals, and some much-needed quality time with my high school bffls.
Unfortunately, the weather in fair San Jose, CA is not as sunny as I would like it to be (it rained all day yesterday…yay, summer…) Mister Sunshine continues to tease us Californians with only a taste of the summer sun here and there, and in an effort to lure him out of hiding, I am posting up some fab summer street style looks, in hopes that my daydreams of lying on the beach will soon come true.
Want to check out some fun street style to keep you cool this summer? Scroll on down!
High Topper
(Source: Hanneli| Hat, Blouse, Denim, Bracelets, High Tops)
First off, we have this lovely lady's cute music festival look. It's pretty, summery, and stylish all in one fell swoop. I love this whole look, especially those shorts, and her shoes are so cute!
To mimic her outfit, I scooped up this super cute embroidered top and paired it with a red fedora hat and a pair of railroad destroyed denim shorts. Then I threw on some cool bohemian bracelets and threw some seriously awesome red high tops into the mix. Wear this outfit and you'll look ready to bask in the sunshine all day long.
Fit for a Princess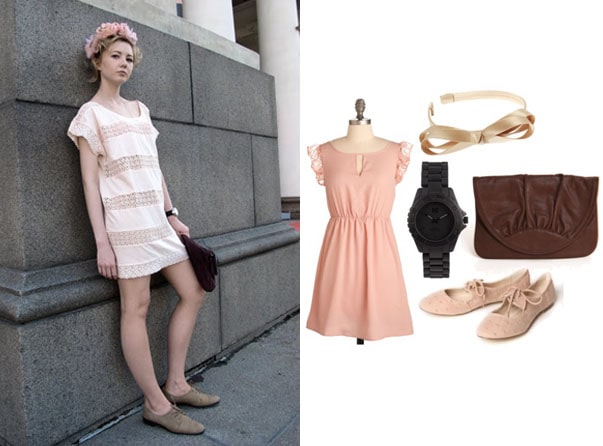 (Source: Facehunter| Dress, Headband, Watch, Flats, Clutch)
This outfit is definitely fit for a fairy princess. Can't you just imagine our friend here sitting amongst a field of daisies or running through the woods? Love that headband and those loafers!
To recreate this look, I first picked out a super cute floaty dress with ruffle sleeves. To accessorize, I chose a cute Blair Walrdorf-esque headband and a menswear-styled wrist watch. To keep all our belongings safe and sound, I pulled a fun brown clutch, and lastly, for your toes, I found some really cute ballet flats in just the perfect shade of pink.
Free Floater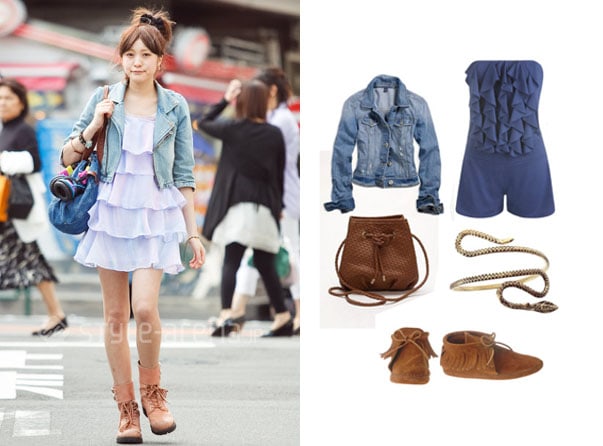 (Source: Tokyo Street Style| Jacket, Bag, Shoes, Romper, Snake Bracelet)
I love this girl's flirty yet rugged look, especially those boots! (I'm obsessed with the cuffing at the top- where can I get me a pair of those?)
To create a similar look, I stayed true to the color values; first, I pulled a navy romper with some cute ruffles and a strapless top. Then, to accessorize, I found this super edgy snake cuff bracelet. To keep those bare shoulders company, I chose the ever-classic denim jacket, a piece that every girl should own. For your feet, I picked out some cute tan moccasins, and lastly, to keep all your stuff together, I found this great drawstring satchel that is easy to throw over one's shoulder oh-so-casually.
Owl Eyes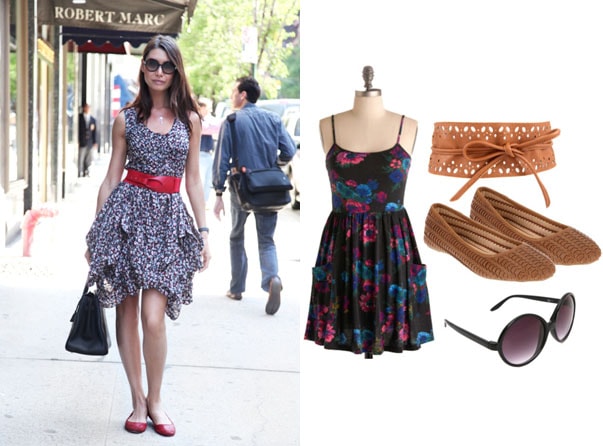 (Source: Elle| Dress, Belt, Flats, Circle Sunglasses)
After only just watching Sex and the City 2, I can't help but picture Charlotte York rocking this outfit, shades and all. I love the appropriate touches of red, and those shades are so Yoko Ono!
To recreate this outfit, I pulled this adorable floral dress and paired it with this fun boho-style cutout waist belt- it gives the look a youthful aesthetic while still being fun. For shoes, I found some cute woven flats, and to complete the outfit, I pulled a pair of hot circle shades.
Fresh Crops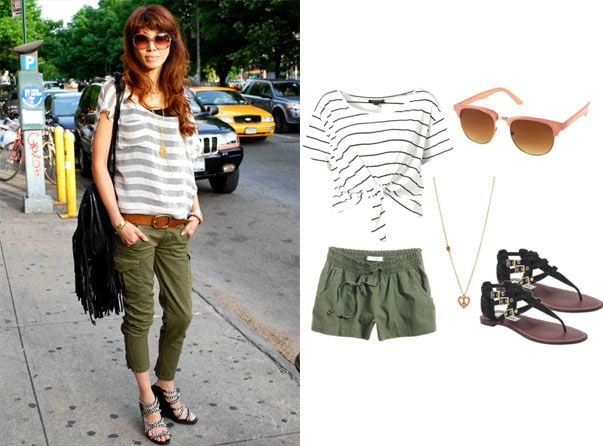 (Source: Elle| Top, Shorts, Sunglasses, Necklace, Sandals)
I love, love, love this off-the-shoulder look, especially with the belt and army pants. Everything is precisely where it should be, yet it all still looks casual and "just thrown on."
To get a similar look, I found this cute striped crop top from Topshop and paired it with some fun drawstring shorts in army green. Then I found a pair of retro wayfarers with pink frames (so cute!), and a fun heart-shaped peace necklace. Finally, for your feet, I picked out some tough but stylish gladiators with black and gold detailing; they're perfect for a stroll in the park or a jaunt to the local coffee shop.
Thoughts?
Are you out of school yet? How's your weather situation? Has Mr. Sun paid you a visit yet or are you still waiting for him to make an appearance? What's your favorite look this month? Did you like my inspired outfits? Whatever your thoughts, let me know in the comments- you know how I love them!