I don't know about you, but I'm loving my summer so far. My June was full of family get-togethers, car sing-alongs with friends, and lots of glorious sunshine. And although admittedly I'm sad to see June go, I am also PUMPED for July! Backyard bbqs, family reunions, and fireworks are calling my name and I can't wait!
I'm sure you've all got some fun summer plans, too, and if you're stumped about what to wear, have no fear: I've picked out some of my favorite summer street style looks from all around the interweb and have broken them down into outfits you can wear yourself. Interested? Read on!
Maxi-ed Out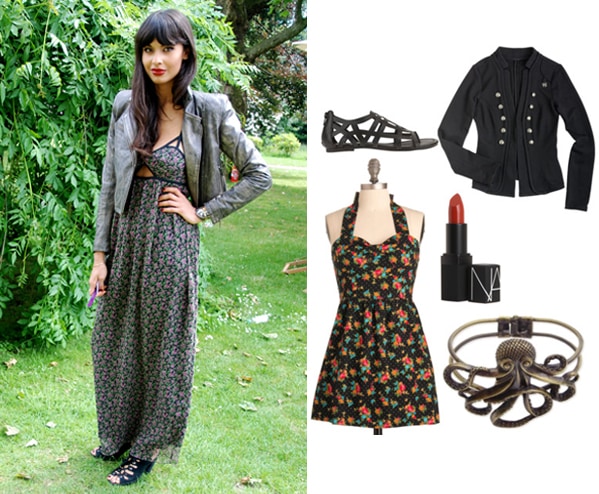 (Source: StyleScout | Sandals, Dress, Jacket, Lipstick, Bangle)
I loooooove this girl's whole look. She looks boho-chic from head to toe and her outfit is perfectly summer-appropriate. I love the cutouts on her maxi dress, and those red lips are the pièce de résistance of the look.
For my inspired outfit, I went short instead of long, choosing an equally adorable floral halter dress with a similar print. To accessorize, I picked out this really cool octopus bangle that adds a jazzy touch to the outfit. For shoes, I chose some cutout flats. In case you get cold, I pulled a military jacket in black that I guarantee will keep you warm. Finally, to pull the whole outfit together, I picked a great red lip color that will brighten your whole look- one swipe and you'll look picture-perfect.
Headcase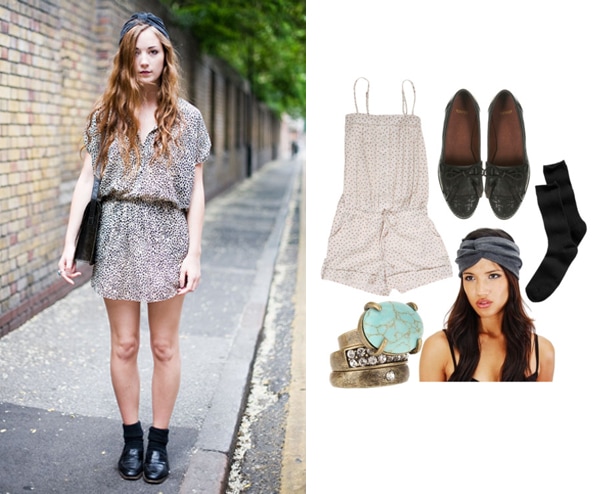 (Source: Nast Magazine | Jumper, Ring, Loafer, Turban Wrap, Socks)
I love this girl's entire outfit: it's so simple yet so chic. I love the turban headband, the floaty blouse and loafer combo, and especially those socks! (So adorable!)
To recreate this outfit, I picked out a cute floral jumper that is super easy to throw on when you're having a lazy day. Pair that with the sock & loafer combo, the stackable rings I pulled, and that turban headband and you're set to go. In this look, you'll be ready to play no matter what your adventure is!
Creamsicle
(Source: Elle | Skirt, Top, Sandals, Necklace, Bracelet)
The color combo in this outfit is ridonkulous (but in a good way). It totally reminds me of orange sherbet ice cream, or a creamsicle! I love the bright orange and her cute unicorn necklace is just over-the-top!
To recreate the look, I found a cool bandage skirt in a coral color- coral is SO fun for summer and is a definite wardrobe staple since it adds spice to any outfit. For the top, I chose a cool pocket tank that I recommend tucking into the skirt. Then all that's left to do is throw on the jewelry I picked out and slip on the sandals I found. Wherever you go, you'll look cute and summery.
Rock n' Bowler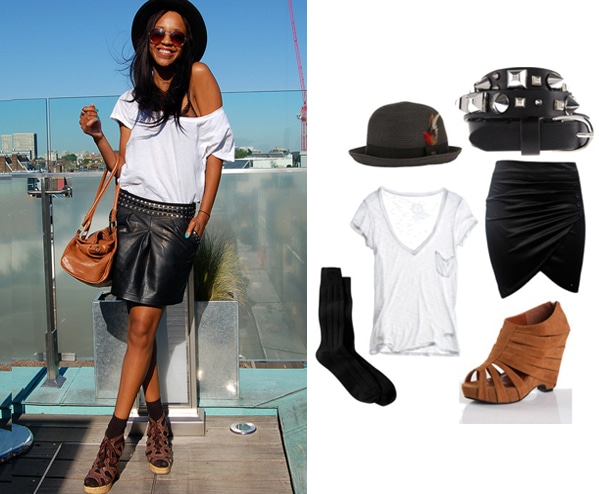 (Source: StyleScout | Hat, Shirt, Socks, Belt, Skirt, Heels)
This look is head-to-toe rocker chic and I love it. Our fashionista above manages to look badass while still keeping it cool, and I love the socks and wedge combo going on down below.
To recreate the look, I picked out a slouch pocket tee to tuck into a black bandage skirt. Belt that skirt with the cool studded skinny belt I found, pull on some cool socks, and wear them with the amazing strappy camel wedges. Finally, to complete the look, throw on the feathered bowler hat I picked out. With your outfit complete, you're set to go out, whether you're off to the club or to a concert.
Scallops n' Cream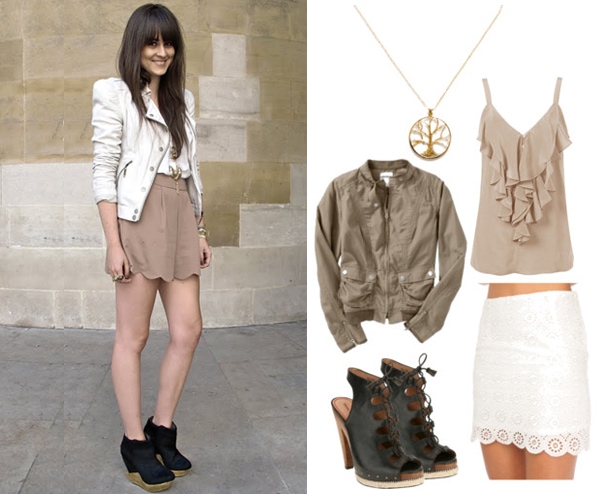 (Source: Facehunter | Jacket, Necklace, Blouse, Skirt, Heels)
This prim and proper outfit is perfectly adorable with just enough edge to make it fashion-forward. I love the scalloped shorts and those heels are to die for.
For my inspired outfit, I went for a similar color scheme of beiges and whites. I started with a cute ruffle blouse and chose a scalloped lace skirt to tuck it into. The adorable tree necklace I chose can get layered on top – it will act as the outfit's statement piece. Next, for those chilly summer nights, throw on this cool khaki moto jacket. Finally, for your toes, I picked out some cool wedge sandals- perfect whether it's hot or cool outside.
Thoughts?
What do you think of the street style outfits I chose this month? Which look is your favorite? Are you excited for July? What are you going to be doing and what do you plan on wearing? Whatever your thoughts, let me know in the comments!