This month's street style roundup is probably one of my favorites I've ever done: There are so many cute looks and outfit combos that I don't know what to do with myself (besides squeal in delight)!
July is coming to a close- for some of you that means school is just around the corner, and for others, there is still another month left to squeeze some last-minute plans into. And with summer plans, comes a need for cute outfits. But with summer coming to a close soon, your style tank may be running low on gas.
Well, if that's the case, have no fear: I've trolled around the internet in search of some fun and fresh street style inspiration to keep your summer outfits hot and humid. Interested? Read on my lovelies, I promise you shan't be disappointed!
Cheetah Girl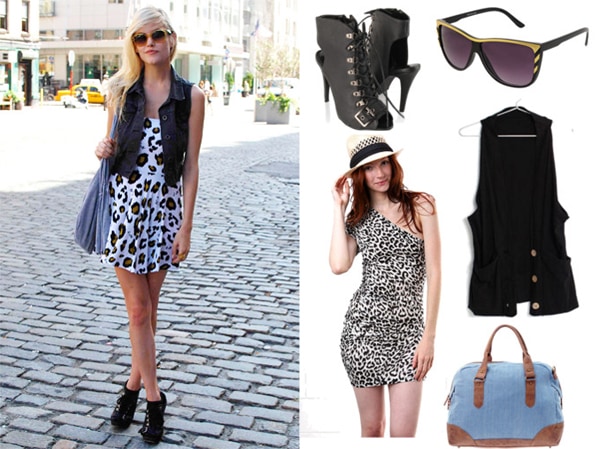 (Source: Elle | Heels, Dress, Sunglasses, Vest, Bag)
This look is so New York cool kid, I can hardly stand it. Can't you see Jenny Humphrey rocking this look on the streets of Brooklyn? I can, smudged eyeliner and all. I love the bold cheetah print on that white tube dress and how she paired that denim vest with it to keep cool and still look edgy.
To recreate the look, I found this great asymmetrical cheetah print dress that can be dressed up or down depending on what you wear it with. In this case, I paired it with a cool black cardigan vest. For shoes, I found a pair of lace up booties with just the right amount of edge – they're totally reminiscent of our friend's stylish pair. To keep the edge sharp, I also added some super cool horn-rim-shaped sunnies. Finally, to round out the outfit, I picked out a cool denim bag to keep all your goodies in. Uptown, downtown, or in-between, this look will take you places.
Sunflower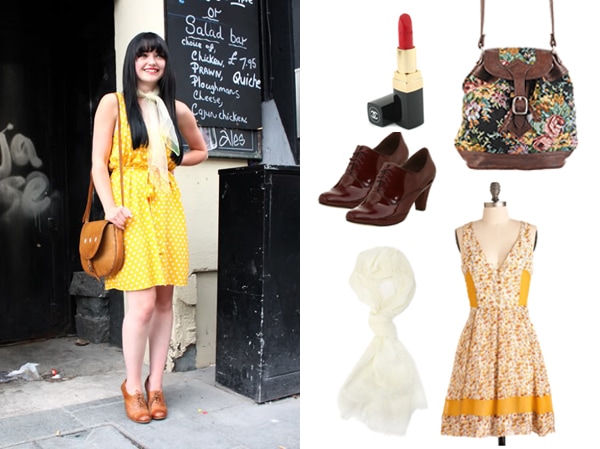 (Source: Hoy Fashion | Lipstick, Heels, Scarf, Bag, Dress)
I love the vintage-y look this girl's got going on. Everything is so well paired and put-together, it's almost too cute to put into words. I love how she tied the scarf, it goes great with the dress- and I am always a fan of a great pair of oxford heels.
To create a similar look, I found this great floral dress from Modcloth and paired it with some super cute brown oxfords and a cool floral satchel. To keep the aesthetic consistent, I also picked out a cool white scarf that can be tied the way our friend tied hers. And last but not least, to finish off the look, apply some bright red lipstick. This chic ensemble will transport you back a couple decades, in the best possible way!
Pink Lady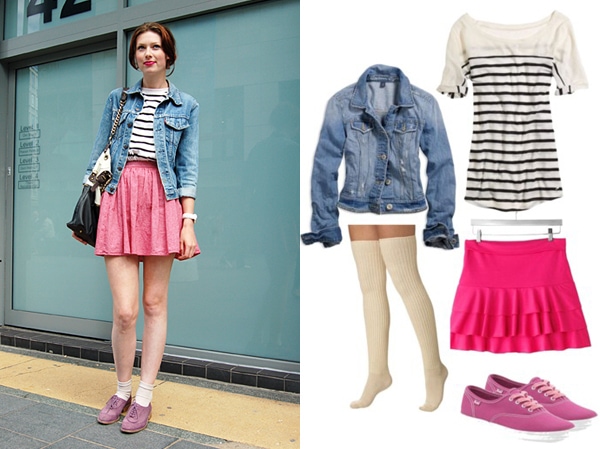 (Source: Hoy Fashion | Jacket, Socks, Shirt, Skirt, Shoes)
How inspired is this outfit? I love the color choices and the peppering of pinks throughout the ensemble. It's such a simple and chic outfit, and the pink makes it that much more fashion-forward.
To recreate the outfit, I found a similar-looking denim jacket and striped shirt. Then I picked out a fun skirt and sock combo. Instead of getting ankle socks, I got some knee socks that are very cute and versatile, as they can also be pushed down. Finally, for shoes, I found some super cute pink Keds that will not only be stylish but comfortable as well, finishing off this perfect summer vacation outfit.
Marching Orders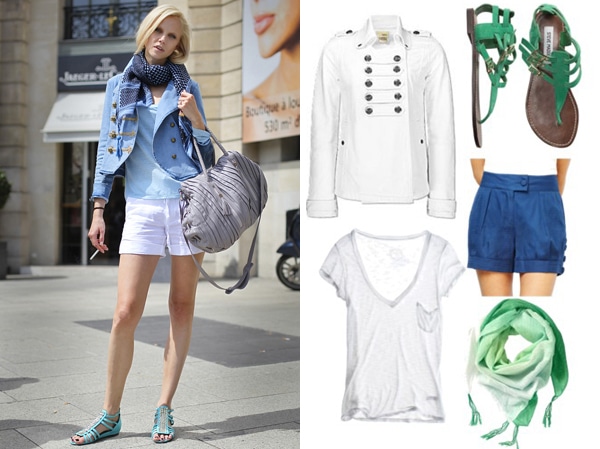 (Source: Altamira| Jacket, Shirt, Sandals, Shorts, Scarf)
This outfit just screams summertime cool. I love the blues of her jacket and shirt, but most of all I love how she picked a not-so-common footwear color — it makes her outfit stand out that much more.
To start off my outfit re-creation, I picked out a white military jacket and paired it with a cool pocket v-neck tee that should be tucked into these adorable pleated shorts. All that's left is to add some color to the outfit. I did that by picking out two sea foam green items: a scarf that you can throw over your shoulder, and a pair of pretty gladiators. This look gives classic cool an update and is perfect for you preppy fashionistas out there.
Fringe Benefits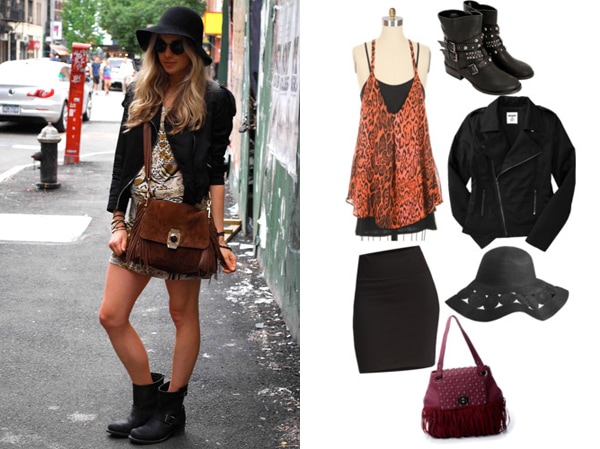 (Source: Elle | Blouse, Boots, Jacket, Skirt, Sunhat, Bag)
The last of my looks is probably my favorite: It's a great way to show you that even in summer, if you layer correctly, you can still manage to look seasonless. I absolutely love the hat and her cool boots: They totally pull the outfit together.
For my inspired outfit, I started with this great cheetah print tank in a salmon color — just pair it with a black bandage skirt and then slip on some edgy boots and you'll feel summer cool while looking tough. And for those nights where it gets a little nippy, I found this cool optional moto jacket that is light enough to push the sleeves up and not feel too warm.
For accessories, rock this sun hat, similar to our friend's, to keep the sun out of your eyes and protect your skin. Finally, sling a fringe bag like the cool magenta one I picked out over your shoulder, and you and your belongings will be good to go. Summer, winter, or fall, this look is seasonless-ly chic.
Thoughts?
What do you guys think of the street fashion looks I picked out? Do you love them as much as I do? What are your end-of-summer plans? Are you ready for fall? Whatever your thoughts, let me know in the comments!