It's been a while, but Street Style Roundup is back with some fabulously dressed girls to fulfill all of your fashion inspiration needs.
I don't know about you, but where I'm at it's still cold and I'm nearly at my wits end with the weather. I'm tired of layering up – I want spring! Alas, you can't always get what you want, but I can at least be hopeful, right?
So, to compromise, I did a 50/50 split of outfits appropriate for winter as well as looks perfect for spring. Below, you will see some great pieces for both winter and spring that will hopefully help you transition between seasons with ease. Ready to check out the looks? Scroll on down!
Marching Orders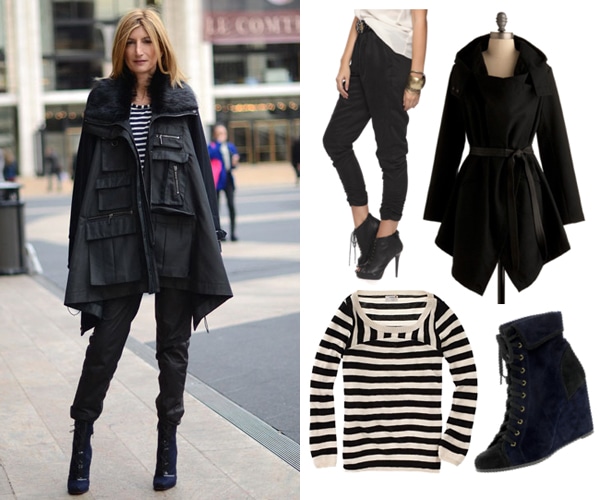 (Source: Elle | Pants, Shirt, Coat, Heels)
If military chic is your thing, you'll love this clean, structured look. From head to toe, this lady has sophisticated fashion down pat. I love, love, love, her jacket and the way she paired her pants with her boots – it's incredibly sleek while still being demurely sexy.
To help you get a similar look, I started by choosing a great pair of slim fit cropped trousers and pairing them with a uniquely styled striped shirt. (I'm lovin' how the stripes on this shirt go two different ways – it's so refreshing!) After I found those two pieces, I stumbled upon this incredibly tailored black coat – I love the tie around waist and the way the bottom bells out. It's the perfect coat for any figure. Finally, to finish off the look, I tracked down a pair of blue wedge boots that will be easy to walk in yet still fashion-forward. Don this outfit and you'll be the commander of any vessel you set foot on.
Color Me Mine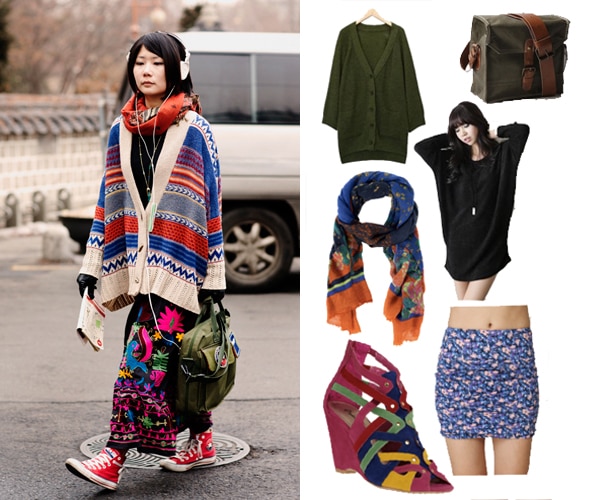 (Source: The Sartorialist | Cardigan, Scarf, Heels, Bag, Shirt, Skirt)
While not everyone could pull off this look, this girl is totally rockin' it from head to skirt-skimming toe. I love her because she is literally the definition of fashion as a form of "no holds barred" self expression. Her patterned cardigan and red high-tops are fab and give her that effortlessly cool aura that so many try to exude but usually fall short of. Love it.
For my inspired outfit, I toned down the ensemble a bit, but kept the colors wild. I started off by choosing a great floral print skirt in blue and pairing it with a neutral black dolman shirt. Then I pulled a cool army green cardigan and a floral print scarf to throw on top for that pop of color. Finally, for accessories, I found this amazing wedge heel shoe in a rainbow of colors and a cool military styled bag to hold all your most precious trinkets. Wear this outfit when you want to make a statement – I guarantee you'll turn heads.
Tangerine Dream
(Source: The Sartorialist | Coat, Shorts, Bag, Shirt, Shoes)
The pops of color in this outfit are just amazing – they give me a warm feeling all over! I love this ensemble because not only does this woman look fashion-forward, but most importantly, she looks comfortable. I'm in awe of the color palette presented here; it reminds me of hot soup or pumpkin pie, yummm. Plus, those tights are just awesome.
To recreate this outfit, I went looking for that cool tangerine color that is peeking out beneath our fashionable friend's jacket, and uncovered this awesome orange trench coat. It's a great color and a fabulously different take on a classic. Speaking of classics, I decided to steer the rest of this look in that direction by pairing the trench with a simple oxford shirt, shorts, and shoes – three classic pieces that will never go out of style. Finally, to mimic that fantastic pop of red, I picked out a chic red quilted bag that will look picture-perfect hanging off your shoulder. Wear this outfit and you'll look perfectly preppy in the best possible way.
Charmed, I'm Sure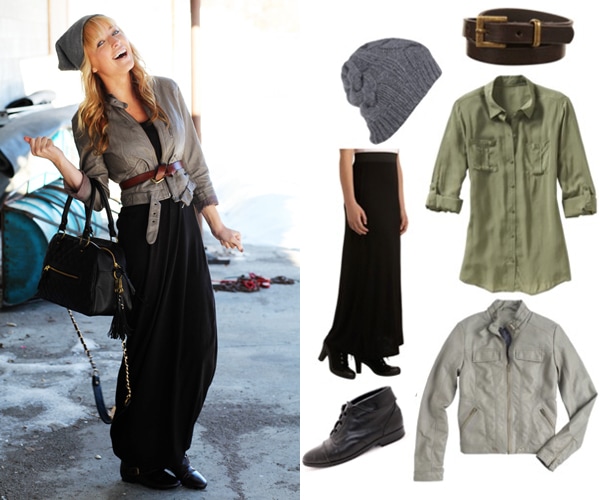 (Source: The Daybook | Hat, Skirt, Boots, Belt, Shirt, Jacket)
Out of all of this month's street style looks, this one is definitely my favorite. Not only is it fashion-forward, it's also fairly casual and easygoing. Our friend here is rockin' the long hem trend perfectly with her long black dress and boots, and that belt around her waist is flawless.
To help you emulate this outfit, I first picked out an army green shirt and paired it with a long skirt and boots. Next, I found a gray jacket similar to our friend's to wear on top. Finally, to accessorize, I added a gray beanie similar to the one in the picture, as well as a simple brown belt for you to wear around your middle. Throw on this look and you'll feel both rebellious and chic at the same time – and who doesn't want that?
Thoughts?
So what did you guys think? Did you like the outfits I picked out? What about the looks, which one was your favorite? Are you as over winter as I am? Or do you want 3 more months of it? Whatever your thoughts, let me know in the comments!