We're at this weird time in the season right now – you guys know what I'm talking about – some days hot, some days cold. Sigh. How's a girl to decide what to wear in such unpredictable weather?
Well worry no more, friends: For this month's Street Style Roundup, I've pulled some versatile yet stylish looks that are perfect for that awkward time when the weather waffles between sunshine and showers. Interested? Then scroll on down to check out some fresh fashion from some seriously stylish girls!
Look 1: Blacktrack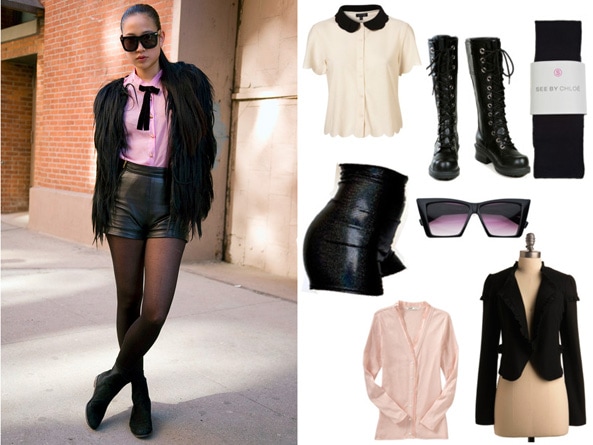 (Source: StreetPeeper | Shirt, Shorts, Cardigan, Boots, Glasses, Tights, Jacket)
Look out, Sasha Fierce – this girl is right behind you! From her high-waisted short shorts to her bowtie/blouse combo, this chick wants you to know she's got style. Even better, this outfit is perfect for transitional weather because you can layer up and down or opt to go sans-tights, if the temperature permits.
To get an inspired look, I started by pulling this great cropped blouse and pairing it with some leather-esque booty shorts that you can wear over a pair of sheer black tights. I also included two optional jackets, a soft pink cardigan, and a sharpshooting black jacket – for when you mean business. Lastly, I picked out a pair of racy lace-up boots, and accessorized the look with a pair of statement sunglasses. Wear this ensemble and you'll not only smolder, you'll sizzle too.
Look 2: Headcase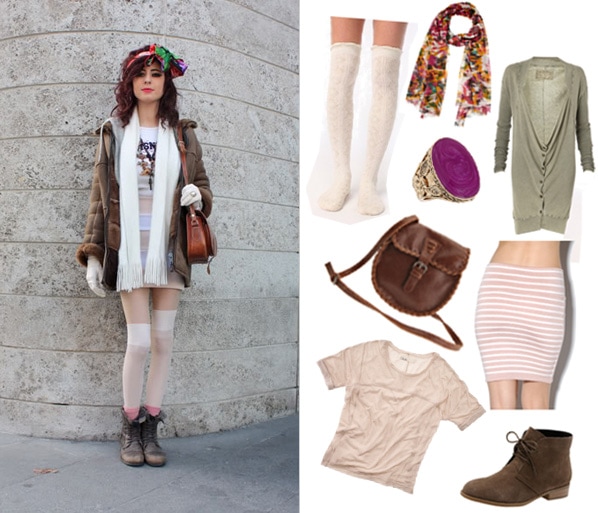 (Source: Hoy Fashion | Tights, Bag, Shirt, Scarf, Ring, Cardigan, Skirt, Boots)
Next up on our list is one of my favorite looks of the month. I love it because it shows us an age-appropriate way to rock two of my favorite current trends: knee socks and headscarves.
To get a similar look, I started by grabbing a sweet and sultry pink bandage skirt and pairing it with an off-white tee and an elongated cardigan in army green. Then I pulled some sweet white knee socks to add texture and warmth, as well as to highlight these adorable desert boots. To finish off the look, I found some fun accessories: a brown purse, magenta stone ring, and fun floral scarf.
The scarf, in particular, is perfect for spring and incredibly versatile: You can either wear it around your neck as a summer scarf, or wear it as a headband like our friend does, above. It's a great way to incorporate spring whimsy into any outfit, and to finish off this spring ensemble.
Look 3: Golden Girl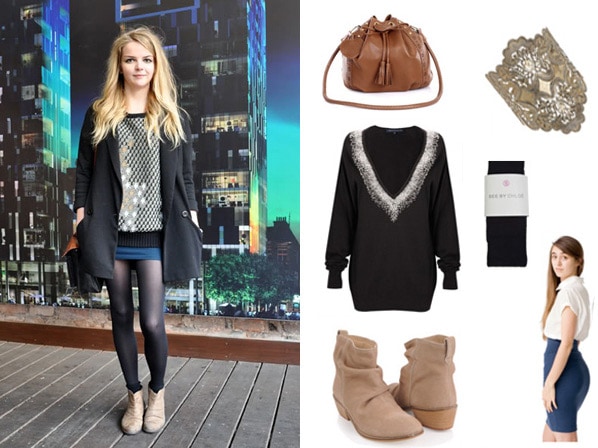 (Source: Hoy Fashion | Bag, Top, Boots, Bracelet, Tights, Skirt)
Our last outfit is a great example of an easy, chic look that is both comfy and put-together. I love how cozy and effortless this outfit is, while still being classy and chic. And, okay, I can't get over those boots.
To get this simple yet chic look, I started off by picking out a simple oversized knit. Once you pull on the sweater, throw the skirt on underneath and you're halfway there. All you'll have to do next is pull on the (optional) tights and add a pair of tan boots, this fabulous cuff bracelet, and a fun bag like the drawstring one I included. This would make a perfect lazy day outfit, for those "I don't want to think about what to wear" moments.
Thoughts?
What do you think of the looks I picked out? Which one is your favorite? What about the looks I put together? Did they work? How are you wearing transitional clothing this season? Whatever your thoughts, let me know in the comments – I always appreciate your feedback!