L-R: Swim Outlet, Forever 21, Urban Outfitters
Overall shorts are the denim trend that keeps coming back. While cropped overalls (a la Madewell Spring 2017) are set to be super hot this season, we're excited to rock our even shorter overall cutoffs once the weather gets warm. We may have also packed them for spring break…
Keep reading to see some great ways that you can wear overall shorts both to class and for a night out. (If you live up north, Pin these to Pinterest and wear them when the weather gets warmer!)
Overall Shorts: Class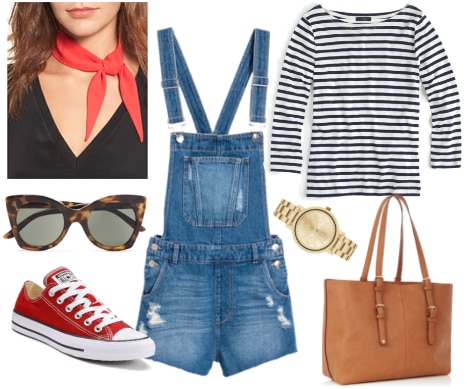 Products: Overalls – H&M, Top – J.Crew, Shoes – Kohl's, Watch – Macy's, Sunglasses – The Outnet, Bag – Oasis, Scarf – Nordstrom
These adorable distressed denim overalls from H&M are definitely going onto my Spring wardrobe wishlist! Comfortable and trendy, these are a great choice for class.
Pair these overalls with a simple navy blue and white striped shirt and fun red Converse. Add a neck scarf for a bit of flair, then channel your inner Audrey Hepburn with these oversized sunglasses.
Overall Shorts: Night Out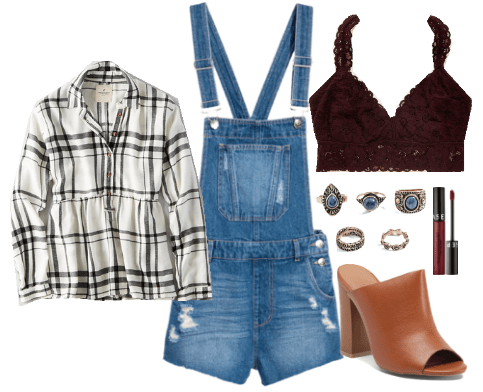 Products: Overalls – H&M, Shirt – American Eagle, Bralette – Aerie, Shoes – TJMaxx, Rings – Dishee Fashion, Lip Stain – Sephora
Okay, I know you might think these won't work for night, but we're here to prove you wrong. Here at CF we're all about being daring and pushing the fashion boundaries!
Wearing a cool-girl bralette under overall shorts gives your outfit a sultry boho vibe that gets a seal of approval for a night out. (It would also be a perfect combo for a music festival.) Tie a cozy plaid shirt around your waist in case the night gets a little chilly.Some peep toe booties will complete your transition from casual to dressy.
What Are Your Thoughts?
Do you like overall shorts? Would you wear them to class? How about a night out? Let me know in the comments below!