This week's Reader Spotlight (where we feature one stylish CF reader and showcase her style) embodies the fall with an inspiring, fashion-forward look. Read more to meet Stephanie!

The Interview
Name: Stephanie Jae Brown
Age: 22
School: UCLA, but currently studying at the University of Kent in England for Fall 2010
Major: Theater
Class standing: Senior
Hometown: Trabuco Canyon, CA
Your style in three words: comfortable, layered, flexible
Interests and hobbies: "Writing, photography, reading, theater, people watching, making jewelry, exploration of new places with friends, cooking, tea, coffee, chocolate…"
Where do you like to shop? "Target, Nordstrom, Charlotte Russe, Topshop, H&M, Forever 21, Goodwill…"
Where do you draw fashion inspiration from? "I draw inspiration from people watching, which I can't help but do on the two incredible college campuses I've been at. I also find a lot of inspiration in TV shows and movies. I can't tell you how many times I've paused the TV (thank you, DVR!) to sketch out or write down an accessory or article of clothing that I suddenly cannot be without. And did you see Ellen Page in Inception? Boots, jeans, cardigan, and a neckerchief. I loved it!"
What is your favorite fall trend? "My favorite fall trend is tights with shorts, which I see every day in England. Tights are cheaper than leggings and pants, offer more mobility than jeans, and are colorful. Plus, they can incorporate one of my other favorite trends right now: lace!"
What three clothing pieces or accessories can you not live without? "My favorite pair of jeans, my boyfriend v-necks (specifically the rusty orange one), and earrings. A favorite pair of jeans needs no explanation- ripped or pristine, dark or faded, they just make you feel good. And boyfriend v-necks are nice because you can justify having a ton of them, and they're so comfortable and versatile! And I wear earrings every day; I even keep my jewelry box in the car so I never have to worry about forgetting them or changing them should the mood strike me."
What is your style philosophy? "My style philosophy is that for the most part, you should wear what you want. However, there is much to be said for people who can dress appropriately for their age and body type; ANYONE can look amazing if they know how to do that. Be yourself. Wear what YOU like."
An Outfit Inspired by Stephanie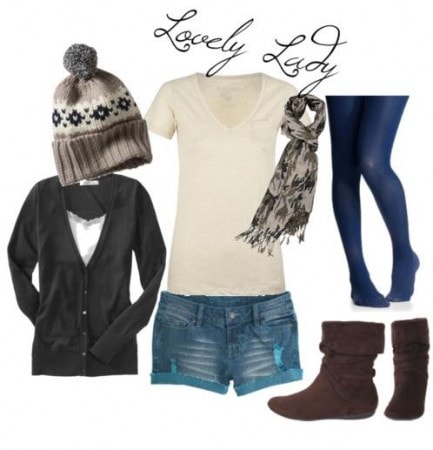 Product Information: Tee- Tilly's, Shorts- Delia's, Cardigan- Old Navy, Tights- Gap, Boots- Delia's, Hat- Gap, Scarf- Forever 21
To capture Stephanie's look, begin with your favorite pair of summer shorts. Above, these distressed jean beauties are the perfect wash and will create a casual look when paired with the off-white tee. Add a gray go-to cardigan and cute brown ankle boots. Finally, the key to Stephanie's ensemble is her amazing pair of blue tights- a great way to mix summer and fall looks. Accessorize with a camo-print scarf and a warm pom hat and you are ready to skip through a pile of colorful leaves.
Wanna be our next featured reader?
Would you like to be featured in our next CF Reader Spotlight? Do you push the fashion boundaries? Do you have a unique sense of style? We want to see something unexpected! If that sounds like you, please send an email to readerspotlight AT collegefashion DOT net and include the following:
Your name
Age/year in college
College
A picture of yourself in an outfit that you believe evokes your own personal and unique style
Your style in three words
Once we have received your entry, we will send you a short interview to complete as soon as possible. If you are chosen, you will be notified via email prior to the article's publication. Good luck!
What do you think?
Are you impressed by Stephanie's style? What do you think about her look? Do you like the shorts with bright tights combo? Do you like wearing tights in the fall? What are you wearing this fall? Feedback? Ideas? Questions? Chat with us in the comments!