For this week's Reader Spotlight, we turn our focus to a CF reader and college fashionista whose style is feminine, glamorous, and sophisticated. I hope you will all be as inspired by her style as I was! Read on to meet Jessica- our fifth reader spotlight!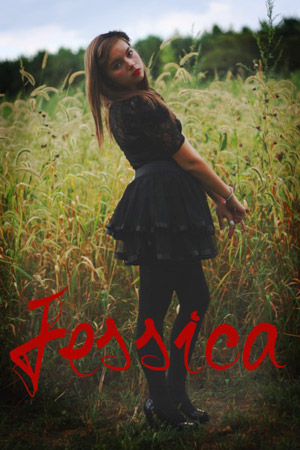 CLICK TO ENLARGE.
The Interview
Name: Jessica Myers
Age: 18
School: Alvernia University (soon transferring to Albright College)
Major: Psychology (soon changing to Fashion Design/Merchandising)
Hometown: Reading, PA
Your style in three words: eclectic, feminine, edgy
Interests and hobbies: Fashion, shopping, reading, playing video games (such as World of Warcraft, I'm a nerd), taking photos, blogging
Where do you draw fashion inspiration from? Everywhere – from people on the streets, outfits I see in movies, and designer stuff (naturally). I especially like the French Revolution time period. It's totally random but I love Marie Antoinette and her fashion choices.
Where do you like to shop? Goodwill! I end up finding better quality stuff at Goodwill than at Forever 21 and such. I've found a lot of designer stuff there for under $10.00.
What three clothing pieces or accessories can you not live without? My faux leather jacket: it's fake, it was cheap (from Target), but I've had it for several seasons now and somehow I never get sick of it. My Doc Martens Stacey Boots, or boots in general: they take any outfit from boring to slightly more interesting. A good purse: right now I'm on the prowl for one. I can't seem to find any that interest me. Until I find the perfect one, I've been using an electric blue Steve Madden clutch that I bought at Goodwill new.
Fashion advice? Wear what you're comfortable in, regardless of whether it is in style. If you love it, others will learn to love it too!
An Outfit Inspired by Jessica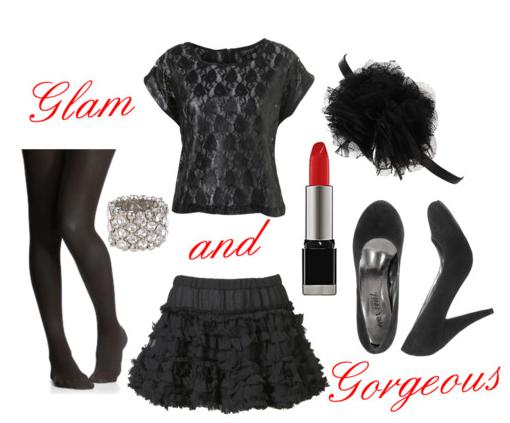 Product Information: Shirt- Topshop, Skirt- Topshop, Tights- Gap, Heels- Wet Seal, Headband- Forever 21, Ring- Forever 21, Lipstick- Sephora
Channel Jessica's dark yet feminine look with pieces all in the same color tone. I chose black as Jessica did, but any neutral tone – gray, navy, brown, or tan – would work here. If you're feeling particularly daring, try a monochromatic outfit in a standout color; just be careful to avoid the crayon look!
For the look above, begin with a short sleeved lace tee paired with a ruffled skirt. Add a pair of opaque tights with round toed pumps, as well as a mesh lace rosette headband and silver ring to accessorize. To pull off this black-on-black look, play with different textures, such as lace, ruffle, mesh, and suede, to add contrast. This will make the neutrality look dimensional and interesting.
Jessica's outfit above is completely neutral, except for her bold lip, which she uses as her pop of color. The key to pulling off Jessica's ensemble is to avoid wearing nothing but black- you do not want to look like you are going to a funeral! Color is necessary and Jessica understands this; she uses a bright red lipstick that not only adds color to her look but also ups her style from neutral to ultra-sophisticated.
Interested in reading more about neutrals and bright colors?
Read our posts on the subject!
Wanna be our next featured reader?
Has this post convinced you to apply to be in our next CF Reader Spotlight? Do you push the fashion boundaries? We want to see something unexpected, girls! If that sounds like you, please send an email to readerspotlight AT collegefashion DOT net and include the following:
Your name
Age/year in college
College
A picture of yourself in an outfit that you believe evokes your own personal and unique style
Your style in three words
Once we have received your entry, we will send you a short interview to complete as soon as possible. If you are chosen, you will be notified via email prior to the article's publication. Good luck!
What do you think?
Are you impressed by Jessica's style? What do you think about her neutral look? Would you wear black-on-black? Do you like the bright lip trend? How do you add a pop of color? Feedback? Ideas? Questions? Chat with us in the comments!