College is the best possible time to experiment with your wardrobe and personal style. If, for example, you want to wear that leopard print skirt or pair of over-the-knee socks to class just because you feel like it, as a college student, that's totally okay. Once you hit the "real world," of corporate jobs, however, that mini skirt probably won't be such a hit.
This week's Reader Spotlight feature knows how to make a fashion statement as a college student, and isn't afraid to wear whatever she wants, wherever she wants. Jordan wears what makes her feel good, tossing trends aside and embracing individuality, boldness, and just a bit of silliness thrown in for flare.
Read on to meet Jordan and see her fabulous college style!
Jordan's Style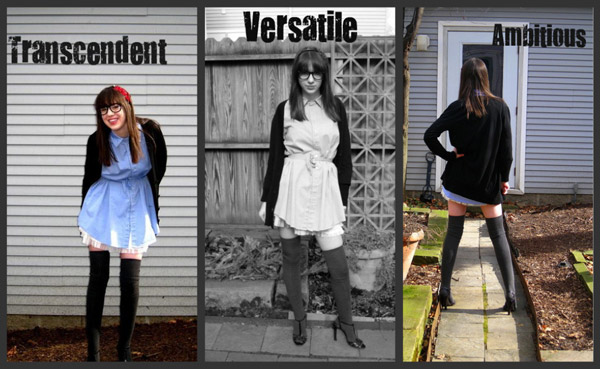 The Interview
Name: Jordan Solomon
Age: 18
School: PA Cyber
Hometown: Pittsburgh PA, born and bred.
Your style in three words: Ambitious, Versatile, Transcendent
Interests and Hobbies:
Photography, Modeling/Fashion, Sewing, Writing/Blogging: Facebook, Tumblr and Blogger (I have way too many social networking sites than is healthy or necessary), People Watching, Reading and Overanalyzing, Film.
What is your style philosophy?
The only thing that matters is that YOU feel good. If you're even in the least bit hesitant, don't buy the electric blue leg warmers, leave the tutu in the closet for a couple seasons until you feel ready (or get creative and put it under a dress for new life and less oomph)… No matter what, be yourself and WORK IT. If you stick to what makes you, you, then you've got style.
Who is your fashion idol?
Bowing down to idols is expected; I suppose every girl does it. I admire Lady Gaga's flare, for example, but that would never be me. Audrey Hepburn is another woman I admire, but I'm far too klutzy to have her poise and grace. I also guiltily indulge in Gossip Girl. Eric must marry me, ASAP.
Where do you like to shop?
Where do I NOT shop? It is a blessing and a curse that I can always manage to spend every last dollar I have, be it Urban Outfitters or Target, to each his own buyers remorse.
What three clothing pieces or accessories can you not live without?
Easy. A girl can never have too many cardigans; they are the final flourish on any ensemble. I always have one in my purse, no matter how hot it may be (in case of air conditioning).
The second item is a go-to pair of jeans. Go-to jeans don't have to be hot or "in," they just have to feel good and make you feel beautiful, no matter how tattered or worn. (My go-to pair is going on 6 years strong.)
Last, of course, the LBD… Little BAD Dress (doesn't have to be black): a frock in a classic cut that makes you feel instantly glamorous. For some, it may take years of searching to find said dress. I'm not sure if I've found mine, but it's worth the work.
An Outfit Inspired by Jordan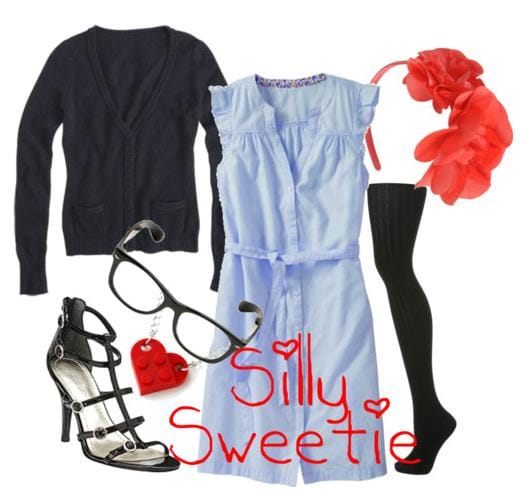 Product Information: Sweater- Delia's, Dress- Old Navy, Heels- Nine West, Socks- Top Shop, Glasses- Urban Outfitters, Headband- Forever 21, Necklace- Shanalogic
Jordan's look is a balanced mix of feminine, preppy, and edgy. To get her aesthetic for yourself, start with a light blue shirt dress- this one has a cloth belt to add a bit more proportion to your midsection. Then, throw on a basic black cardigan and black thigh-high socks.
For accessories, add a red flowered headband for an ultra-feminine look, but tone it down a little with these black edgy heels. Embrace your geek side with a pair of black reading glasses and this red Lego heart necklace. Overall, this outfit is a great fall look that will turn heads.
Accessories Inspired by Jordan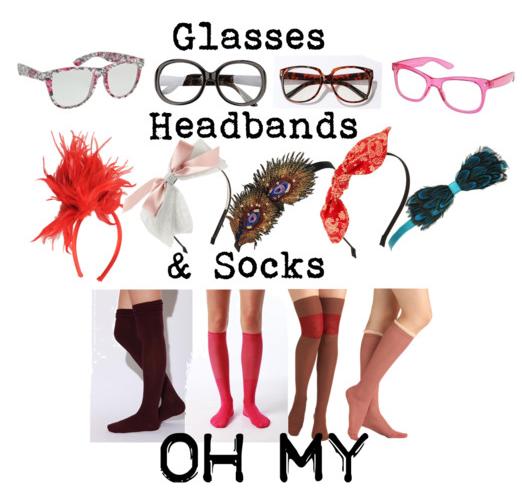 Product Information: Glasses- one, two, three, four. Headbands- one, two, three, four, five. Socks- one, two, three, four.
If the outfit above is a bit too over-the-top for your personal style, consider incorporating accessories inspired by Jordan into your everyday look. She knows how to rock accessories such as non-prescription glasses, funky headbands, and trend-setting thigh or knee-high socks. Add any of the above pieces to your ensemble to effortlessly translate Jordan's style into your own look.
The Little Bad Dress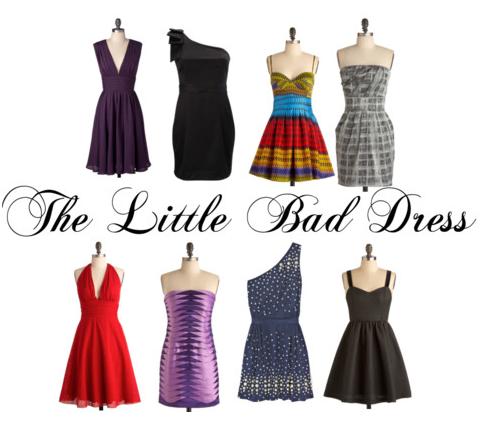 Product Information: Dresses- one, two, three, four, five, six, seven, eight.
I love Jordan's philosophy on the LBD, and its new meaning, the Little Bad Dress. Jordan defines her LBD as "a frock in a classic cut that makes you feel instantly glamorous." Your perfect little bad dress should reflect the epitome of your personal style and fashion sense in one garment.
If you already have your perfect LBD, good for you! Still looking? Become inspired by the various dresses above!
Wanna be our next featured reader?
Has this post convinced you to apply to be in our next CF Reader Spotlight? If so, please send an email to readerspotlight AT collegefashion DOT net and include the following:
Your name
Age/year in college
College
A picture of yourself in an outfit that you believe evokes your own personal and unique style
Your style in three words
Once we have received your entry, I will send you a short interview to complete as soon as possible. If you are chosen, you will be notified via email prior to the article's publication. Good luck!
What do you think?
Are you impressed by Jordan's style? Will you wear any accessories inspired by Jordan? Do you own an LBD? What do you think of the Little Bad Dress mentality? Feedback? Ideas? Questions? Chat with us in the comments!