This week's Reader Spotlight demonstrates how to mix basics from your wardrobe with accessories that have personality.
Nineteen year-old Millie is an expert at this technique (check out her photos and interview below) and the following post should help to create your own look that reflects the ease and versatility of hers. The key to Millie's style is her use of basic pieces juxtaposed with unique and trend-setting accessories.
"What you wear is an extension of who you are. Make it count."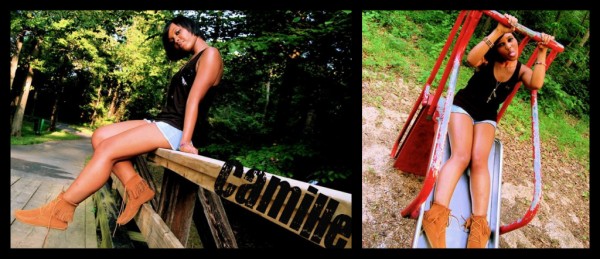 The Interview
Name: Camille or Millie
Age: 19
School: University of Maryland, College Park
Major: Marketing/Economics
Class standing: Sophomore
Interests and hobbies: singing, writing, shopping, playing guitar, movies
Your style in three words: trendy, edgy, versatile
What is your style philosophy? "Definitely wear something that makes you feel confident. It doesn't matter if it's in style, if it matches, or if it fits. If you feel like a million bucks in it, that's all that matters."
Who is your fashion idol? "As of late, I'm loving what the Kardashian sisters are putting together. Cute and chic, and completely wearable for casual days."
What is your favorite summer trend? "FLORALS! I love the floral trend. I rock my florals in rompers, dresses, and even sunglasses!"
Outfits Inspired by Millie
Here are three looks inspired by Millie's fantastic personal style.
Outfit One- Casual Edge
Product Information: Tank- Forever 21, Shorts- Wet Seal, Boots- Endless, Necklace- ModCloth, Earrings- Forever 21, Bracelets- TopShop (one, two, three)
This first outfit emulates Millie's edgy and trendy style, as well as her penchant for pairing basics with fun accessories.
Begin with a black tank- this one has a metallic shine to it that gives it a bit more flare. These light wash jean shorts add a nice contrast to the darkness of the top. Next, we have to talk about the boots – the beautiful, fashion-forward, unique fringe boots – I cannot even begin to express how much I love them. They are very similar to Mille's lace-ups, which are hot for fall. To put the final touches on this ultramodern look, I added an abundance of jewelry- all in dark tones to reflect Millie's rocker chic image.
Outfit Two- Elegant Rebel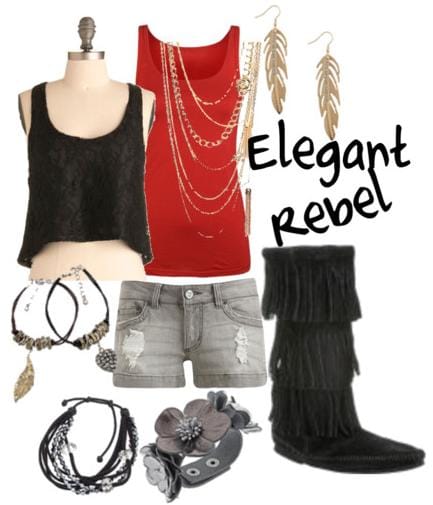 Product Information: Shorts- Wet Seal, Crop Top- ModCloth, Tank- Tilly's, Boots- Jildor, Necklace- ModCloth, Earrings- Forever 21, Bracelets- TopShop (one, two, three)
While the first outfit is a great example of casual wear, I wanted to include a dressier option that still emphasizes Millie's rocker edge.
The light gray shorts are an escape from everyday blue jeans, and they will keep you cool on a warm summer night. Crop tops are trendy summer items that are popping up everywhere and this black lacy one will look great layered over a bright red tank- the perfect pop of color in a sea of neutrals. These black fringe boots are another item that I instantly wanted to purchase myself- they are so cute and chic, perfect for all seasons. Again, add a bunch of jewelry – bracelets, necklaces, earrings, and rings – to take your edgy style to the next level.
Bonus!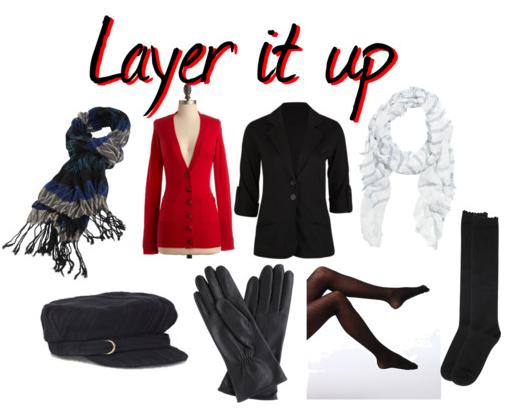 Product Information: Scarf one- Forever 21, Cardigan- ModCloth, Blazer- Tilly's, Scarf two- The Outnet, Hat- The Outnet Gloves- French Connection, Tights- Urban Outfitters, Knee socks- Forever 21
Layering is a perfect way to add edge and interest to your look! Any of the above accessories would be great layering tools for the colder months- chic, stylish, and unique additions to basic outfits.
Wanna be our next featured reader?
Has this post convinced you to apply to be in our next CF Reader Spotlight? If so, please send an email to readerspotlight AT collegefashion DOT net and include the following:
Your name
Age/year in college
College
A picture of yourself in an outfit that you believe evokes your own personal and unique style
Your style in three words
Once we have received your entry, I will send you a short interview to complete as soon as possible. If you are chosen, you will be notified via email prior to the article's publication. Good luck!
What do you think?
Are you impressed by Millie's style? What do you think of the edgy/rocker aesthetic? What accessories are you obsessed with? Are you excited about this new series? Do you like to layer? Feedback? Ideas? Questions? Chat with us in the comments!