When choosing the next Reader Spotlight, I wanted to pick someone with a classic summer look that we could all emulate as August slowly fades away and September arrives. Catarina's look was definitely perfect for this ideal- she rocks summer's hottest trends but makes them work with her own simple, practical style. Though this week's featured reader is not yet a college girl, she is a young fashionista who is a perfect source of inspiration.
The Interview
Name: Catarina
Age: 17
School: High school
Major: Communication Design
Hometown: Évora, Portugal
Your style in three words: Eclectic, practical, fresh.
Interests and hobbies: "Photography, sketching, fashion (of course!), cinema, and reading."
What is your style philosophy? "I like to think that less is more. So I try to keep it simple and modest -sometimes!"
Who is your fashion idol? "I admire Patti Smith, although she's not that much into the fashion scene these days. And others like Zooey Deschanel and Kate Moss."
What is your favorite summer trend, and how have you been wearing it? "I love the navy/nautical look! I like to combine my navy blouses with boyfriend jeans folded down or with shorts. On my feet, oxfords or keds."
What three clothing pieces or accessories can you not live without? "Skinny jeans are in first place, is life even possible without them? Then, my cardigan collection and my Dr Martens."
Fashion advice? "Simplicity rocks! You can wear a really simple outfit and then accessorize it with something outstanding."
Outfits Inspired by Catarina
Outfit One- Simply Eclectic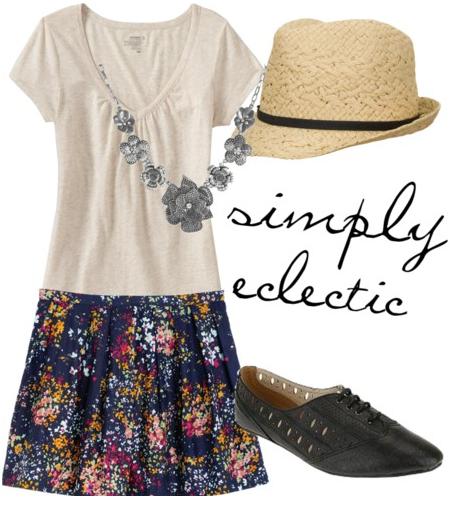 Product Information: Shirt- Old Navy, Skirt- Delia's, Shoes- Urban Outfitters, Hat- Tilly's, Necklace- Wet Seal
Imitate Catarina's simple but eclectic style with this adorable floral skirt paired with a basic off-white tee. Catarina also has a hint of prep in her look – an aesthetic that you can channel with these classic cutout oxfords and a simple straw fedora. Tie the whole outfit together with a silver floral necklace and you are ready for a nice summer's day!
Outfit Two- Floral Frenzy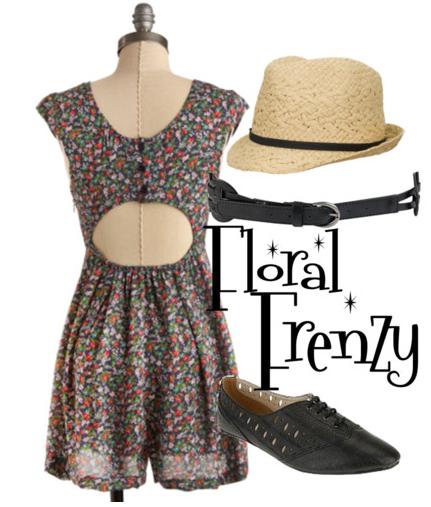 Product Information: Romper- Modcloth, Belt- Forever 21, Shoes- Urban Outfitters, Hat- Tilly's, Necklace- Wet Seal
For those of you who are daring and fashion-forward, take Catarina's look to a whole new level of floral frenzy with this summery romper. I like this romper even better than a floral dress for its comfort factor and uniqueness. I showed the back of the romper above because of its interesting cut-out look- one that will match the teardrop details of the black oxford shoes. Finally, just throw on a simple black belt to add contrast and you are ready to frolic in a meadow of wildflowers!
Wanna be our next featured reader?
Has this post convinced you to apply to be in our next CF Reader Spotlight? If so, please send an email to readerspotlight AT collegefashion DOT net and include the following:
Your name
Age/year in college
College
A picture of yourself in an outfit that you believe evokes your own personal and unique style
Your style in three words
Once we have received your entry, I will send you a short interview to complete as soon as possible. If you are chosen, you will be notified via email prior to the article's publication. Good luck!
What do you think?
Are you impressed by Catarina's style? Do you love the floral trend as much as I do? Are you excited about this new series? What do you think of the romper trend? Feedback? Ideas? Questions? Chat with us :]