For our final Reader Spotlight of the year, we move to NYC, where CF reader Andrea shines with her layering techniques perfect for the chilly Northeast. Learn more about her and her style below!
The Interview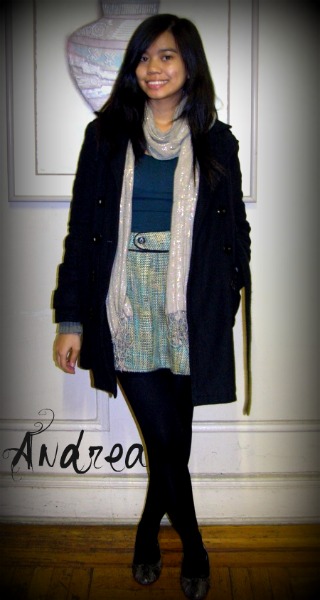 Name: Andrea Abarentos
Age: 18
School: CUNY La Guardia Community College
Major: Liberal Arts – International Studies
Class standing: Freshman
Hometown: Philippines (I'm now in NY)
Your style in three words: Comfy, Trendy, Versatile
Interests and hobbies: "Reading blogs and books, online shopping, eating chocolates"
Where do you draw fashion inspiration from? "I'm inspired by street styles, fashion blogs and designer lookbooks. I actually make use of my Facebook account by 'liking' pages like Zara and H&M to see their latest lookbooks."
Who is your fashion idol? "I like Andy from stylescrapbook.com and other fashion bloggers but I don't really have a specific idol. When I browse on one website like lookbook.nu or CF, I always end up at another. I idolize almost everyone. I always try to figure out how I can create my own version of their style or mix it with other styles."
Where do you like to shop? "I don't go out shopping much so I always shop online. I like wearing unique pieces so I mostly bid on eBay. When I do go out, I like to shop at affordable stores, whether it's a thrift store or H&M."
What is your favorite fall trend? "I love the chunky scarves trend. I also like the leather trend."
What three clothing pieces or accessories can you not live without? "A skirt (my favorite), a basic tee, and a pair of jeans that can be worn with anything."
What is your style philosophy? "Dress to impress. Be proud of your style and never let other people's opinions change what you want to wear. When I walk on the streets, I listen to music and walk with my head up like I'm walking on a runway. Now, I do it naturally, even without music. It really helps boost my confidence."
Outfit Inspired by Andrea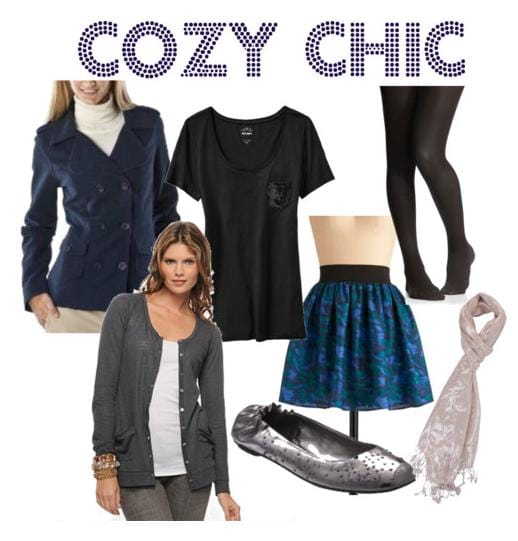 Product Information: Jacket- Target, Tee- Old Navy, Tights- Gap, Cardigan- Forever 21, Ballet flats- Target, Skirt- Modcloth, Scarf- Forever 21
Yes! The fall semester is over! It is time to relax and enjoy the holidays. And now you finally have time to think about dressing up again. So put away your finals outfit- aka leggings, boots, and a sweater – it's time to step it up!
Begin with Andrea's favorite garment- the skirt. This blue watercolor-print skirt creates a perfect pop of color for winter. Add a black tee and gray cardigan for contrast. Next, black tights are a must – double up if you need to for extra warmth! These metallic ballet flats are cute, but if you are battling the snow, opt for some black boots. To reflect the metallic pocket on the tee and the shoes, wear a sparkly scarf, which will keep you warm and make your outfit even more glamorous. Finally, bundle up with your favorite winter coat, and you are ready for a night out with friends, or a holiday party with your family!
What do you think?
Are you impressed by Andrea's style? What do you think about layering tights and a skirt in the winter? What do you think about wearing metallics? What are you wearing this winter? Feedback? Ideas? Questions? Chat with us in the comments!