This week's Reader Spotlight is a prime example of finding versatility in your wardrobe. Fashion is not about buying absolutely everything – it's about working with what you have, and learning how to make each piece in your closet work in a new way. Jessy sent in three pictures, and despite the fact that they don't really show her face, they all display a different aspect of her style using similar pieces. Read on to meet her.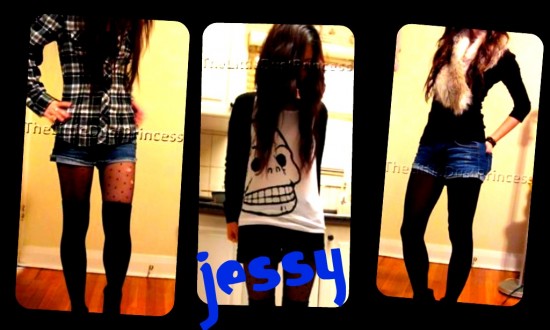 The Interview
Name: Jessy
Age: 20
Major: Double majoring in sociology & psychology
Class standing: 3rd year
Hometown: Toronto, ON (Canada)
Your style in three words: "feminine, fun, eclectic"
Interests and hobbies: "Fashion, street style, reading, blogging, watching movies, shopping, playing board games, playing sports, playing video games, and taking photos."
Who are your fashion idols? "Caroline of Caroline's Mode and Rumi of Fashiontoast. Rumi's outfits seem really laid back, but she always somehow manages to pull things off that 'normal' people can't. I think Caroline is absolutely beautiful and her style is my ideal style. She re-wears a lot of her pieces and that's what I love about her. Style isn't about buying the "new thing" all the time… it's about using what you have and recreating different outfits with the pieces you already own."
Where do you like to shop? "I tend to shop online a lot on various websites. ASOS is one of my favorites. In real life, I always go to H&M."
What three clothing pieces or accessories can you not live without? "Tights, handbags, and my hair (which is my very own permanent accessory!!)"
What is your style philosophy? "Wear whatever you want to wear. Don't let others tell you otherwise. If you like something, go for it. Others may think your style is weird or 'different,' but as long as you think you look good and you feel good, you're on top of the world."
Outfit Inspired by Jessy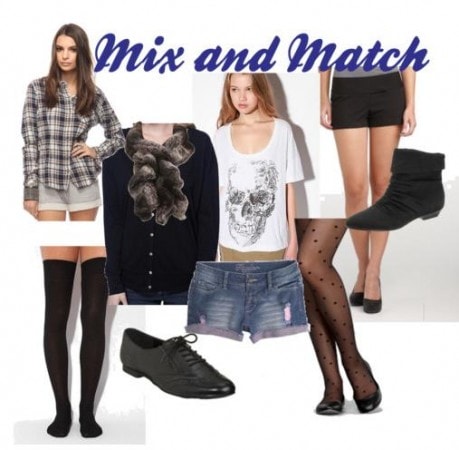 Product Information: Plaid shirt- Forever 21, Cardigan- Forever 21, Fur scarf- Wet Seal, Tee- Urban Outfitters, Black shorts- Charlotte Russe, Thigh high socks- Urban Outfitters, Jean shorts- Delia's, Dotted tights- Fred Flare, Booties- Aldo, Oxfords- Target
Jessy's outfits all had one thing in common: they combined shorts and tights. Yes readers, I know we have been talking about this trend for a while now, but it is truly everywhere! It's important to note how you can make one trend work in different ways, and Jessy does just that. Above, Jessy styled the shorts-and-tights trend to achieve three different aesthetics: comfy, edgy, and glam.
First, she paired jean shorts/tights with a long sleeved plaid shirt. Plaid is a great go-to pattern to add interest to a look, and generates a very relaxed vibe. Add a pair of oxfords for a preppy flair.
Next, Jessy wore a pair of black shorts with a loose fitting tee. To channel her look, I found the skull tee above – it looks so edgy when paired with the dotted tights. Add black booties to elevate the outfit to the next level. Also, I love how Jessy paired the patterned tights with black thigh highs, creating an interesting contrast. Don't be afraid to experiment with this look yourself!
Finally, as we all know, faux fur is a huge trend this season. Jessy pulled out a very glam look featuring fur with jean shorts, black tights, black cardigan, and a fur scarf, all of which I've recreated with the pieces in the collage above. This look is very fashion forward and is not for the faint of heart.
Overall, Jessy's looks prove that you can wear one simple trend in many different ways – you just need creativity and a few choice accessories. So mix and match aspects of Jessy's outfits to create your own look and have fun with it!
Wanna be our next featured reader?
Would you like to be featured in our next CF Reader Spotlight? Do you push the fashion boundaries? Do you have a unique sense of style? We want to see something unexpected! If that sounds like you, please send an email to readerspotlight AT collegefashion DOT net and include the following:
Your name
Age/year in college
College
A picture of yourself in an outfit that you believe evokes your own personal and unique style
Your style in three words
Once we have received your entry, we will send you a short interview to complete as soon as possible. If you are chosen, you will be notified via email prior to the article's publication. Good luck!
What do you think?
Are you impressed by Jessy's style? What do you think about her look? Will you try out the shorts and tights combo? What do you think about layering tights and thigh high socks? Do you like to wear plaid? Would you try out the fur trend? What are you wearing this fall? Feedback? Ideas? Questions? Chat with us in the comments!