When I first announced our new Reader Spotlight feature nearly one month ago, I certainly did not expect to receive such an overwhelming response! I am truly amazed by the countless submissions I received for this series over the past few weeks. As an addicted CF reader (and now writer) myself, I am overjoyed to get you guys involved in this site and to see my idea become a reality.It is truly amazing.
Now, after sorting through many entries, I've finally decided on to our first featured reader fashionista- Ellen, from Dickinson College! Choosing this month's reader to spotlight was extremely difficult; there were so many inspiring entries! But Ellen definitely stood out with her chic, vintage, and sophisticated style; she is a perfect example of a fashion inspiration.
The Interview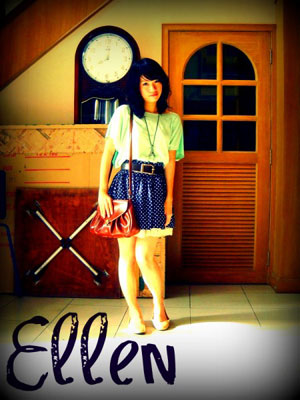 CLICK PHOTO TO ENLARGE
Name: Ellen
Age: 18
School: Dickinson College
Major: Undecided
Class standing: Freshman
Originally from: Thailand
Your style in three words: feminine, classic, and vintage
Where do you draw fashion inspiration from? "My inspiration comes from many places, from models in fashion magazines to unknown people on the streets. I am inspired by anything that can make me think 'Yes, this is it!' (and one of the places is definitely College Fashion)."
Where do you like to shop? "I don't usually shop in brand name stores but just normal shops on the streets and night markets. There, I can find pretty items (some even similar to the brand name ones), ten times cheaper."
What is your favorite summer trend? How are you rocking this look this season? "I love floral prints right now because they add a touch of feminine to my style. I usually rock them with simple pieces like a plain t-shirt or a boyfriend blazer."
What three clothing items or accessories can you not live without? "As a five foot tall girl, I have to say I can't live without my high heels. Skirts would be the second must-have item – I need them for my feminine style (although it's true that we can be feminine without wearing skirts). The last one would be any clothing or accessories featuring bows – they're my signature!"
Fashion advice? "Be yourself. Wear what you love, not what's on trend. On the other hand, don't assume you can't rock a specific trend if you haven't tried it yet."
Outfits Inspired by Ellen
To help you get Ellen's look for yourself, I created two looks inspired by her feminine, chic sense of style!
Outfit One – Victorian Elegance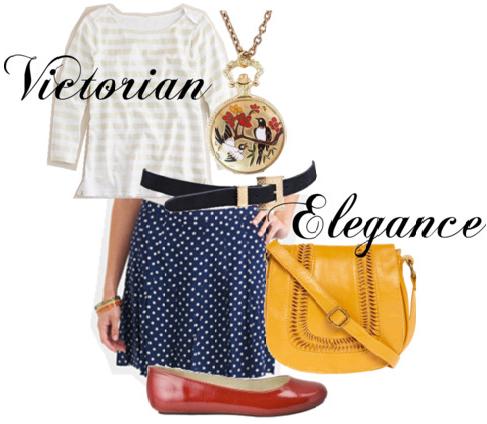 Product Information: Shirt- JCrew, Skirt- Forever 21, Belt- ASOS, Ballet flats- Target, Bag- ModCloth, Necklace- ModCloth
Channel Ellen's classic style with a navy polka dot skirt paired with a faded sailor tee- a perfect example of mixing prints successfully. Then, evoke the timeless nautical trend by adding some adorable red flats.
Next up, accessorize with multiple bright hues by adding the bright marigold bag – it really pops when paired with the scarlet shoes. Add a black skinny belt and a vintage pocket watch necklace- both with golden accents that reflect the metallic striped shirt, to tie the whole outfit together with ease.
Outfit Two – Transition to Autumn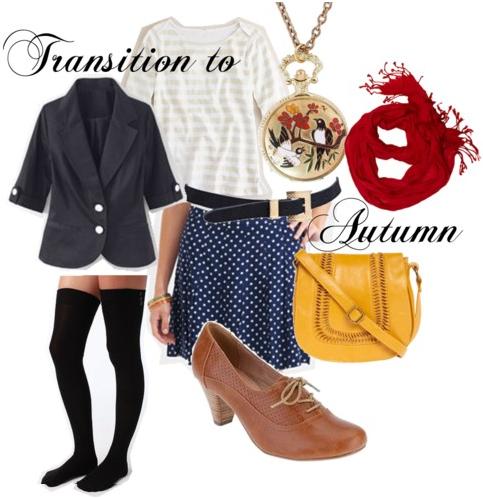 Product Information: Shirt- JCrew, Skirt- Forever 21, Belt- ASOS, Oxford heels- Urban Outfitters, Bag- ModCloth, Necklace- ModCloth, Blazer- Newport News, Knee Socks- Urban Outfitters , Scarf- ModCloth
Now that August is here, I am trying to make the most of the end of the summer, and I also I find myself thinking about how I am going to transition my wardrobe into fall once September hits. I want to keep wearing the new floral skirt that I just bought on sale!
Fortunately, Ellen's look is easy to translate into fall, with the addition of a few key items. First, add a black blazer with bold white buttons to keep you warm in the morning, as well as a bright red scarf. Knee socks are a hot fall trend, and they will look great with a pair of oxford heels. However, if you have a long day ahead or are just not comfortable in heels, opt for flats instead. This outfit will utilize your fun summer skirt and bright bag in a new way that is perfect for the fall season!
Wanna be our next featured reader?
Has this post convinced you to apply to be in our next CF Reader Spotlight? If so, please send an email to readerspotlight AT collegefashion DOT net and include the following:
Your name
Age/year in college
College
A picture of yourself in an outfit that you believe evokes your own personal and unique style
Your style in three words
Once we have received your entry, I will send you a short interview to complete as soon as possible. If you are chosen, you will be notified via email prior to the article's publication. Good luck!
What do you think?
Do you like Ellen's style? Are you excited about this new series? Did the nautical trend, mixing patterns, or multiple bright colors catch your eye? Are you thinking about how to transition your summer wardrobe into fall? Feedback? Ideas? Questions? Chat with us :]